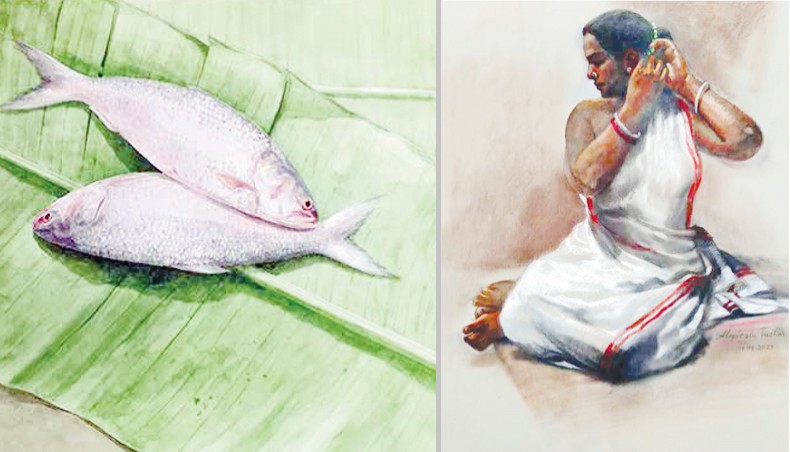 A group art exhibition portraying the scenic beauty and cultural tradition of Bengal is under way at Galleri Kaya in Uttara.
The exhibition titled 'Sign In' began on January 15 at Galleri Kaya and features 61 works by seven artists.
The artworks on display were created using mediums such as acrylic, oil, watercolour, charcoal, pastel and mixed media on canvas and paper which addresses different subject matters, including women, scenic beauty of rural Bengal, everyday objects, memory, Nachol uprising, musicians, flowers, fruits, fishes, paddy field, pottery, moonlit night, mountain, river and urban life.
The participating artists are Abdullah Al Bashir, Aloptogin Tushar, Anisuzzaman, Azharul Islam Chanchal, Kamaluddin, Nagarbasi Barman and Shahanoor Mamun.
'All artists at the exhibition are young except Aloptogin Tushar. The exhibition's title Sign In refers to the artistic ability of the artists who are doing well in our contemporary time. The title Sign In refers to the kind of quality works they are now producing for which they are recognised in the country's art scene. They all developed their own unique style,' Rajen Gain, exhibition coordinator of Galleri Kaya, told New Age.
To mention a few works, Aloptogin Tushar's charcoal work titled 'Musician' shows a black and white picture where an old man is seen playing a violin sitting on the floor. It is a scene of utmost serenity.
Aloptogin Tushar's soft pastel work titled 'Santal Lady' shows a woman in a white sari while wearing traditional earrings while she is sitting on the floor. The work depicts the beauty of Santal women in Bangladesh.
Aloptogin Tushar's charcoal work titled 'Nachol Bidroho-4' shows an archer ready to shoot an arrow during the uprising. The artist remembers the peasant-santal uprising of 1949-50 in which the santal community in Nachol area under Nawabganj sought to establish their rights over their land.
Anisuzzaman's watercolour painting titled 'Paddy Field-1' shows a horizontal view of a paddy field suffused with green and yellow while depicting the exquisite nature of rural Bengal.
Anisuzzaman's another watercolour painting titled 'Hilsha Fish' shows two hilsha fishes on a banana leaf while the banana leaf is set on the ground.
Abdullah Al Bashir's watercolour painting titled 'Home Quarantine' shows a pair of shoes and socks lying on the floor beside a clothes stand. The work depicts how so many of our possessions now remain unused during the COVID-19 outbreak.
Another watercolour painting by Abdullah Al Bashir titled 'Memory-1' shows a small bicycle that has fallen into disuse and now rests in the backyard of a house, collecting dust. It refers to the artist's childhood which is now only a memory.
The exhibition has been sponsored by ADN Group while www.artitude.com.bd is the online partner.
The exhibition will remain open till February 5. Viewers can visit the gallery from 3:00pm to 6:00pm.
Want stories like this in your inbox?
Sign up to exclusive daily email
More Stories from Exhibition