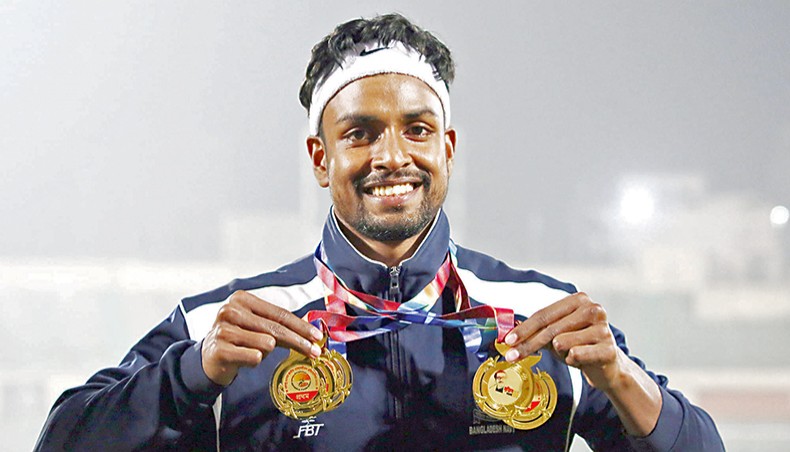 Bangladesh Navy emerged champions for the second consecutive time while Bangladesh Army finished as runners-up in the 44th National Athletics Championships which concluded at the Bangabandhu National Stadium on Sunday.
Navy finished with 21 gold, 12 silver and 13 bronze medals while Army won 13 gold, 20 silver and nine bronze medals.
Bangladesh Ansar finished third with one gold, five silver and six bronze medals.
This edition of the national athletics saw the experienced campaigners dominating the show, with most of the last edition's winners retaining gold medal in their respective events.
Ritu Akter of Bangladesh Army produced the only surprise result in this edition when she set a new record in women's high jump by clearing an impressive 1.70-metre, dethroning last year's gold medalist Umme Hafsa Rumki.
Top names in Bangladesh athletics like Mohammad Ismail, Zahir Rayhan, Shirin Akter etc throughout the event have reiterated the need for the athletes to train abroad in better facilities to improve their performance.
Farid Khan, a coach of the triumphant Bangladesh Navy team, echoed the athletes pleads but felt that bringing in top-class coaches from overseas will be more beneficial as it will help both the athletes and the coaches.
'It is right that we have good athletes but there is no alternative of good training to achieve the target. I think if the federation brings foreign coaches for the athletes and then the local coaches will also get an opportunity to learn something new from them and later apply it with other athletes,' Farid told the media.
Bangladesh Army coach Abdullah Hel Kafi said the federation needs to send some athletes abroad and fly in foreign coaches to bring long term changes in the country's athletics.
'I think it is better to bring foreign coaches here to train more athletes instead of sending one or two athletes aboard as well as engage the local coaches, who will also learn from the foreign coach,' he added.
Kafi also feels that there are a number of talented athletes in both Army and Navy teams and by nurturing them Bangladesh can improve its current sorry state in athletics.
'To be honest, Bangladesh's athletics is confined to Bangladesh Army and Bangladesh Navy and BKSP is working as a pipeline to provide the promising athletes.
'I believe, there are some talented athletes in both services teams, especially in Navy and if we can nurse them really well, then we can get out of the current situation a bit.'
Want stories like this in your inbox?
Sign up to exclusive daily email
More Stories from Miscellany