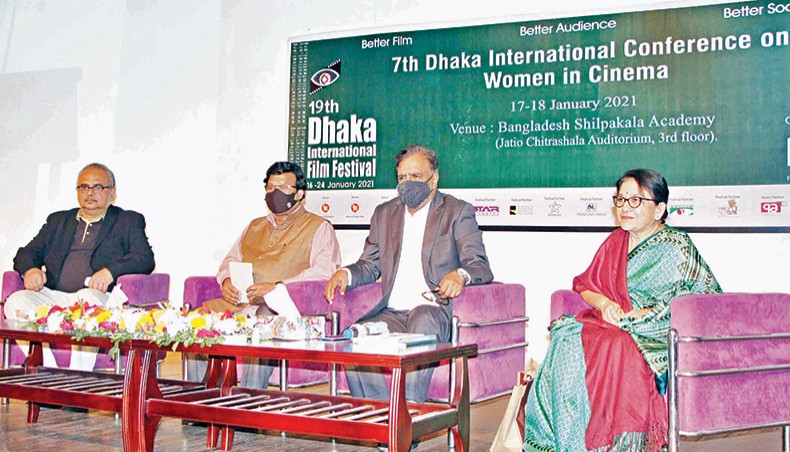 The 7th Dhaka International Conference on Women in Cinema began on Sunday through an inaugural ceremony held at the National Art Gallery Auditorium of Bangladesh Shilpakala Academy.
The two-day event has been organised by Rainbow Film Society as part of the on-going 19th Dhaka International Film Festival 2021.
State minister for cultural affairs KM Khalid was present as chief guest and Bangladesh Shilpakala Academy director general Liaquat Ali Lucky was present as special guest at the inaugural ceremony, which was presided over by DIFF chairperson Kishwar Kamal.
French filmmaker-producer Meral Melika Duran and Canadian film consultant-programmer Hannah Fisher attended the event virtually. The event was anchored by DIFF 2021 festival director Ahmed Muztaba Zamal.
The programme kicked off with a colourful dance performance by Bangladesh Shilpakala Academy artistes. The production portrayed women who have made immense contribution to society including Pritilata Waddedar, Nawab Faizunnesa, Begum Rokeya Shakhawat Hossain, Jahanara Imam and incumbent prime minister Sheikh Hasina.
'I congratulate the organisers for arranging this film festival in the time of COVID-19 crisis. I attended the conference past year and I had a very good time in Dhaka. I felt proud to be a part of the festival. I wish the event all the best,' said Hannah Fisher.
'It is a great pleasure and honour to be present at the inaugural ceremony of conference on women in cinema of Dhaka International Film Festival. I was not able to visit Dhaka due to the current travel restrictions but thanks to the digital era I am still able to participate in the event,' said Meral Melika Duran.
'Films speak an universal language. In EU, 7 million people are empowered through cultural practices but nowadays the industry is passing through a tough time. Many people have become jobless,' Meral Melika Duran added.
Following the inaugural ceremony, the conference featured discussion sessions on various topics namely 'A Few Good Films: Alternative Representation of Women in Films in the 70s in Bangladesh', 'We will Tell the Truth through Cinema', 'Women of the Iranian Cinema' and 'Depicting Son Preference in Indian Cinema: A Feminist Contemplation'.
Today, the conference will feature discussion sessions on topics namely 'Women in VR: Is Another Train Leaving Without Us', 'Role of Film Festivals and Social Media to Empower and Encourage Women in Cinema. And Nepalese Women Film Maker's Stand in the Present Scenario in seven decades History' and 'Beyond Bangla Borders: Made in Bangladesh: A Case Study'.
The conference will end today. DIFF 2021 will end on January 24.
Want stories like this in your inbox?
Sign up to exclusive daily email