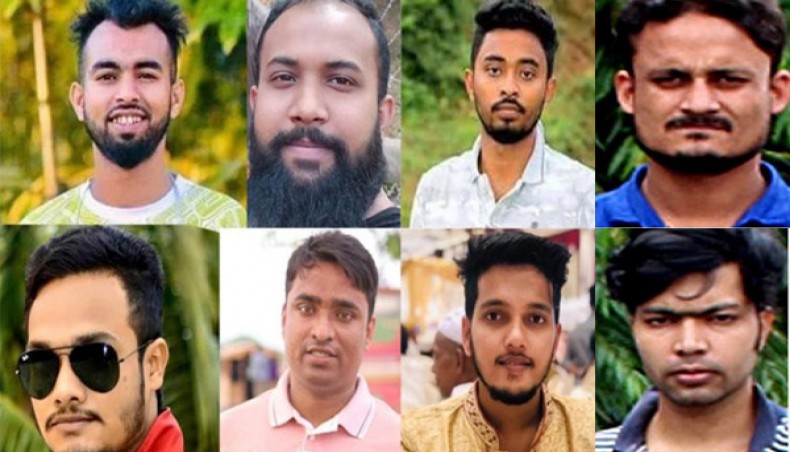 The Sylhet Woman and Children Repression Prevention Tribunal on Sunday charged eight activists of ruling Awami League-backed student organisation Bangladesh Chhatra League with rape of a newlywed woman in MC College Hostel on September 25, 2020.
Judge Mohitul Haque Chowdhury framed the charges in presence of the accused in the dock and posted for Jan 24 the beginning of the trial with examining prosecution witnesses, said public prosecutor of the tribunal Rashida Sayeeda Khanam.
Earlier on December 3, Shah Paran police inspector Indranil Bhattacharya, also the investigation officer in the case, submitted the charge sheet against the eight — MC College Chhatra League activists Saifur Rahman, 28, Shah Mahbubur Rahman Rony, 25, Tarekul Islam Tarek, 28, Arzun Laskar, 25, Misbahul Islam Rajan, 26, and Ayinuddin Ainul, 28.
The charge sheet named 52 prosecution witnesses.
In the evening of September 25, 2020, a group of Chhatra League activists kidnapped a newlywed couple from in front of the main entrance of MC College at Tilagar in Sylhet city.
Later, they raped the woman in the male hostel of the college at Baluchar in the city keeping her husband confined to the hostel.
Shah Paran police rescued the victims and admitted the woman to one-stop crisis centre of Sylhet Osmani Medical College Hospital.
Later in that night, the victim's husband filed a case in this connection with the police against six named and three unnamed people.
The incident immediately sparked countrywide protests. People from all walks of life took to the streets in protest against the incident.
Cross-sections of people, including human rights activists, political leaders and civil society members burst into anger at different parts in Sylhet division and elsewhere in the country condemning in the incident.
They also staged demonstrations at almost all of the divisional headquarters as well as on public university campuses for several consecutive days after the incident demanding immediate arrest and exemplary punishment of the rape suspects.
In the face of protests, the police arrested the eight Chhatra League activists at places, including Sunamganj and Habiganj, in three days after the incident.
Three committees were formed by the MC College authorities, education ministry and the High Court to probe into the incident.
The MC College authorities expelled four students — Saifur, Rony, Masum and Rabiul — after a probe committee found their involvement in the rape.
Besides, the National University authorities cancelled their studentship and certificates on the same ground.
Want stories like this in your inbox?
Sign up to exclusive daily email
More Stories from Country