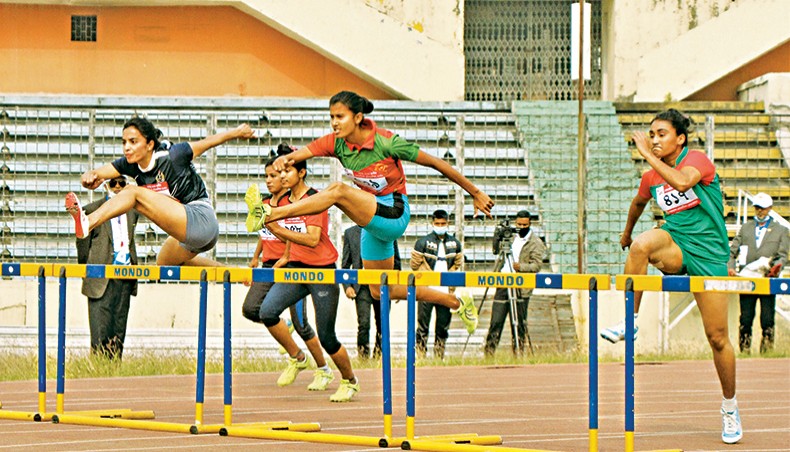 Army athlete Rinki Biswas set a new national record in the women's 3000-metre race, breaking a 17-year-old record on the second day of the 44th National Athletics Championships at the Bangabandhu National Stadium on Saturday.
Rinki clocked 10:43.30 minutes (hand timing) to break the previous record of 11:08.15 minutes (hand timing) set by Halima Khanom Bithi in 2003.
Navy's Zahir Raihan bagged gold in the men's 400-metre race by matching the 30-year old hand timing record of 7:20 minutes set up by BJMC's Mehedi Hasan in 1991.
In last year's championship, Zahir broke the 32-year old electronic timing record in the same event.
The 21-year-old sprinter clocked 46.86 seconds in 2019 national championships to break previous electronic timing record of 47.55 made by Milzar Hossain in 1986.
Navy's Sabia Al Soha bagged gold medal in the women's 400-metre race by clocking 58.60 seconds.
Among others, Army's Al-Amin and Sonia Akter bagged men's and women's long jump event titles respectively, clearing 7.04-metre and 5.77-metre.
Army's Mirza Hasan clocked 14.80 seconds to clinch men's 110m hurdles title while Navy's Tamanna Akter bagged the women's 100-metre hurdles title by clocking 14:60 second.
Army's Moniruzzaman cleared 61.25-metre to earn gold in the men's javelin throw event while his team-mate Papia Akter cleared 40.19-metre to win the women's title in the same event.
Army runner Sohel Rana won the men's 3000-metre steeplechase title clocking 10:17.90 minutes while his team-mate Mahfuz Hasan clinched men's hammer throw title clearing 50.18-metre.
After the end of second day, Navy were maintaining the lead in the medals table with 29 medals — 12 gold, eight silver and nine bronze– with Army breathing own their necks with identical 29 medals – nine gold, 14 silver and six bronze medals.
Want stories like this in your inbox?
Sign up to exclusive daily email
More Stories from Miscellany