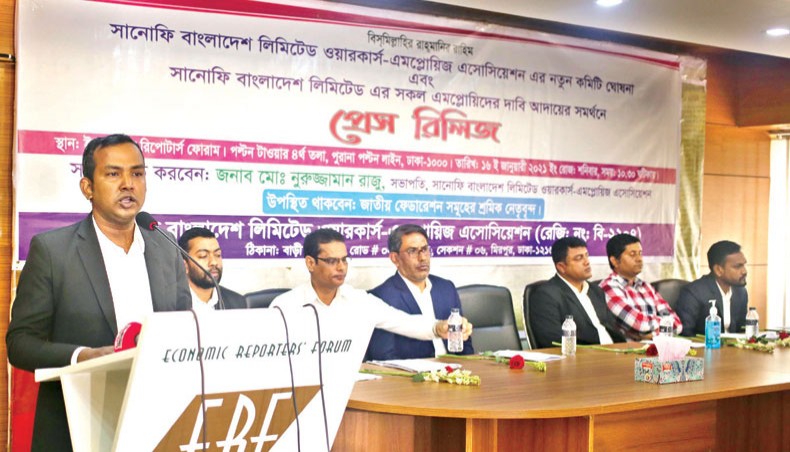 The Sanofi Bangladesh Limited Workers-Employees Association on Saturday demanded payment of compensations and dues along with protection of their interests at the company.
The association made the demands at a press conference held at the Economic Reporters Forum in the capital, Dhaka, on Saturday.
The association was formed to protect the interests of the workers and employees after Sanofi Global Management decided to sell 55 per cent of its shares in Sanofi Bangladesh, a French-based international pharmaceutical manufacturer and marketer, on October 14, 2019.
The association leaders said that the company's global and local management had assured them that the employees' interests would be protected 'first and foremost' and their benefits and dues would be paid, but the management had taken no initiative to pay their dues.
The association leaders also expressed concern over the security of jobs of over 1,000 employees of Sanofi Bangladesh.
The association's president, Md Nurujjaman Raju, said that since the company had declared to sell off 55 per cent of its shares, the employees had repeatedly demanded payment of their dues but the management had only kept making assurances.
He said that they hoped the internationally reputed company would fulfill its commitments within the stipulated time.
He also said that the management would have to pay their due benefits and compensations from the day it would sell 55 per cent of its shares to a third company.
Otherwise, the association would wage a movement to realise its demands, he said.
They urged the company management to continue discussions with the employees and meet their demands within the stipulated time.
At the press conference, the association introduced its members of its executive committee formed on December 5, 2020.
The executive committee comprised of president Md Nurujjaman Raju, vice-president Md Abdullah-Al-Omar Faruk, general secretary Sanjib Kumar Chakraborty and joint secretary Md Ziaur Rahman, treasurer Md Ashraful Islam, organising secretary Sharif Md Faysal, office secretary Md Mazharul Islam and executive members Md Mahmud Hasan and Ataur Rahman.
Want stories like this in your inbox?
Sign up to exclusive daily email
More Stories from Miscellany