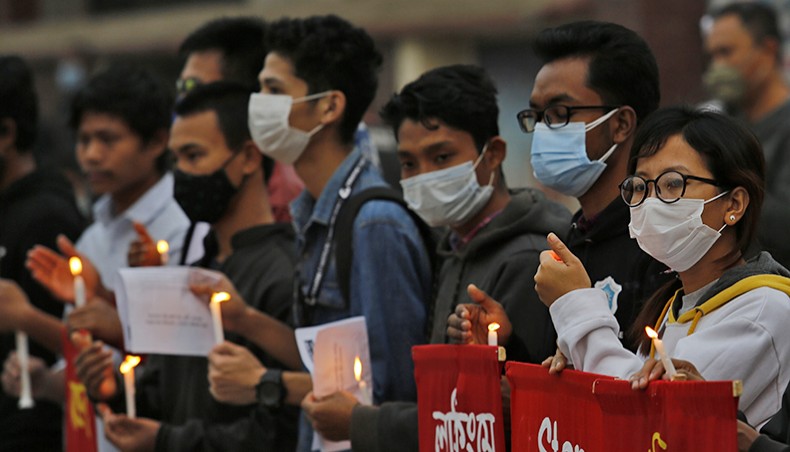 Human rights organisations on Saturday held a candlelight vigil in front of the national parliament building in memory of Lackingme Chakma, the Buddhist girl who had allegedly been kidnapped, forced to convert religion and marry a Muslim man before she died under mysterious circumstances.
The body of Lackingme, who left behind a 13-day-old daughter, had been in morgue for 25 days over a row between her parents and husband before she was finally buried by her parents on January 4 through court's intervention.
'Lackingme was victim to some of the worst crimes and yet the state has been painfully silent over delivering justice to her and her family,' said Dhaka University mass communication and journalism professor Robaet Ferdous during the vigil.
'We have reasons to believe that Lackingme was killed. She was pushed to death for she was denied her ethnic identity and raped every night following her illegal marriage,' he said.
Lackingme was 14 years and 10 months old when she was abducted from her Shilkhali residence in Teknaf, Cox's Bazar on January 5, 2020, her family alleged.
On January 21, her kidnappers allegedly took her to Cumilla to convert her to Islam and get her married to one of their accomplices, Ataullah, 22.
Lackingme died on December 10, 2020 and her in-laws claimed that she committed suicide.
'Sexual relation even with consent with a girl below the age of 16 is legally regarded as rape,' said Mohiuddin Khan, Lackingme's lawyer who attended the vigil.
'Her daughter is the proof of Lackingme being raped before she died,' he said.
The candlelight vigil was organised by a number of human rights organisations, including Bangladesh Adivasi Forum, Bangladesh Legal Aid and Services Trust, Manusher Jonno Foundation and Association for Land Reform and Development.
The speakers at the vigil demanded that Lackingme's kidnappers should be brought to justice on every count of their crimes.
They also demanded that the police should be held accountable for their alleged negligence in finding out Lackingme after her abduction.
BAF general secretary Sanjeeb Drong, Kushtia Islamic University teacher Farha Tanzim Titil, ALRD representative Rafiq Ahmed Siraji, MJF representative Rina Roy and ethnic minority leaders Myentthein Promila and Dipayon Khisa participated in the vigil.
A fact finding committee revealed in December, 2020 that Lackingme's birth certificate was forged by her abductors for her marriage and religious conversion.
Asia Indigenous Peoples Pact and International Work Group for Indigenous Affairs also issued separate statements demanding justice for Lackingme.
They made nine demands, including compensation to Lackingme's family and security to Lackingme's daughter and other family members.
Want stories like this in your inbox?
Sign up to exclusive daily email
More Stories from Bangladesh