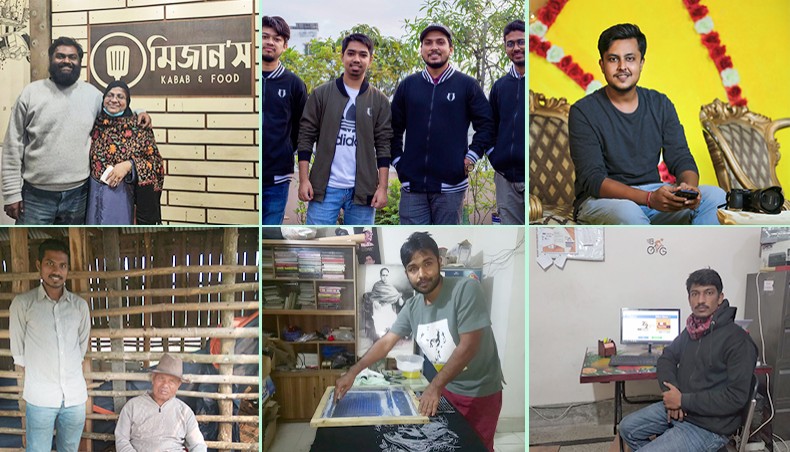 In the context of rising unemployment in Bangladesh, some enterprising youth have taken control of their future and created work for themselves and others. Nasir Uz Zaman writes about some of the successful young entrepreneurs
For long, educated youth were discouraged to engage in entrepreneurial activities as it involves a lot of uncertainty. However, in recent years, there are many who chose to take up the challenge abandoning the certainty of a full time 9-5 corporate sector or government job. Their successes made international and national stories. New Age Youth spoke with a few young entrepreneurs who started from scratch and with very little investment.
Mizan's Kabab and Food


Mizan's Kabab and Food is the dream restaurant of Romit Wasiqul, a fresh graduate of urban and regional planning from Rajshahi University of Engineering and Technology. Romit, a chef by passion, started a juice cart at his campus during his graduation days in 2018. His juice cart, Blenders', was launched on the first day of Bangla year 1425 which was an instant hit among the students because of the quality and service. On the first day, it sold about 130 kilograms of watermelon juice.
After completing his graduation, Romit started his second restaurant Mizan's Kabab and Food in March 2020 targeting the campus population. With the previous success, the restaurant also got great responses and in the beginning days, it catered to 300-400 people per day on an average with Bangla foods and kababs. It hired an ex-navy chef and that was one of the reasons behind the long queues. But COVID-19 hit hard the restaurant as all the educational institutions were announced closed in March. The restaurant had to stop for a while due to the pandemic situation. In June, it was reopened delivering a couple of items but again had to stop as that was not enough for covering the operational costs. Amid the situation, Romit took a short-term job in a non-governmental organisation so that his dream restaurant need not closed forever. Recently the restaurant had started on a small scale.
While sharing his stories as a young entrepreneur, Romit said, 'I had no choice but to go against my mother's will to follow my passion. Breaking through the stereotype society, I have been maintaining my business and job life tirelessly. She once said that she felt shame to tell my relatives that Romit own a food cart selling juice on the street. Now, I have established a restaurant on my father's name. Hopefully one day, I will reach a place where all the negative talks won't reach me anymore.'
Unique Outfits


With almost no capital and experience, Alvi Haque, Partha Protim Mondal, Sahidun Nobi Pappu and Md Monir Hasan started to think to do something unique and exceptional to earn money during their under-graduation years. And the result is the Unique Outfits, an online e-commerce business mainly based on clothing. The Unique Outfits offers customised t-shirts, hoodies, polo t-shirts for male and female. Alvi Haque, a co-founder of the Unique Outfits, addresses the point behind choosing this business by saying that there are many online stores for customised clothing but people had to order a bulk number if they wanted one with a specific design. Realising the obstacle for the customers, the Unique Outfits offers customisation on any clothing items and people can also buy a single piece of clothing with preferred customisation in affordable rate.
The Unique Outfits started its journey in December 2018. The four young entrepreneurs' joint venture was started with only about Tk 20,000, savings from their pocket money. With that money, they bought a printer, a heat press machine and some t-shirts. On the second day, the head of the printer was broken down. So, they had to convince their parents to stand beside them for buying another one and after 4-5 days, they started the printing finally. Sharing the work responsibilities, the four entrepreneurs run the business via Facebook and the website. Besides, they have collaboration with a large number of e-commerce websites in Bangladesh. Recently the Unique Outfits has launched jacket product for the very first time and it has more than 300 designs which can be printed in ten-colours of t-shirts and five colours of hoodies.
Sopner Frame


Sopner Frame, a wedding planning service, has celebrated its 8th anniversary this year. In the beginning, it was not a complete wedding planning service rather was a platform for sharing photographs created by Tamal Das and Monir, the then undergraduate students of Rajshahi University. The main theme of the platform was to capture moments that can touch people's heart and mind. Sopner Frame has crossed some phases for becoming a full-fledged wedding planning service. While talking about it, Tamal Das, the owner and chief photographer of Sopner Frame, shared that his father's death and older brother's accident that paralysed the brother, left him no choice but to take responsibilities of the family during his student life. It was Tamal's passion to capture emotional moments of people. The need of life framed his passion and converted it into the profession.
Tamal believes that the programmes like wedding are very much connected with people's dream and also emotion. To capture their dreams and also the emotional moments, Tamal started to cover events of wedding and birthday. Then, he gradually builds a complete wedding planning service. From Tamal's words, 'The journey of Sopner Frame was not linear but the love and respect that we got from people, helps us to overcome all those struggles. And I am always thankful to the people and my teammates for the recognition as a photographer.'
Nangal


With the aim to ensure chemical-free safe food products and to promote ethnic communities' family farming, Nangal started its journey in April 2020. It is an attempt to preserve the local diversity of food culture in the country. Under its own supervision, Nangal is trying to supply non-toxic food products produced by different ethnic community people across the country. Till this day, Nangal is sourcing the products mainly from the Garo communities of Madhupur and Mymensingh area and also from the Chittagong Hill Tracts area. Moreover, Nangal has included various kind of handicraft items directly made in rural areas. Besides selling the products, Nangal is also trying to make people aware of safe foods from its social media platform.
While talking about Nangal, the owner Ajit Dash said, 'We believe it is our right to have any nutritious food, including chemical-free foods, fruits and vegetables. We also believe that this small effort or initiative and also the social responsibility will take the safe agricultural movement out of the clutches of global capital. Nangal is always against the hybrid food products. Moreover, we are very much aware about the price of our products so that our farmers get the fair price and also our buyers can afford those.'
Patua Design and Fashion


Patua Design and Fashion started its journey with only design services, including logo and font design, poster and banner design and also t-shirt design. The owner of Patua Design and Fashion Prasenjet Sarker is a fresh graduate of mathematics from Jagannath University who lost his tuitions amid coronavirus pandemic. So, he was searching a way of earning for survival. As he was involved in left politics and did many poster and banner designs and also wrote or drew graffiti during his student life, he thought to use the skill for earning his living costs though it was started randomly. In the COVID-19 lockdown period, he made a design for screen printing his own t-shirt. When he shared that on his Facebook profile, a young entrepreneur from Rajshahi offered him to design sarees and that is how the journey of Patua Design and Fashion began.
After that, Prasenjet started to buy plain t-shirt, panjabi, saree, shawl, hoodie, sweater, shopping bag, and many more for selling after screen print. This is how Prasenjet extended his business besides doing design works for his customers. In the starting months, Patua Design and Fashion sold around Tk 20,000 per month on an average which Prasenjet thinks a success of his entrepreneurship. Prasenjet also marks that buyers can get customised clothing at retail and wholesale prices from Patua Design and Fashion.
Bong Courier


The necessity of fast delivery service is increasing with dozens of online businesses blooming up in Bangladesh. Addressing this demand and also to create work opportunities for youths, Bong Courier, a transportation and courier service, started its journey in June 2020. Parvez Hasan Sumon, the owner of Bong Courier, had to shut down his clothing store due to COVID-19 pandemic's lockdown. At that time, he saw many young people lost their works just like him and he was thinking to do something that can address todays demand. In e-commerce business, delivering the products is a crucial step. Many orders are cancelled by the customers for delay delivery.
Parvez, while talking about Bong Courier, said, 'Delivering the products in time is one of our main uniqueness. Moreover, most of our team members are young educated people who are capable enough to handle the delivery process. As a result, the cancelation rate is near to zero. We have started with delivering fruits collecting from the courier services amid COVID-19 pandemic. Now, we handle around 120 orders per month on an average. Though, Bong Courier is only available in Dhaka city now, but we have plans to make it available across the country.'
Nasir Uz Zaman is a member of the New Age Youth team.
Want stories like this in your inbox?
Sign up to exclusive daily email