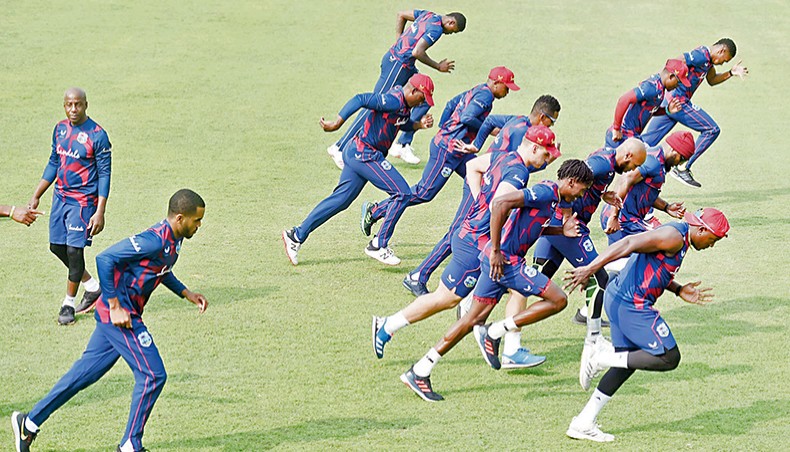 West Indies team's bio-bubble is still intact despite Hayden Walsh Junior, a member of their one-day international squad, testing positive for COVID-19, claims Bangladesh cricket Board chief physician Debashis Chowdhury.
Cricket West Indies first announced the news of Hayden's infection in a press release on Thursday, saying the leg-spinner twice tested positive for the virus.
'The Leeward Islands and West Indies leg-spinner, who is asymptomatic, first returned a negative test result on arrival into Bangladesh on the weekend, and then had a positive return on his test in Dhaka yesterday [Wednesday],' read a press release published on the CWI website.
'This result was verified by a second positive test today (Thursday),' it further read.
But Debashis said that the BCB does not think there was a 'breach in the bio-secure bubble' and assured that there is no chance of an outbreak in the visitors' camp as none of the other players got in close contact with Hayden.
'We are not seeing this as a breach in the bio-secure bubble. We don't know from where he was infected but after coming here he was in his room all the time. He did not attend the practice session. So no chance of spreading the virus among more people inside,' Debashis told New Age on Friday.
According to the health protocol signed off on by the two boards before the series, the 28-year-old leg spinner will have to stay in isolation for two weeks, informed the chief BCB physician.
'Now the player will be in isolation for 14 days,' said Debashis.
The isolation period ends Hayden's chances of playing in the ODI series, which will end on January 25, and CWI has also ruled him out from the 50-over series.
'Walsh will remain in isolation until he returns two negative PCR test results and therefore is unavailable to play in the upcoming three-match ODI series against Bangladesh,' read the statement from CWI.
The West Indies side completed the second day of practice in Bangladesh on Thursday and despite the worrying news of Hayden's coronavirus infection, the visiting team players were carrying on with a positive attitude, said Ambris.
'It is a very sad situation. When I heard about it, to be honest, I was scared. Personally, that's out of my mind now. Just think ahead, try to stay safe and be positive,' the opening said in a virtual press conference on Friday.
Meanwhile, Bangladesh national team coaches Jon Lewis and Ottis Gibson, who arrived from the United Kingdom, are free to join the rest of squad from today, informed Debashis.
Bangladesh government has imposed mandatory two-week quarantine for passengers coming from the UK but BCB has acquired special permission for Lewis and Gibson, the batting and pace bowling coach of the national team respectively, so that they can train the Tigers well ahead of the series.
Want stories like this in your inbox?
Sign up to exclusive daily email
More Stories from Cricket