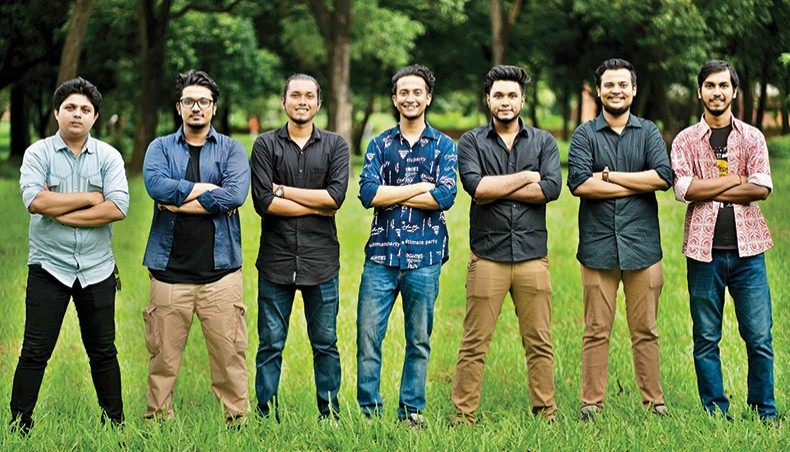 Vocalist of Kureghor Tasrif Khan said that without dedication and team work a new band cannot occupy a place in the hearts of music lovers.
'Kureghor started its journey with a group of musicians to entertain the music lovers. But the beginning of our journey was not smooth at all, it was difficult for us. Our dedication and team work helped us to reach the music lovers across the country,' Tasrif Khan told New Age.
Kureghor began its journey with a group of young music enthusiasts namely Tasrif Khan, Tanjeeb Khan, K M Tanbhir Siddiki on January 5, 2017.
The band celebrates its founding anniversary every year by releasing new songs. Kureghor wanted to release songs and organise a concert marking its founding anniversary on January 5 but they couldn't follow through due to the COVID-19 crisis.
'We wanted to celebrate the founding anniversary of the band organising an open air concert but we couldn't do it due to the COVID-19 outbreak. We celebrated our anniversary in a small scale,' said Tasrif Khan.
The band came into the limelight in 2018 after releasing songs Moyna re and Bachelor on its YouTube channel. The songs garnered over 10,372,639 views.
The band has released 58 original tracks, including their hits Eije miss, Homiopathir dose, Amar kache tumi mane, Keu nei, Matrivasha, Majnu and Puran dhakar maiya till date.
'Nowadays music lovers prefer online platform to physical albums. We have been able to reach thousands by releasing songs on online platforms,' he said.
Tasrif also spoke the band's upcoming projects.
'We want to release our first physical album on January 1, 2022. We have already recorded three songs namely Bandho Deyal, Shesh Line and Osampnna for the album. The music video of the songs will be respectively released in February, March and April. The album will contain a total of 12 songs,' mentioned Tasrif.
In October 2020, Kureghor bagged YouTube's Gold Creator Award as its channel has surpassed one million subscribers.
'We always try to meet the expectations of music lovers. We want to thank our listeners for supporting us. We are looking forward to releasing more exciting songs for our fans in the coming days,' said Tasrif.
Kureghor started its journey performing at a concert in Netrokona in 2017. The band has performed in over 120 concerts till date. It has performed in three concerts in India. However, the band didn't perform in any open air concerts after the first COVID-19 case was detected in Bangladesh in March, 2020.
'The country's music scene was hit hard by the COVID-19 crisis. We have not performed in any open air concerts after the first COVID-19 case was discovered in Bangladesh in March past year. I hope the situation will improve soon,' added Tasrif.
Kureghor's current members include Faridul Haque Khan Mithu on bass guitar, Shams Ul Alam on guitar, Imran Hossain Shanto on drums, Yeamin Pranto on flute and back vocal and Priom Majumder on percussion.
'We have been trying our level best to produce quality songs for the music lovers. We still have miles to go. Let's hope for the best,' Tasrif ended.
Want stories like this in your inbox?
Sign up to exclusive daily email