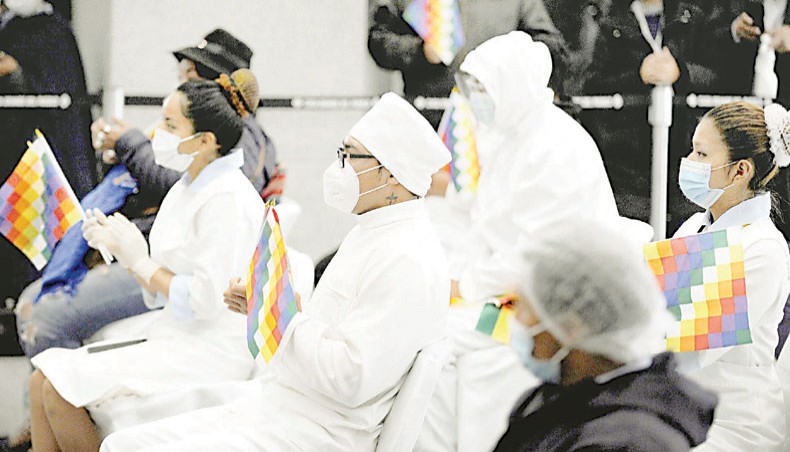 THE world a month ago on December 12, 2020 celebrated, although within a much-limited space this time, International Universal Health Coverage Day. Until this year, universal health coverage has appeared to be an issue of developing nations although it is principally a global issue. The reason is clear that COVID-19, probably the latest emerging infectious disease, has hit the strongest economies with its utmost effects in both health and economic perspectives. To date, 1.95 million deaths are reported, 27.2 per cent of which took place in the United States, the United Kingdom, Italy, France and Spain. COVID-19 has even accounted for an economic loss of $375 billion globally every month. While we struggle with COVID-19 in many countries, especially in many high-income countries, our thoughts should not be limited to COVID-19 per se and should, rather, be put in the context of emerging infectious diseases, the threat of which is felt imminent.
Emerging infectious diseases — in other words, the diseases which newly appear in a population or have existed but rapidly increase in incidence or geographical range — have been considered a continuous threat to public health. This inevitable but unpredictable appearance of new infectious diseases has been recognised for millennia. Although we observe extraordinary counter-measures — diagnostics, therapeutics and vaccines — to address such diseases, globalisation, including international travels and interdependency among countries, accelerates risks of the infection manifold. However, while such emerging infectious diseases had detrimental effects as both health and economy for many years, but within a limited population or a limited number of countries, it shook the world profoundly with the emergence of the most recent emerging infectious disease — COVID-19.
Universal health coverage is a target within the third goal of the Sustainable Development Goals, indicated by service coverage and financial risk protection while using such services. In such a context, emerging infectious diseases face the challenges of identifying and/or inventing appropriate services, which may include preventive, promotive, curative and rehabilitative care, which are included in the concept of defined health services for universal health coverage with sufficient quality. As we have observed since the outbreak of COVID-19, governments started working with promotive and preventive measures such as diagnostic tests and vaccination, including restrictions/lockdown, immunity-enhancing action such as food and drink habits, physical exercise, home-based care and hospital care such as blood-thinner, oxygen and intensive care as well as care after return home from hospital.
We have observed that many countries, including several high-income ones, faced severe scarcity of health resources such as adequate health staff. More acute was that any appropriate and effective healthcare was not known for treating the patients, particularly in the initial stages of the pandemic. It still remains a challenge after a year. On November 22, 2020, the Guardian reportedly mentioned concerns of the National Health Services of the United Kingdom that 'NHS intensive care units, which have played a vital role in the COVID-19 crisis, are so routinely understaffed, patients are at risk of poor care, doctors working in them warn today.' In many developing countries, we observed chaotic conditions in society and health system and sometimes lack of adequate political commitments. A research in Bangladesh found that decision-makers failed to engage the right kind of experts, which resulted in a poor pandemic management that included ordering lockdown on periphery areas without arranging patient transports to the centre, dedicating certain hospitals for COVID-19 treatment without preparing the facilities or the staff and engaging private hospitals in care without allowing them to test the patients for COVID-19 infection.
Another research reported Zaman that 'Bangladesh, a poverty-stricken South Asian country, is losing its battle against the pandemic, but mainly because of its incompetent healthcare system. The casualties are escalating and public sufferings are becoming unimaginable. In this backdrop, this perspective piece discusses the healthcare crisis in Bangladesh during the pandemic.' The article also identifies three responsible issues for the deteriorating health care: (1) poor governance and increased corruption, (2) inadequate healthcare facilities and (3) weak public health communication.
The situations observed in the United Kingdom and Bangladesh are not an isolated picture, rather a global portrait, with varying severities in different countries. While governments and health organisations as well as individuals in different countries engaged resources and put in efforts on promotive and preventive measures, one important component, vaccination that is, is yet to reach many, especially in developing nations. The UK government recently rolled out the largest vaccination programme in the British history — the procedure of providing vaccine against COVID-19 efficiently equitably among the British people. Similar actions have also been observed in the United States and European Union countries. The European Union has secured around 600 million doses of the Pfizer/BioNTech vaccine for their 380 million people, excluding the United Kingdom. It is not surprising that Oxford/AstraZeneca and Moderna vaccines will additionally be consumed by some EU countries, especially when Sweden has an ownership of the Oxford/AstraZeneca vaccine.
When the vaccines for high-income countries appear to be overwhelming, the World Health Organisation expressed deep concern about bilateral agreements on vaccine purchase. An example can be the agreement between Bangladesh (Beximco) and India (Serum Institute), which created huge concern about the actual delivery date because of India's statement about meeting the domestic need before exporting the vaccines to other countries and the agreed high price — $5 while the actual price is $2. However, Bangladeshis saw some hope when Beximco promised lately that the vaccine would be reach from India by January 25. Sadly, 'at least 90 per cent of people in 67 low-income countries stand little chance of getting vaccinated against COVID-19 in 2021 because wealthy nations have reserved more than they need and developers will not share their intellectual property,' says the People's Vaccine Alliance, which includes Amnesty International, Frontline AIDS, Global Justice Now, and Oxfam.
For an equitable access to COVID-19 vaccine, a platform called COVAX has been developed with coordination of Gavi, the Vaccine Alliance, the Coalition for Epidemic Preparedness Innovations and the World Health Organisation to support the research, development and manufacturing of a wide range of COVID-19 vaccine candidates and negotiate their pricing. It is intended that all participating countries of COVAX, irrespective of income levels, will have an equal access to the vaccines once they are developed. The initial aim is to have two billion doses available by the end of 2021, which should be enough to protect high-risk and vulnerable people as well as frontline healthcare workers.
However, it appears to be a big concern that the disproportionate distribution of vaccines across rich and poor countries and the bilateral agreements of vaccines between countries may distort the aim of COVAX. Such distortion would contribute to an inequitable vaccine access and to further challenges to developing nations towards achieving universal health coverage.
If we look into the other indicator of universal health coverage — financial risk protection meaning that no one faces financial hardship for using healthcare in need — it shows a horrible picture in the countries where ordinary people are supposed to pay out of their own pocket for health care. The Hindustan Times reported that it costs Rs 20,000–25,000 ($273–341) a day for treating a COVID-19 patient in India, meaning that a 10-day hospital care costs a patient with a minimum of Rs 200,000 ($2,730) in total if we ignore the costs before and after hospital days, which certainly have a considerable expense. It is predictable that if several members of a household are infected, the economic burden becomes unbearable for a large number of households in a country with a per capita income of around $2,000.
Even in a public hospital, the cost is not remarkably lower in India. In Bangladesh, a COVID-19 test costs Tk 5,000 ($59.00) and the hospital costs vary but they may not be much different from what they are in India. A partial picture, of course, is that some attempts by government in these countries have been undertaken which secured available good quality and low-cost treatment although for a small portion of patients. In welfare states such as the United Kingdom, Sweden, Germany, Australia, etc, financial affordability has not been a big concern for individual patients. But to what extent a health system can remain financially sustainable remains as a challenge.
In sum, it is evident that emerging infectious diseases, as experienced in COVID-19, would be a continuous challenge for achieving universal health coverage in both services coverage and financial risk protection dimensions. Additionally, further economic consequences, although not framed by universal health coverage, in terms of income-loss because of temporary and permanent illness and disabilities, unemployment, etc would contribute to poverty. A strong bond between research communities and policymakers in health systems that cover the entire population with affordable quality care and a global integration for meeting emerging infectious diseases are inevitable to deal with the challenges to achieve universal health coverage.
Dr Jahangir Khan is a senior health economist and associate professor in the University of Gothenburg and Karolinska Institutet, Sweden.
Want stories like this in your inbox?
Sign up to exclusive daily email
More Stories from Opinion