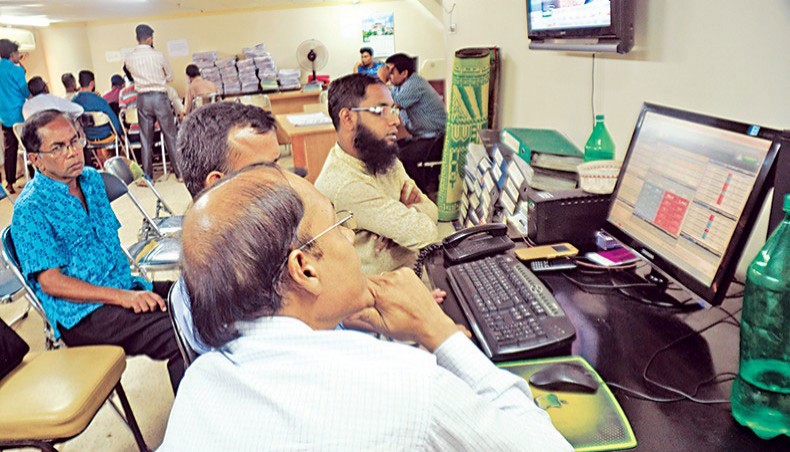 Dhaka stocks soared on Thursday as investors went for a buying binge after the Bangladesh Securities and Exchange Commission backtracked on its share price deviation probe move and set the upper ceiling on margin loan rate.
The BSEC on Tuesday had instructed the Dhaka and Chittagong stock exchanges to investigate unusual price movements of listed companies. DSEX, the key index of the Dhaka Stock Exchange, lost 91 points on Wednesday.
Following the plunge, the BSEC on Wednesday postponed the effectiveness of the instruction due to its adverse impact on the market.
The market capitalisation on the DSE hit an all-time high on Thursday as it reached Tk 5,01,709.6 crore for the first time, according to the DSE web site.
DSEX, the key index of Dhaka Stock Exchange, soared by 2.41 per cent, or 139.3 points, to close at 5,909.3 points on Thursday.
Thursday's index was the highest after January 29, 2019 when it was at 5,924.53 points.
The key index started flying from the very beginning of Thursday's session as investors went for buying shares heavily following the regulator's suspending the probe move, market operators said.
The BSEC on Wednesday also set the maximum limit on margin loan rate at 12 per cent that drew attention of many investors, they said.
Previously, brokerage houses and merchant banks used to charge their clients 15-30 per cent against margin loans.
Share prices of BEXIMCO, LankaBangla Finance, City Bank, Summit Power and LafargeHolcim Bangladesh soared by more than 9 per cent each on Thursday.
British American Tobacco, Grameenphone, Square Pharmaceuticals and Beximco Pharmaceuticals soared on the day.
The market has been gaining in recent weeks due mainly to a decline in banks' interest rate that has pushed a section of people to invest their funds in the stock market for making better returns, market operators said.
The DSEX gained 760 points in the last 15 trading sessions with just three negative sessions.
Robi Axiata Limited, which made its debut on December 24, soared by the maximum limit allowed on Thursday to close at Tk 70.1 a share.
Share prices of the telecom operator have been soaring since its debut.
Average share prices of miscellaneous, non-bank financial institution, bank and pharmaceutical sectors advanced by 6.54 per cent, 3.74 per cent, 2.45 per cent and 1.47 per cent respectively.
Turnover on the DSE inched down to Tk 2,070.85 crore on Thursday compared with that of Tk 2,108.5 crore in the previous session.
Of the 360 scrips traded on the DSE on Thursday, 159 advanced, 133 declined and 70 remained unchanged.
DS30, a composition of 30 large capitalised companies, advanced by 3.56 per cent, or 76.89 points, to close at 2,236.77 points on the day.
Shariah index DSES also added 1.66 per cent, or 3.56 points, to settle at 1,323.5 points.
Bangladesh Export Import Company led the turnover chart with shares worth Tk 436.54 crore changing hands on the day.
Beximco Pharmaceuticals, Robi Axiata, Summit Power, LafargeHolcim Bangladesh, IFIC Bank, Summit Power, City Bank, Power Grid Company, LankaBangla Finance and British American Tobacco Company were the other turnover leaders on the day.
Want stories like this in your inbox?
Sign up to exclusive daily email