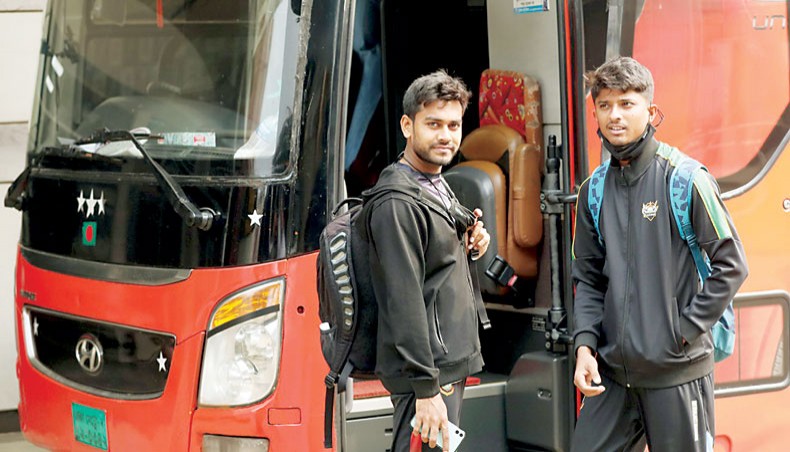 Mehedi Hassan is hoping to bring his declining international career back on track in the upcoming home series against West Indies, starting from January 20.
The former Under-19 captain stormed into international cricket by taking seven wickets against England in his maiden Test match in 2017 but his performance graph has taken a downward slide as the off-spinner has gradually lost his place in the squad.
The selectors now prefer young Nayeem Hasan over Mehedi in Tests and the competition in limited overs side is also increasing, with a number of spin-bowling all-rounders vying for one spot.
Mehedi acknowledged his poor show for Bangladesh in recent times but is hopeful about making things right in the coming series.
'At home or abroad, I could not do well in the last few matches I played. But for me, the advantage is that we are playing agains
t the West Indies. I did well against the West Indies, both in Test and ODI matches, it is a good feeling. I will try to make a comeback from here,' the off-spinner told the media on Wednesday.
Mehedi picked only six wickets in his last 10 one-day international matches where he leaked runs as well and he was also out of the team during Bangladesh's only two Tests in 2020.
With the emergence of Afif Hossain and his namesake Mahedi Hasan, both off-spin bowling all-rounders, he is falling out of favour of the selectors.
The recently concluded Bangabandhu Twenty20 Cup also did not go in his favour as Mehedi only claimed eight wickets for Fortune Barishal and faced harsh criticism for not being able to defend 24 runs in the final over against Gemcon Khulna.
Mashrafe Bin Mortaza used Mehedi as a surprise opener in the Asia cup 2018, after that he came to bat up in the order several times in the domestic matches but could not show much promise as a batsman.
Mehedi is part of the preliminary national team's squad but to stake a strong claim for a spot in the final team for the ODI series he needs to perform well in the two practise matches before the series, the first of which will take place today at the BKSP.
The two teams will be led by Tamim Iqbal and Mahmudullah and the match will start at 9:45am at the ground number 3 in BKSP.
Mehedi is also very delighted to have Shakib Al Hasan back in the team and said the Tigers dearly missed him during his exile.
'After a long time, we are here together and very much eager to play. We have Shakib [Al Hasan] bhai back with us. He was out of the team for a year; his comeback is a plus for us. We are in good shape; hopefully, we will do well in the coming series,' Mehedi said.
Want stories like this in your inbox?
Sign up to exclusive daily email
More Stories from Cricket