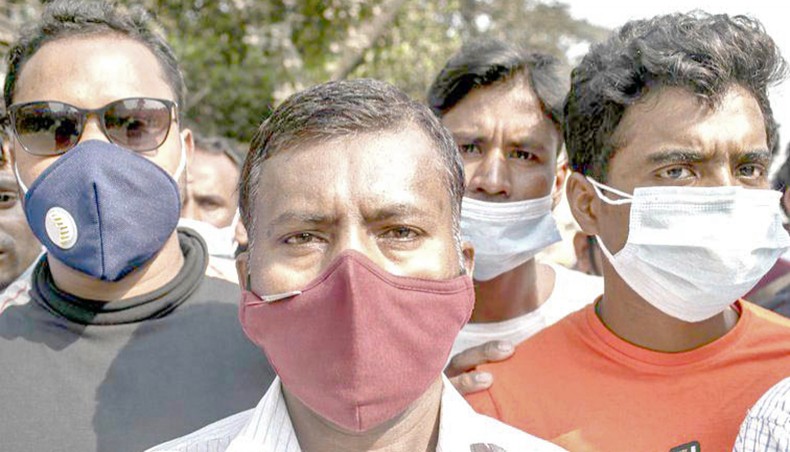 Employers are taking advantage of the COVID-19 crisis to unlawfully dismiss their migrant workforce and to withhold the wages and benefits that are owed to them, write Nicola Piper and Laura Foley
THE COVID-19 pandemic has had a detrimental impact upon the lives of millions of workers worldwide, with numerous sectors having ground to a halt or having been subject to insufficient safety mechanisms. According to the International Labour Organisation, during the second quarter of 2020, there was an estimated 17.3 per cent decrease in global working hours, the equivalent of 495 million full-time jobs lost. As employment sectors became impacted by COVID-19, many migrant workers started to be let go while others were forced to accept poorer terms and conditions of employment, including reduced salaries, or face the termination of their work permit and possible deportation. According to a range of civil society actors, some employers are taking advantage of the COVID-19 crisis to unlawfully dismiss their migrant workforce and to withhold the wages and benefits that are owed to them.
The Business and Human Rights Resource Centre, which tracks over 9,000 companies in over 180 countries, notes a substantial increase in the number of allegations of labour abuse between April and August 2020 (an increase of 275 per cent on the previous year), with COVID-19 cited as a factor in 95 per cent of all cases. Wage theft is the most commonly reported labour abuse, cited in 81 per cent of reported BHRRC cases during the pandemic, an overall percentage that has remained steady compared to 2019 when wage theft was cited in around 80 per cent of all BHRRC cases. This was echoed by the ILO Regional Office for Arab States noting that the majority of labour complaints they receive concern non- or late payment of wages (stated in July 2020). Migrant workers, particularly those on temporary contracts and the undocumented, are thus disproportionately affected by the virus and the ensuing economic fallout, and a key challenge they are facing has clearly been wage theft, due to sudden repatriation as the result of retrenchment.
Wage theft refers to the unlawful intentional under- or non-payment of an employee's wages or entitlements by their employer (or recruitment agency) for work carried out. It can take a variety of forms ranging from unauthorised deductions from employee's wages ('reduced payment'), to the underpayment (or delayed payment) of wages, overtime, termination pay and entitlements such as sick leave and annual leave — or no payment at all.
The theft of dismissed migrant workers' wages during the pandemic has been made particularly difficult to challenge due to the extensive COVID-19 repatriation programmes. Migrants hired via temporary migration programmes had intended to work for the entire period of their contracts, earn money, send remittances and then return to their home countries, ideally after accruing some savings. However, COVID-19 resulted in many such workers losing their jobs and forced them to return unexpectedly.
Furthermore, millions of migrants will return to situations of debt bondage as money-lenders will demand that they repay their recruitment fees and associated travel costs even though many workers will have no money and no means of getting their unpaid wages from their employers. With COVID-19 having rendered the issue of wages a crisis of huge proportion, especially in the context of migrant workers' sudden retrenchment and repatriation without being given an opportunity to lodge claims for unpaid wages, this begs the question as to the nature of the global regulatory framework and responses by global governing actors.
In crises such as COVID-19 where migrants are forced to return prematurely, the International Convention on the Protection of the Rights of All Migrant Workers and Members of Their Families states that, 'In case of expulsion, the person concerned shall have a reasonable opportunity before or after departure to settle any claims for wages and other entitlements due to him or her and any pending liabilities'.
According to the ILO Migrant Workers Recommendation, 1975 (No 151), 'A migrant worker who leaves the country of employment should be entitled, irrespective of the legality of his stay therein, to any outstanding remuneration for work performed, including severance payments normally due' (article 34(1)).
Furthermore, the right to receive a final settlement of wages upon termination of a contract of employment is also contained in ILO's Protection of Wages Convention, No 95.
However, despite this international legal framework, research in a variety of countries and sectors shows that migrant workers continue to experience significant levels of underpayment while in work and upon completion of work. The issue has garnered increased attention in Australia, and migrant workers' underpayment has also been examined in the United States, Singapore and in the Gulf.
Way forward
THE coinciding issues of the non-payment of wages and the continued lack of global action spurred an international campaign by a coalition of civil society organisations and trade unions which calls for an 'urgent justice mechanism for repatriated migrant workers' in order to address the wage-related grievances, claims and labour disputes of the many workers who have been retrenched due to COVID-19. This is also referred to as the Justice for Wage Theft campaign and it includes workers who have lost their jobs due to the pandemic and who have been repatriated to their countries of origin without being given an opportunity to lodge a claim for unpaid wages and other benefits, in addition to those who have been sent on forced unpaid leave. Launching its first appeal in June 2020, this fairly quick action was made possible by the existing partnerships and alliances between key civil society organisations and unions at the regional and global level.
The good news for workers is that change may be on the horizon. The crisis spurred by COVID-19 has come at a time when institutional networks have improved due to, and with, the transnational networks of civil society organisations and unions (separately and also between them). The COVID-19 experience may provide some impetus for concrete 'action' to rectify wage theft such as the creation of a form of institutional mechanism through which retrenched and repatriated migrants could make claims for outstanding unpaid wages and other benefits. The proposal has been made for the ILO to place wage theft on the agenda for its 2021 annual congress which would lead to a tripartite dialogue on this issue, proceeded by extensive data and evidence gathering by the ILO.
For such a global mechanism to become a reality, funding would be required in order to process workers' claims and pay out compensation. The Justice for Wage Theft campaigners propose that governments, private actors, businesses, and philanthropic foundations could contribute to a compensation fund. However, an alternative proposal circulated by the Global Knowledge Partnership on Migration and Development initiative, also known as KNOMAD, is to create a large-scale 'concessional financing facility for migration' through a form of public-private partnership between governments and diaspora organisations. Other proposals for short-term relief which have been circulated by civil society include a debt swap. However, the most important aspect that is needed to tackle the issue of non- or underpayment of wages for work carried out is clear political will. And this is still lacking.
OpenDemocracy.net, January 12. Nicola Piper is professor of international migration and founding director of the Sydney Asia-Pacific Migration Centre at the University of Sydney. Laura Foley is a postdoctoral research fellow working on a project entitled 'Unpacking the Global Governance of Migration: the Role of Global Processes and Institutions in the Realisation of Decent Work for Migrants' based in the School of Law at Queen Mary, University of London.
Want stories like this in your inbox?
Sign up to exclusive daily email
More Stories from Opinion