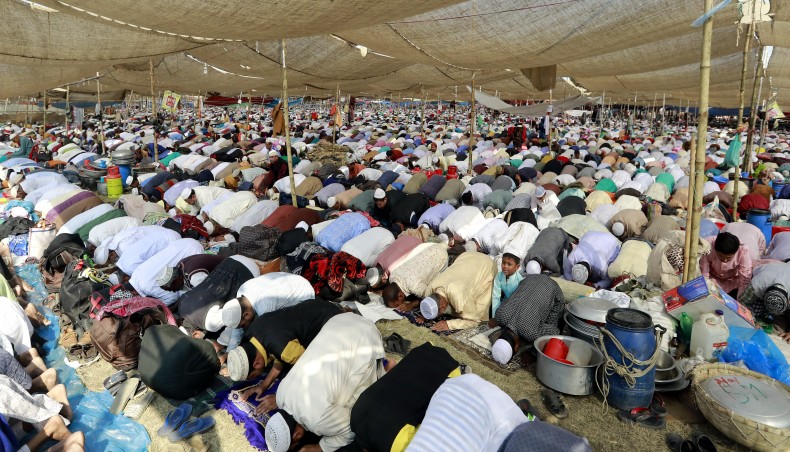 The Bishwa Ijtema, one of the biggest congregations of Muslim pilgrims which usually takes place in January, has been postponed due to the COVID-19 outbreak.
State minister for religious affairs Faridul Huque Khan told New Age on Wednesday that the annual congregation of Tabligh Jamaat that take place in two phases on the bank of the River Turag in Tongi had been postponed.
The government is analysing the situation and may arrange the congregation later, when the COVID-19 situation improves, he said.
Gazipur deputy commissioner S M Tarikul Islam told reporters that they had yet to receive any schedule on organising the Bishwa Ijtema.
He said, 'The home ministry will decide on holding the Ijtema. We will take necessary steps when we get any instruction from the ministry.'
The first phase of the Biswa Ijtema, 2021, was scheduled for January 8, 9 and 10 and the second phase was scheduled for January 15, 16 and 17.
The Tabligh Jamaat authorities in 2011 split the Ijtema into two phases, dividing the participation of the 64 districts, to reduce the pressure on the venue and to ensure better management and security.
But, due to a quarrel between followers of two factions over the nomination of the chief of World Tabligh Jamaat in December 2018, the Ijtema has been held in two phases on the basis of the following of the faction leaders.
Tabligh Jamaat has been organising the Ijtema at the venue since 1967.
Want stories like this in your inbox?
Sign up to exclusive daily email
More Stories from Country