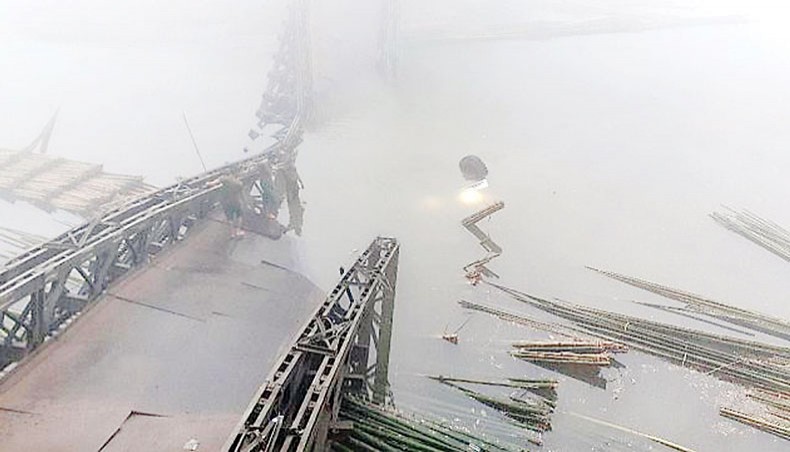 The temporary steel deck bailey bridges under the Roads and Highways Department are still in operation across the country despite risks of fatal accidents.
These bailey bridges are yet to be replaced by permanent concrete and steel bridges mainly for financial reasons, said officials concerned.
A regular database to keep track of the condition of all the bridges is yet to be completed though a project in this regard had been completed three years ago.
Overloading is the main reason for the collapse of these bridges, they also said.
'Bailey bridges are temporary and are built to provide quick solutions to road communication,' said RHD bridge management wing additional chief engineer Shishir Kanti Routh. 'These bridges were set up with the plan of turning these into permanent bridges in future,' he added.
The collapse of bridges, especially bailey bridges, is a common phenomenon which not only halts traffic and causes public sufferings but also claims lives.
At least three people were killed when a bailey bridge collapsed with a stone-carrying truck into the canal underneath at Kutukchhari under Kotwali police station of Rangamati district on Tuesday.
The road communication between Rangamati and Khagrachhari had remained snapped since the accident while RHD Rangamati division executive engineer Shah Arefin said that the bridge collapsed as the truck was overloaded.
According to the department, no survey was conducted to identify risky bridges since 2005.
Till 2017, there were 4,404 bridges with a total length of about 210 kilometres out of which 856 are temporary bailey bridges covering 32 kilometres, as per RHD statistics.
In 2015, the department initiated a technical Bridge Management Capacity Development Project to create a regular database to store data of all bridges completed in December 2018.
Since January 2019, the department started the work of data input on all its bridges under the project but the work is still ongoing.
A senior RHD official said that a steel bailey bridge with the capacity of carrying a maximum of
five tonnes of load would not allow more than five tonnes of load and in such an incident it would collapse immediately.
But a concrete bridge can take more load than its actual capacity, he added.
Shishir Kanti Routh told New Age on Tuesday that these bailey bridges would be replaced gradually with permanent bridges as it was not possible at present due to shortage of funds.
'It will take some fiscals to turn these bridges into permanent ones,' he said and added that some bailey bridges were already under the replacement process.
Shishir said that in 2020 they had called an expression of interest for consultancy services to gather data of all bridges under RHD's Cumilla and Rangpur zones for uploading in the database.
As no competent firms showed interest they would again call an EOI in this regard, he said.
'We have a lack of manpower and that is why we need to appoint consultants,' he explained.
If the consultants show competency in data input on the bridges under these two zones, then data on the bridges under the rest of the eight zones would be collected following the same process within the next two years, he added.
Earlier on December 26, 2020, eight people were injured when a bailey bridge collapsed with two goods-carrying trucks and a passenger vehicle into the canal underneath at Boakhali in Dighinala upazila of Khagrachhari.
Want stories like this in your inbox?
Sign up to exclusive daily email
More Stories from Country