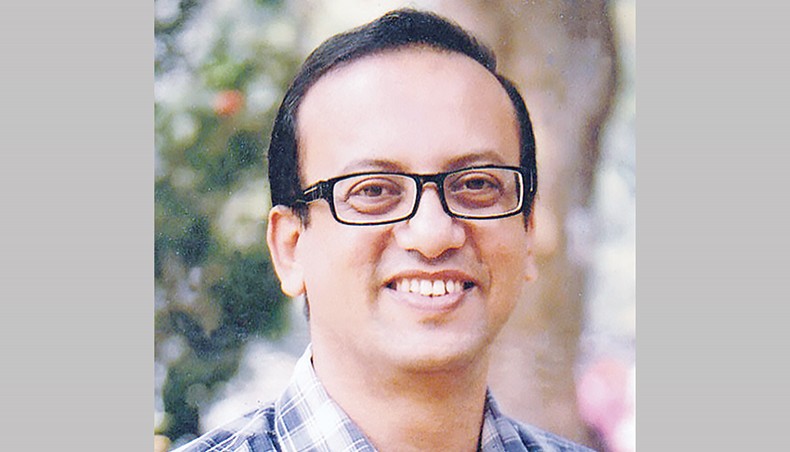 Mostak Sharif mainly writes fictions and novels. He also pens poems and translates literary works.
His writings began appearing in various little magazines and dailies back in the nineties. However, his first novel Sedin Ananta Madhyarate was published in 2012. Till now, he has published 20 literary works — Sedin Ananta Madhyarate, Ayonanata Surjer Din, Abu Toraber Dour, Parasyer Panch Golap, among others.
In a recent interview with New Age, Mostak Sharif, also a professor at the department of information science and library management at Dhaka University, shared his thoughts on his novels and stories, about the upcoming book fair and more.
New Age: Tell us about your first novel Sedin Ananta Madhyarate where you have portrayed the story of a tormented young man desperately seeking employment. Would you please share your experience of writing novels?
Mostak Sharif: The protagonist, in Sedin Ananta Madhyarate, setting aside the conflicts and hardships of life as well as the problems in his love life, desperately searches for any kind of job. In short, the torment of a young man who is born into a lower-middle class family is portrayed in the novel.
My process of writing novels is not too complicated as the plots too are never based on any entrenched ideas. I want to put my thoughts and observations down on paper as simply as I can. Though, I am not sure whether I succeed in doing so, but I am happy to try.
New Age: The human relationship and its attendant complicacies, or some basic questions of life and the search for answers, these are the things that are found in your novels. Would you elaborate on them?
Mostak Sharif: A strong sense of loneliness always drives me. Something akin to what Jibanananda kept referring to in his poems. For example, he wrote: As I take a seat among other beings,/ Am I becoming estranged and alone/ Because of my mannerisms? I feel the same way and that is why an urge to understand the chemistry of human relations drives me. I also make attempts at understanding a greater meaning that lies behind every relationship. Life seems to me very simple and very complicated at the same time as if it is tangled creepers that have formed a complex relationship. I want to understand these creepers. I want to find my way through this complexity. Maybe, that is why my interest lies in human relationships while the simplicity and complexity of such relations make me take life and art seriously.
New Age: In our society, many children might ask their fathers 'Am I the child you did not want?'. What is the premise of your novel Ayonanata Surjer Din in which you homed in on lived experience?
Mostak Sharif: A father who has four daughters might be asked by the youngest 'Am I the child you did not want?'. She might have thought whether the desire of having a son persuaded her parents to have her. In the novel Ayonanata Surjer Din, such thoughts arise on the mind of Kaberi. There are many Kaberis around us. I have a friend who has seven brothers. His parents, who always wanted a daughter, ended up having eight sons. I believe all the writers try to narrate lived experience in their writings and I am no exception.
New Age: Your collection of stories Abu Toraber Dour seems to have reached the door of perception to peer into the human mind — would you please amplify?
Mostak Sharif: Abu Toraber Dour is my only collection of stories. Every story in this collection has come to me in the form of emotional fragments, isolated thoughts or sometimes even a sentence. They knocked on the door of my perception, made me think and gave birth to stories — one after another. With these stories, I also wanted to knock on the door of perception of the readers. That is all!
New Age: After fictions and novels, what motivated you to pursue poetry? Tell us about Parasyer Panch Golap.
Mostak Sharif: I love poetry. I used to write poems at one time. Driven by my passion for poetry, I have tried to write something about to the five gems of world literature namely Ferdowsi, Omar Khayyam, Rumi, Sheikh Saadi and Hafiz. Parasyer Panch Golap is my tribute to them. I want to write about great poets of other languages in future.
New Age: How are you spending your days amid the COVID-19 crisis? Would you share your thoughts about the upcoming book fair amid the COVID-19 crisis?
Mostak Sharif: I have been busy with my profession as well as writing. I spent the first half of the year writing a historical novel, which was my long-cherished dream. The novel named Nefertiti is about the famous ancient Egyptian pharaoh Akhenaten and his queen Nefertiti. I also wrote another novel titled Dirghashwaser Setu, which seeks to explore the chemistry between husband and wife against the back drop of contemporary society. I got a lot of pleasure from writing both novels. My efforts will bear fruit if readers like them.
I want the Book Fair to be held physically following social distancing and health directives. The fair may also be delayed if needed. I am not in support of organising a virtual book fair. However, the writers, readers, publishers, authorities concerned and visitors will have to act responsibly if a physical book fair is held. If everyone works together, it will be possible to arrange a successful and meaningful book fair.
Want stories like this in your inbox?
Sign up to exclusive daily email
More Stories from Literature