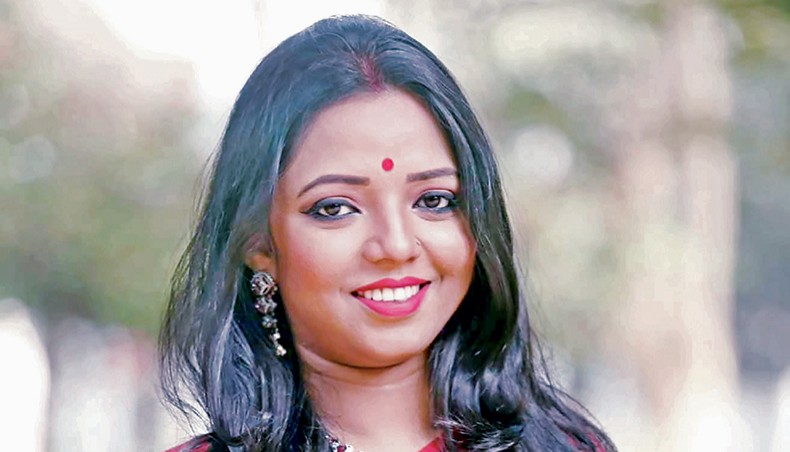 National Film Award-winning playback singer Priyanka Gope said that training in classical music helps singers in attaining vocal flexibility and the same applies to those very special singers with God gifted talent in music.
'Classical music is the foundation of all manner of singing. We have seen many God gifted singers who can sing without learning the basics. Learning classical music will bring easiness in singing all types of songs,' Priyanka Gope told New Age.
Priyanka Gope, who is a leading Bangladeshi classical singer, had trained under the aegis of maestros including Ananda Chakrabarty, Asit Roy, Wahidul Haque, Professor Subir Nandy, Shubhra Guha and Falguni Mitra.
While sharing her experience on how she spent the year 2020, she said, 'I have not been able to do much work except recording two songs. However, I lent my voice to the songs from home. I have also worked on some awareness videos and attended in Facebook live programmes. I have spent most of my time at home in 2020.'
Priyanka Gope is also as an assistant professor at the department of music of Dhaka University. She completed her master's from the music department at Rabindra Bharati University, Kolkata. She did her Phd on the topic of 'Aesthetics and diversity of north Indian classical music'.
'The COVID-19-induced situation forced us to stay at home and all the educational institutions have been shut down to slow the spread of the coronavirus. We started taking online classes so that the students do not give up practicing music in this crisis,' said Priyanka Gope.
Priyanka Gope won National Film Award in the best playback singer female category in 2015 for the song Amar Shukh Shey for the liberation war-based film Anil Bagchir Ekdin.
She also spoke about the contemporary playback songs.
'I think that the listeners' options have increased a lot due to globalisation. However, many singers and producers now only yearn for number of views on YouTube and commercial success instead of quality of songs. In many occasions, we have seen that quality songs have failed to create an impact among the music lovers. Low-quality songs can gain popularity on audience demand,' she said.
'Creating quality songs require more budget as we need to hire good musicians, high-quality instruments and a competent music composer. I think that people want light-hearted music so that they can enjoy the songs and forget about them soon. A good song cannot be made in a single day as one has to put more effort into it,' shared Priyanka.
Priyanka Gope has released four solo albums including a number of classical albums titled Sure Sure Dekha Hobe and Raga Delights from Bengal Foundation.
The singer has also released several compilation albums including Hridoye Sukher Chhowa, which is a duet album with Afsana Runa and was released by Soundtek.
She is an enlisted A Grade artiste of Bangladesh Betar in the categories of Rabindra Sangeet, Nazrul Sangeet and classical music. She is also enlisted as a regular artiste of BTV in the category of Rabindra Sangeet.
'Physical album's popularity has been in decline in the face of the rise of new media. People show little interest in albums nowadays. I have plans to bring another album on classical music out of my passion,' said Priyanka.
'I will lend my voice to four or five single tracks this year. I cannot share details of those songs right now. I have been in talk with a filmmaker for a playback song. I will disclose everything soon,' Priyanka concluded.
Want stories like this in your inbox?
Sign up to exclusive daily email