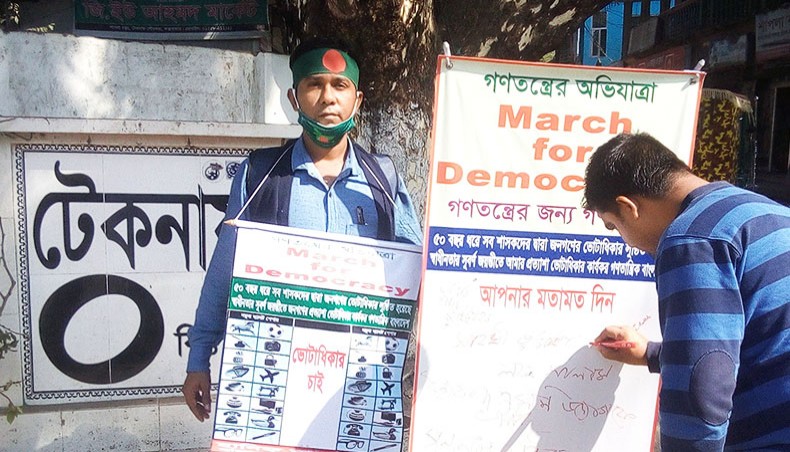 Muhammad Hanif, popularly known as Hanif Bangladeshi, has become a well-known figure for his unique way of campaigns, protests and movements on different issues. On December 18, 2020, he started a solo march for democracy from Teknaf. Md Mashiur Rahaman writes about the march and his other activities
Muhammad Hanif completed his Secondary School Certificate and Higher Secondary Certificate examinations from Noakhali and went to Chattogram for studying Bachelor of Science. But he could not complete his degree. After failing to acquire a BSc certificate, Hanif started doing business in Khatunganj, Chattogram. The first part of Hanif's life looks like this.
In the second part of his life, Muhammad Hanif transformed himself into Hanif Bangladeshi. He refused to belong to Noakhali or Chattogram or any other particular place, rather he claims his right to belong to whole Bangladesh. Not only to the places, but Hanif also refused to belong to any particular organisation and he does not feel like joining any existing political party permanently.
According to Hanif, the political leaders of Bangladesh cannot attract the youth of the country to join the politics and movement for bringing any change any more.
His current name 'Hanif Bangladeshi' is not just given by him to himself. Many people have suggested the name. As Hanif does not stay at a fixed place, rather roam around whole Bangladesh.
For the last few years, Hanif is attracting media attention with his unique style of protesting. He walks through all over the country and campaigns on different issues. In September 2020, Hanif walked from Dhaka to Kurigram to protest border killings. His photo of walking with a symbolic corpse went viral on social media platforms. Before that, he walked for preventing corruption. Nowadays, he is walking for democracy and voting rights.
While explaining his political views, Hanif said, 'I feel that if we want to make any substantial change we need to think of alternative ways. In Bangladesh, religious politics will not thrive and socialist politics failed to attract people. I think, only the establishment of democracy can bring the desired change in the country.'
By democracy, Hanif means a democratic culture. Currently, he is on his way of walking through every district of the country to collect a mass signature for the right to vote. But Hanif knows that only the right to vote will not bring any change. According to Hanif, if the political parties of Bangladesh do not practice democracy inside their party, the word 'democracy' in the country will not make any sense.
Hanif wants democracy in the country as promised during the liberation war. 'Here governments always try to stay in power by any means. According to our constitution, the owner of the state are the people. For practising this ownership, the first right the people have is the right to vote which is absent now. People also seem to have lost their interest in practising this right. I think if people have the right to choose their representative, injustice cannot exist for a long time. In Bangladesh, people do not have the right to elect their representatives now. For this reason, corruption and injustice have become endemic here. We could not establish a Bangladesh in fifty years that would follow the original motto of our liberation war — equality, human dignity and social justice. I do not think any old political can do that anymore,' Hanif explains.
Hanif knows that the members of the young generation are not interested in politics. The generation is marked as 'I hate politics' generation. Though Hanif does not believe in any existing political organisation, his goal is to make the young generation realise the importance of participating in politics. By politics, he means the political consciousness — the consciousness about the rights as a citizen of a so-called democratic country.
When Hanif Bangladeshi goes to different districts, young people come spontaneously to express solidarity with him. Hanif Bangladeshi thinks this as a sign of his works having an impact on society, especially on the young generation. Hanif shares, 'People come to me with ideas of marching. Someone says he will march against corruption. Another person says he will march against dowry. I always encourage them to do so. These are the signs that young people are becoming interested in the style I protest.'
Hanif Bangladeshi explains how he selects his issues for protesting, 'When I was in Chattogram, I was involved with different social organisations. Working with social organisations is very good. But social organisations are like the leaves of a tree, while politics is the tree itself. I believe that without political change no true social change is possible. Therefore, I always choose the politically important issues so that I can make people politically conscious.'
In 2006-07, Hanif Bangladeshi protested against the absence of public toilets in the public places of Dhaka. Hanif feels happy when he sees that the city corporation has made many public toilets all over the city.
Before that Hanif had protested against foetus killing. At that time he demanded the socio-economic safety of the mothers so that they were not forced to kill the foetus.
In April 2019, Hanif went to the Election Commission with a packet of one kilogram rotten apples. 'When other fruits get rotten, they get rotten as a whole. But when an apple gets rotten, it does not get rotten wholly. So, what I meant by the rotten apples is that the whole electoral system did not get rotten, but the election commission did. If we could get rid of this rotten election commission then we could bring back the right to vote again,' Hanif explains.
In September 2019, Hanif walked through sixty-four districts against corruption. He also showed a red card to the corrupted people.
'I had invested most of my money in share market and lost most of them on 2013-14. Nowadays, I earn my livelihood by working as a clearing and forwarding agent. But it is the people who help me financially to continue with my programmes,' Hanif says contently.
The determination Hanif has is extraordinary. His relentless works are attracting the people. The people who are frustrated by the ineffectiveness of all kinds of protests they have seen in recent times, the people who are suffering from almost incurable disbelief in democratic institutions and rights. Hanif's honesty and perseverance, his unwillingness to submit to any old political institution and his quest for a new path for establishing democracy could beam the rays of light in future. The light all of us are searching for. But let history speak.
Md Mashiur Rahaman is a student of English at the University of Liberal Arts Bangladesh.
Want stories like this in your inbox?
Sign up to exclusive daily email
More Stories from Initiative