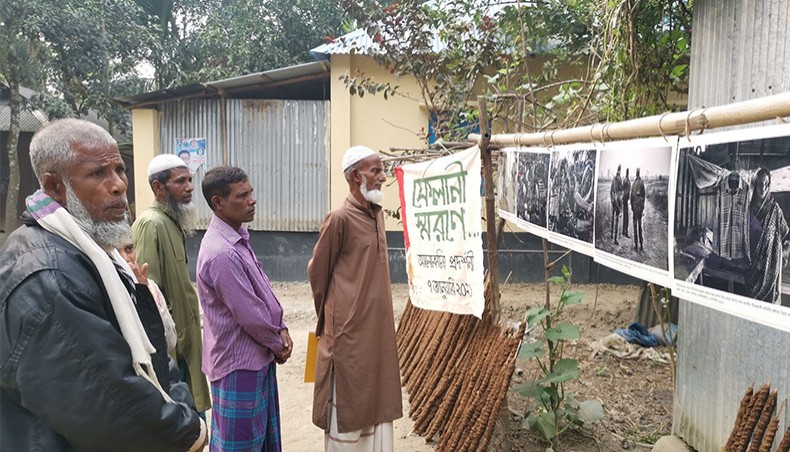 January 7 marked the 10th anniversary of Felani Khatun's death. She was killed by the Border Security Force of India in 2011. Nahid Riyasad writes about the state of border killing and young voices against such violence
ON THE morning of June 7, 2011, Felani Khatun,14, carried with her lipstick, nail polish, face power and other items that she bought the night before with her father. She had planned to wear them on her wedding scheduled to be held the following day. As they were crossing/tress-passing the India-Bangladesh border, with the help of a dalal, she threw her bag over the fence, but she never made it to Bangladesh. Images of her body hanging on the barbwire were shocking for citizens across the world. Ten years later, her family is still crying for justice.
In the decade that followed the killing of Felani, the India-Bangladesh border is named as one of the deadliest borders in the world. In 2020, at least 49 Bangladeshis were killed, 42 among them were shot dead and seven tortured to death. The newly-appointed BSF director-general, Rakesh Asthana, on September 19 made a fresh promise to bring down the number of border killings to zero, however, at least nine Bangladeshi have been killed under the new leadership.
On July 11, 2019, the home minister informed the parliament that the number of border killings by the BSF was 66 in 2009, 55 in 2010, 24 each in 2011 and 2012, 18 in 2013, 24 in 2014, 38 in 2015, 25 in 2016, 17 in 2017 and three in 2018. The figures placed by rights groups were a little higher than what the government has reported. According to a statement of Odhikar, a human rights organisation, at least 1236 Bangladeshi, including women and children, were killed by the BSF from 2000-2019.
However, these are not just numbers. These are lives lost. People who survive border violence carry the mark for life. A young man recently was severely injured, he lost his eyesight. Seeking anonymity, his wife described how the only earning member of the family is suffering without eyesight. 'We have two sons; the younger one goes to the nursery so he is yet to comprehend the situation. However, the elder one is around 10 years old, he understands that his father is not doing all right,' she said.
India often tries to justify border killing saying that BSF is compelled to act the way they are acting to stop drug trafficking, cattle smuggling and other illegal activities along the border. They are acting in 'self-defence'. Sadly, the government in Bangladesh appears to subscribe to this flawed-fatal vision of curbing border crime. It is evident in the way foreign minister in December 2020 told media that 'criminal may die inside Bangladesh territory.' When in reality such indiscriminate border killing by India's BSF is a violation of all relevant bilateral agreements between Bangladesh and India and international border protocols.
In 2011, India and Bangladesh signed a series of agreements to manage their common border which included the agreement on the non-use of lethal weapons by the BSF and the coordinated Border management plan, and the Protocol to the Agreement concerning the Demarcation of Land Boundary. These accords were expected to transform the India-Bangladesh border from a border management nightmare to a zone of peace and prosperity. However, in practices, India showed no regards for this treaty. The 2,000 kilometres of barbed-fence separating India and Bangladesh, constructed drawing inspiration from Israel's infamous wall in the West Bank stands symbolising India's false promises and Bangladesh's failed diplomacy.
Human rights activists have critiqued Bangladesh's capitalistic foreign policy in dealing with border killing. Progressive students' organisations have been vocal about border killing. On January 7, to mark the 10th anniversary of Felani Khatun's death, the Students Federation of Bangladesh organised a talk against border killings and Bangladesh Juba Odhikar Parishad organised a street-drama and demonstration in front of Indian High Commission in Dhaka. On the same day, a solo photography exhibition by young photographer Parvez Ahmad Rony was held at the premises of Felani Khatun's home in Kurugram. Family members and locals attended the exhibition which displayed an array of photos of the families of border killing victims since 2012.
Nasir Abdullah, a student of the University of Dhaka held a sit-in protest at Raju Memorial. He started his protest on January 25, 2020, and held onto his position for 55-days. He began his sit-in demonstration when the BSF killed at least 15 Bangladeshi citizens at different borders within a month.
In his words, 'To be honest, it is the situation in the border area, the continued border killing of Bangladeshi citizens by BSF left me no choice but to protest. The empirical data of such brutality is unsettling. Two things have led me to protest. Firstly, the rise in border violence including killing, abduction and torture; secondly, the prevailing silence among Bangladeshi citizens on the issue. Someone has to take responsibility, take the risk to break the silence. And I am trying to do it with the best of my ability, I am trying to raise the issue among the students and general public so they could realise that it is time for us to raise our voice against border killing.'
Hanif Bangladeshi's march towards Anantapur border with the symbolic dead body of Felani Khatun. Rangpur, October 2020. — Parvez Ahmed Rony/Drik
Hanif Bangladeshi, a social and political activist, on September 11, 2020, began a march from Dhaka towards Kurigram district demanding an end to the border killings carrying a symbolic corpse of Felani. In his view, 'since independence, successive governments are maintaining an asymmetric diplomatic relationship with the neighbouring country, as well as other countries to maintain their position in power. In the process, our national interest is compromised and border killings continue.'
Young photographer, student and political organiser mentioned above are isolated voices, but they are raising the question that the government should raise at the diplomatic level with India. It should do so abandoning its capitalistic attitude. Otherwise, borders will become deadlier, more Felani's dead body will hang from the barbed wire. The colonial ghost will continue to haunt the people living along an imaginary borderline.
Nahid Riyasad is a member of the New Age Youth team.
Want stories like this in your inbox?
Sign up to exclusive daily email