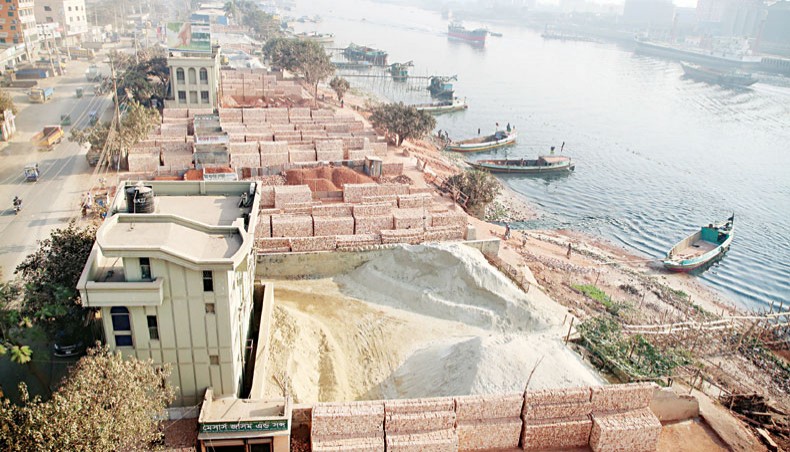 Only 32.37 per cent grabbers of the country's river lands were evicted in over a year's time while many grabbers reoccupied the lands few months after their eviction, according to government and independent reports.
Independent surveys conducted by green activists further shows that the district administrations, the Directorate of Land Records and Survey, the Bangladesh Inland Water Transport Authority and three other port authorities did not demarcate the estimated 700 rivers accordingly.
Greens also criticised the failure of the agencies in evicting the grabbers permanently.
Due to the combined pressure by the High Court division, the press, civil society and donors, the government took a number of steps to demarcate the river boundaries and evict occupiers but these were just eyewash and yielded little results even though a huge amount of public money had been spent, they argued.
'Rivers have not been demarcated properly to give advantage to the powerful grabbers like politicians and businesses, flouting laws and several Appellate and High Court Division verdicts,' Bangladesh Paribesh Andolan general secretary Sharif Jamil said.
Even after the BIWTA's 15-month eviction drives in five Dhaka rivers, spending over Tk 1.5 crore, he said, adding, 'A ruling party lawmaker, truck owners and several other powerful people recently reoccupied the land of the Buriganga and the Turag.'
No grabbers of the Meghna were evicted by any agency though for this very reason donors refused to fund Dhaka WASA's Tk 8,151 crore Gandharbpur water treatment plant, he said.
'Eviction drive is commencing at a snail's pace while encroachment on rivers continues unabated. Only 32.37 per cent river grabbers were evicted across the country in over a year, the National River Conservation Commission report showed,' he added.
Many government officials played into the hands of some vested interest groups for which the rule of law cannot be established, Human Rights and Peace for Bangladesh chairman advocate Manjil Morshed said.
'Officials who want to work dedicatedly often face harassments and punishments,' Manjil said.
Additional commissioner of Chattogram division Mohammad Mizanur Rahman and additional commissioner of Rajshahi division Md Abdul Mannan admitted that the district administrations under their divisions were facing problems while trying to evict grabbers due to lack of funds, court orders and pressure created by the politicians and businesses.
'Many grabbers obtained injunctions from the courts by producing forged documents while others used their political clouts,' Mizanur said.
They said that Dhaka division performed better as the government allocated a special fund for carrying out eviction drives under the BIWTA, they said.
Only 336 out of 2693 grabbers were evicted in Rajshahi division while 1,351 out of 18,537 grabbers were evicted in Chattogram division, according to the river commission report which was placed to the Parliamentary Standing Committee on shipping ministry on December 27.
The report, which was developed based on data provided by the district administrations and the BIWTA from January 2019 to March 2020, states that 7,387 of the 8,890 grabbers in 12 districts under Dhaka division, including the eviction of 5,799 grabbers by the BIWTA was conducted as part of its Tk 848.55 crore project for beautification of the banks of the five rivers around Dhaka.
Dhaka district administration, however, sent a list of just 959 grabbers to the commission, said Md Muzibur Rahman Hawlader, chairman of NRCC.
He said that 793 out of 5611 grabbers were evicted in Barishal division, 367 out of 2,044 in Sylhet division, 1,713 out of 4,848 in Mymensingh division, 1,023 out 2,760 in Rangpur division and 5,609 out of 12,007 in Khulna division.
Total 18,579 out of 57,390 grabbers were evicted in over a year in 64 districts across the country by district administrations and the BIWTA and the eviction rate was 32.37 per cent, he said.
River and Delta Research Centre's survey disclosed last week claimed that 1,423 river demarcation pillars in Dhaka were installed in wrong places by the BIWTA to favour the grabbers.
BAPA general secretary Sharif Jamil claimed that the actual number of grabbers would be at least 10 times higher than the river commission report mentioned.
Jamil and BIWTA officials said that the Buriganga, Turag and Balu river lands were reoccupied in many areas, including in Pagla, Kamrangirchar, Gabtali, Washpur, Ashulia, Abdullahpur, Rupganj, Tongi, by the same businesses and politicians who had been evicted as part of the BIWTA's eviction drive that continued for 78 days between January 2019 and March 2020.
During the period, BIWTA officials claimed that 201 acres of river lands were reclaimed evicting 7947 grabbers.
They said that they could not conduct the eviction drive at Gabtoli where sand, brick and coal traders obtained High Court orders in their favour obtaining lease from Dhaka Zila Parishad while the truck stand near the place could not be evicted in the face of the protest from truck owners.
Over 800 wholesalers are continuing brick, sand and coal businesses on over 104 acres of land on both the banks of the Turag near the Gabtoli bridge.
Bangladesh Truck and Covered Van association also developed a big truck stand at the place.
A coal trader Md Rafiqul Islam and Dhaka Zila Parishad chairman Mahbubur Rahman said that the trades were continuing as a High Court Division bench gave a status quo order.
'We want the lease to continue and we recently held a meeting with the Dhaka north city corporation and traders in the presence of local lawmaker Aslamul Haque,' Mahbub said.
Ruling party Awami League lawmaker Md Aslamul Haque admitted that he attended the meeting but also said that he would not object if the government reclaimed the river land.
He, however, refused to talk about his alleged occupation of the Turag saying that 'the matter is subjudice.'
Bangladesh Truck and Covered Van association joint general secretary Hossain Ahmed Majumder said that the truck stand would continue operations till the government allocated alternative land to them. 'In our recent meeting with the home minister, BIWTA officials also assured that they will not create further disturbance,' he said.
In Abdullahpur, Rezaul Hasan Mahmud and Billal Hossain Mahmud, two sons of late union parishad chairman Md Sultan Mahmud, redeveloped the wholesale fish market on an 55-decimal land on the bank of the Turag, which had been demolished in 2019 by the BIWTA.
Near the Abdullahpur sluice gate, the big kitchen wholesale market was redeveloped by Hazi Muhammad Shamsuddin and was named Bismillah Paikari Kacha Market while SA Jafar developed another wholesale market recently near the Bismillah market.
Billal and Shamsuddin admitted that local ward councillor Md Afsaruddin Khan helped them redevelop the markets.
Afsar denied all such claims of helping the traders but said that the BIWTA forcibly demolished those markets developed on personal properties.
The grabbers in other districts similarly continue to occupy river lands after getting lease or help from agencies other than the one that had carried out the eviction drives, BAPA general secretary Jamil said.
Chattogram division additional commissioner Mizanur Rahman said that the Chittagong Port Authority gave lease to the grabbers after Chattogram district administration evicted them from the Karnaphuli banks.
Chittagong Port authority member Md Jafar Alam denied the allegation terming it as sweeping a comment.
'We will evict the grabbers of 67 acres of land of the Karnaphuli soon following the High Court order,' Jafar said.
River commission chairman Muzibur Rahman said that the commission sought Tk 200 crore from the Finance Division to distribute among the deputy commissioners for evicting grabbers throughout the country.
'We are also working with other agencies to settle the issue of disputed lands,' he said, adding that all the agencies must cancel all leases of river lands as ordered by the Appellate Division.
DSLR director general Md Taslimul Islam and BIWTA chairman Golam Sadeq claimed that the rivers were demarcated according to the cadastral survey following the High Court Division order.
Sadeq said that 2,150 out of 5,093 pillars on Dhaka rivers had already been installed while piling of 2,150 pillars was done.
'We are developing walkways and eco parks to protect lands from further encroachments,' he said, adding that the agency, however, would continue operation of the truck stand on the Turag near Gabtoli.
Land ministry secretary Md Mustafizur Rahman and shipping secretary Mohammad Mesbahuddin Chowdhury claimed that the government was giving required financial and administrative support to the field officials for evicting grabbers.
'Nobody will be favoured,' Mesbah said.
Want stories like this in your inbox?
Sign up to exclusive daily email
More Stories from Country