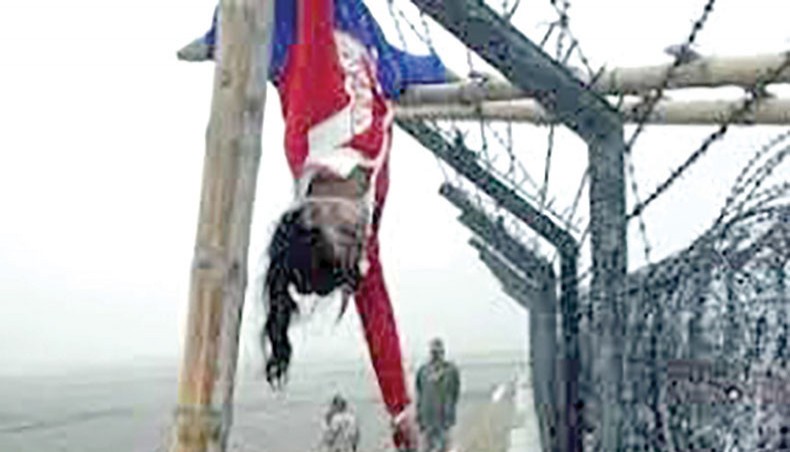 The family of Felani Khatun is still searching for justice 10 years after the teenaged girl was reportedly shot to death by the Indian Border Security Force on this day on Anantapur border in Kurigram in 2011.
Her death anniversary is going to be observed across the country at a time when the country is witnessing a rise in border killings.
At least 49 Bangladeshis were killed in BSF firing on borders in 2020.
Felani, a 15-year-old girl, was shot dead by the BSF in Anantapur border under Phulbari upazila in Kurigram on January 7, 2011, when she was returning home crossing barbed-wire fences erected by India.
Her body was left hanging from the barbed-wire fence for five hours and the news sparked protests at home and abroad.
'The murder of Felani was one of the worst examples of the Indian government's aggressive role in Bangladesh over the past few decades,' said human rights organisation Odhikar in a statement on Wednesday.
'Atrocities by the BSF on Bangladeshis continue. Since 2000, a total of 1,236 Bangladeshi citizens, including women and children were killed by BSF,' the statement added.
Human rights reports showed border killing continued despite a repeated assurance of zero killings by the BSF.
According to another rights group Ain O Salish Kendra, a total of 42 Bangladeshis were shot to death and seven more were tortured to death by BSF
in the year making it one of the deadliest years in recent history.
The family of Felani will arrange a prayer session and distribute food among the poor people in her village home at Banarbhita of Ramkhana union at Nageswari in Kurigram, reported the New Age correspondent in Kurigram.
The Border Guard Bangladesh will also contribute to the food distribution.
Talking to New Age, Felani's mother Jahanara Begum lamented that they were still waiting for justice.
'I hope that none will have to watch their children or relatives die on borders,' she said.
'I didn't get justice in 10 years, but I hope for it. I will continue my struggle for justice,' the mother added.
The shocking photo of Felani's body hanging upside down from the barbwire drew widespread protests and condemnation.
The BSF member, Amiya Ghosh, who allegedly killed the teenager, faced two phases of trial in India courts, but was acquitted in both incidents.
Want stories like this in your inbox?
Sign up to exclusive daily email
More Stories from Foreign affairs