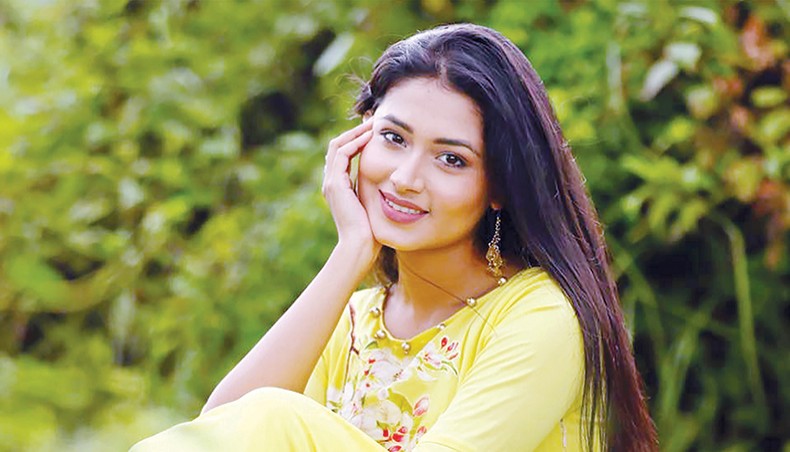 Popular small screen actress Tasnia Farin spent her free time during the general day honing her acting skill.
She made the most of her indoor days identifying her shortcomings and learning from her mistakes.
'After shootings for the small screen productions stopped, I suddenly found myself with lot of free time. I spent my days at home re-evaluating my works and watching my acting on TV. I tried my best to identify my shortcomings and addressed them,' Tasnia Farin told New Age.
'Both small and silver screen artistes have been hit hard by the COVID-19 crisis and I am no exception. I am now back on the shooting floor and making up for the lost time,' Tasnia Farin told New Age.
Farin has recently acted in a teleplay titled Block List directed by Rulin Rahman.
She acted opposite Mosarraf Karim in the teleplay, which was released on the Youtube channel named Seven Tunes Entertainment. It has garnered more than 1.62 million views in a week.
Farin is selective of her roles and considers it important to read a script carefully before accepting an offer.
'I consider it important to read a script thoroughly before accepting an offer. I am selective of my roles but never turn down an offer if I like the script,' mentioned Farin, who is equally comfortable with acting in both small screen and online productions.
'Whether it is small screen or online production, I always try to deliver my best acting performance. I have acted in many online productions till days which have received huge response from viewers. I am thankful to my fans for their support,' said Farin.
The actress, who is busy shooting a teleplay, wants carve a niche for herself at the industry in 2021.
'I am currently busy shooting a teleplay but I don't want to disclose the name of the production yet. I hope the COVID-19 situation will improve soon. I want to make the most of the year 2021 and leave an impression on the viewers,' mentioned Farin.
The actress currently has no plan to make her silver screen debut.
'I think I am still not ready to explore the silver screen. I want to sharpen my acting skills before making that jump. I urge my fans to pray for me,' she ended.
Want stories like this in your inbox?
Sign up to exclusive daily email