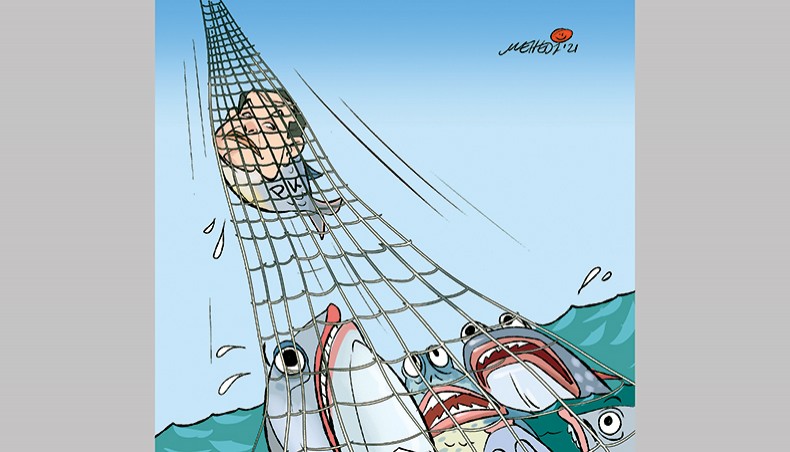 The High Court on Tuesday slapped an international travel ban on 25 people, including the family members of former NRB Global Bank managing director Prashanta Kumar Halder and a former Bangladesh Bank official, a former secretary and some reported girlfriends of PK Halder for their alleged connection with him.
Halder was facing an allegation of embezzling over Tk 10,000 crore, which he took out as loans from different financial institutions in the name of companies owned by him and his family members.
Halder fled the country after allegedly embezzling the money.
Former Bangladesh Bank deputy governor SK Sur, former education secretary Nazrul Islam Khan, who is also incumbent chairman of International Leasing and Financial Servies Limited, PK Halder's mother Lilaboti Halder, and PK Halder's cohort Uzzal Kumar Nandi are among the people on whom the travel ban was slapped.
The rest 21 are Harunur Rashid, Shami Huda, Amitavh Adhikary, Abontika Boral, Shamima, Runai, Sukumar Mridha, Anindita Mridha, Tapan Dey, Swapan Kumar Mistri, Avijit Chowdhury, Rajib Shom, Erfan Uddin Ahmed, Angan Mohan Roy, Nongo Chow Mong, Nizamul Ahsan, Manik Lal Somaddar, Sohel Shams, Mahbub Musa, AQ Siddique and Moazzem Hossain.
Bangladesh requested Interpol to issue a red notice against fugitive PK Halder.
Assistant inspector general for National Central Bureau of Interpol at police headquarters Mohiul Islam said they requested Interpol to issue a red notice against PK Halder on Monday.
He said that the request was made after the Anti-Corruption Commissioner contacted the police for the issuance of the notice.
Interpol, however, was yet to respond to the request.
The court also asked the ACC to interrogate the 25 people if investigators felt it necessary.
The government told the court that the process was underway to issue a red alert by Interpol to arrest Halder.
PK Halder is wanted in a corruption case filed by the ACC in January 2019 on charge of money laundering and amassing wealth worth Tk 274.91 crore beyond his known sources of income.
The court set January 20 for passing further order on the issue.
The online court of Justice Md Nazrul Islam Chowdhury and Justice Ahmed Sohel issued the directive after hearing an application filed by five 'cheated investors' of People's Leasing and Financial Services, a financial institution.
The applicants are former chief justice Mustafa Kamal's daughter Nashid Kamal and Raziul Hasan, Samia Binte Mahbub, Md Tariqul Islam and Showkatur Rahman.
Earlier on Sunday, the court allowed the five to make their arguments over the PK Halder's issue, now pending with the High Court.
The five requested the High Court to ask Bangladesh Bank to return their money.
They demanded that their money should be returned from the fund of Bangladesh Bank, which requisitioned over 1,800 crore from the People's Leasing and Financial Services Limited.
Besides, the ACC on Tuesday summoned seven people to interrogate over their alleged link with PK Halder.
Of them, PLFS former chairman Motiur Rahman and its former director Arafin Shamsul Alamin were asked to appear at its head office on January 11, Nature Enterprise proprietors Nowsher-ul Islam, Momtaz Begum and Sanjib Kumar Hawlader were asked to appear there on January 12 and MTB Marine enterprise owners Basudev Banerjee and Papia Banerjee on January 13.
Earlier on Monday, the ACC arrested businessman Shankha Bepari, a close aide to PK Halder.
The commission deputy director, Salahuddin, arrested him after two hours of interrogation at its interrogation cell.
On December 30, the High Court directed all media outlets not to publish or broadcast interviews of PK Halder or any other fugitive convicts or under-trial absconding accused until further order in this regard.
ACC lawyer Khurshid Alam Khan told the court that Halder was accused of embezzling over Tk 10,000 crore allegedly by taking out loans from different financial institutions in the name of companies owned by him and his family members.
Khurshid said that Halder undermined the image and authority of the courts by speaking to the media on subjudice matter without surrendering in the lower court or in the High Court where his case was pending.
On November 26, a Dhaka court issued a warrant for Halder's arrest and sent the order to the home ministry.
On October 24, 2020, PK Halder informed the office of the attorney general and the ACC that he would not be able to return to the country on October
25 as scheduled as he had developed COVID-19 symptoms.
He earlier expressed his willingness to return to the country to help ILFSL to recover its money.
PK Halder made a U-turn two days after the High Court on October 21 had asked the inspector general of police and the ACC to arrest him immediately on his arrival at Shahjalal International Airport in Dhaka from Dubai and ensure his presence at the lower court where he is wanted in the corruption case.
Want stories like this in your inbox?
Sign up to exclusive daily email
More Stories from Country