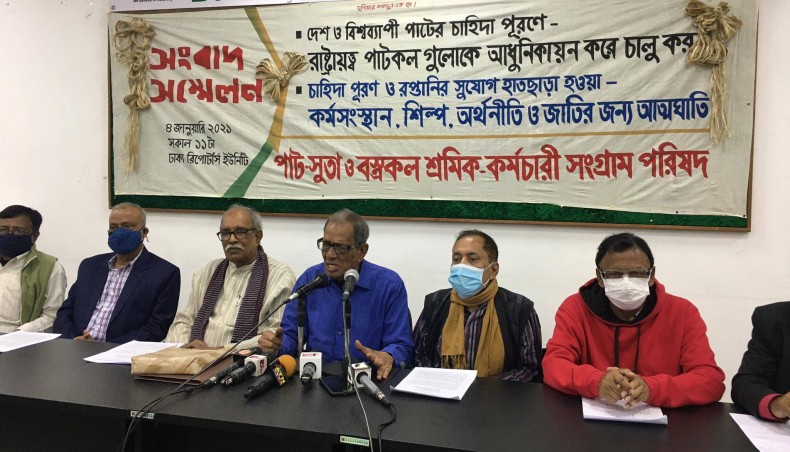 Pat-Suta O Bastrakol Sramik Karmachari Sangram Parishad on Monday urged the government to reopen the state-owned jute mills by modernising them, take an aggressive policy to increase production in jute sector and produce exportable goods in the mills.
The Parishad leaders, in a press conference at the Dhaka Reporters' Unity in the capital, also said that the closure of the mills was suicidal for employees, industry, economy and the nation.
The Parishad was created in 1993 by left leaning labour organisation leaders and activists in the jute sector.
The country would not be able to keep the opportunity of meeting its demand for jute products and export of jute goods in its grip due to the closure of the mills, said the leaders.
The Parishad convener Shahidullah Chowdhury blamed the government's lack of political will and dependency on recommendations of bureaucrats as the major reasons for closing the mills.
In the backdrop of COVID-19 pandemic, use of jute and cotton products would increase manifolds in developed countries for which the demand of jute goods is expected to be much higher, he said.
Bangladesh and India are the two main jute and jute goods producing countries and India has no ability now to export as their jute goods production has decreased to 11 lakh tonnes from 16 lakh tonnes, said Shahidullah.
Reading out a statement, the organisation joint convener Quamrul Ahsan said that the existing total demand for Bangladesh-made jute goods on the local and international markets is five lakh tonnes.
If the Indian market could be opened by negotiating with the country to withdraw its anti-dumping duty on Bangladesh jute products, Bangladesh's market in India would be increased by four to five lakh tonnes, he said.
He said that the country should now set a target of producing nine lakh tonnes of jute goods creating scope for 1.5 lakh new jobs.
He urged the government to consider two proposals — modernising the jute mills as per the proposed memorandum of understanding of the Chinese government and reopening them and the Sramik Karmachari Oikya Parishad's proposed modernisation of the mills by spending Tk 1,200 crore and reopening them — to ensure jobs of at least 75,000 workers.
He demanded immediate payment of all the dues to the workers at a time.
Parishad leaders L Machhiudoula, Aslam Khan, Abul Kalam Azad, Md Anwar and Kishore Roy were present.
The government on July 2, 2020 closed all the 25 state-owned jute mills rendering more than 50,000 workers jobless overnight.
Want stories like this in your inbox?
Sign up to exclusive daily email
More Stories from Trade & Commerce