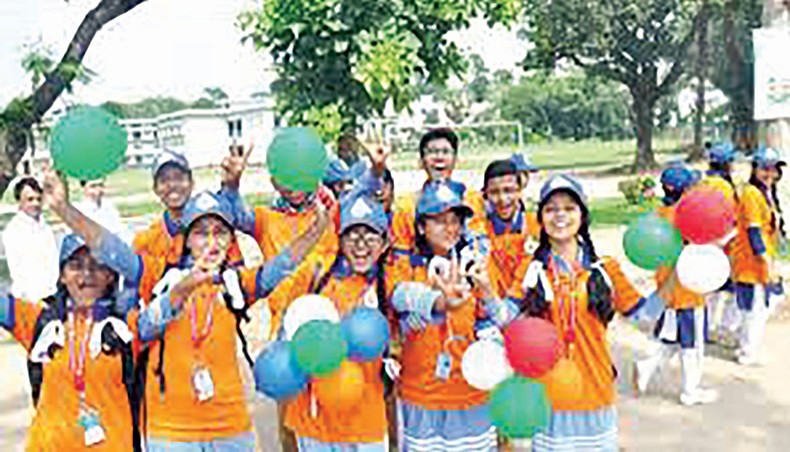 Income from school banking deposits is facing higher tax as students who have opened the school banking accounts do not have taxpayers' identification numbers.
Banks are deducting 15 per cent tax at source on income from school banking deposits as per a provision of the income tax law. As per tax law, deduction of advance income tax is 10 per cent for depositors having TINs.
As per Bangladesh Bank data, banks opened 24.51 lakh accounts as of September 2020 under the school banking scheme and the deposits reached Tk 1,821 crore in the accounts.
The central bank in 2010 introduced the school banking account service to develop savings attitude among the students less than 18 years of age.
The BB and some commercial banks in separate letters have recently sought clarification on the tax issue from the National Board of Revenue and requested for a change in the provision.
In the letters, the central bank and other banks requested the NBR to deduct 10 per cent tax on income from the deposits kept by the students whose parents have TINs.
The central bank in December in a letter requested the NBR to consider accepting guardians' TINs for deducting AIT at 10 per cent to encourage students to deposit in their school banking accounts.
Otherwise, parents will shift the deposits to their own accounts, which will hinder the efforts of financial inclusion programme, it said.
School account holders are minors and they do not have TINs, it added.
Earlier, Islami Bank Bangladesh in a letter to the NBR said that guardians should be allowed to open school banking accounts in the name of students by showing identity cards of educational institutions instead of national identity cards.
'Since these account holders are minors and they have no national ID as well as electronic TINs, we deduct 15 per cent tax on income,' it said.
The revenue board generally does not issue e-TIN to anyone who do not have national ID card.
'E-TIN holding guardians of some of the student account holders applied to the bank to deduct AIT at 10 per cent instead of 15 per cent considering their e-TIN certificate since guardians are the beneficiary owners and providers of fund of these accounts,' the bank wrote.
The bank requested the NBR to consider its appeal for a smooth implementation of the Bangladesh Bank's financial inclusion programme.
NBR officials said that income tax wing of the NBR was now analysing the legal provisions on the issue and looking for a solution.
They, however, said that existing regulations did not have any provision to allow 10 per cent tax deduction on income from school banking accounts on condition of having TINs by guardians.
An amendment to the tax law is required to introduce the provision, which is not possible right now, they said, adding that the NBR may consider the issue in the next national budget.
Want stories like this in your inbox?
Sign up to exclusive daily email
More Stories from Apparel