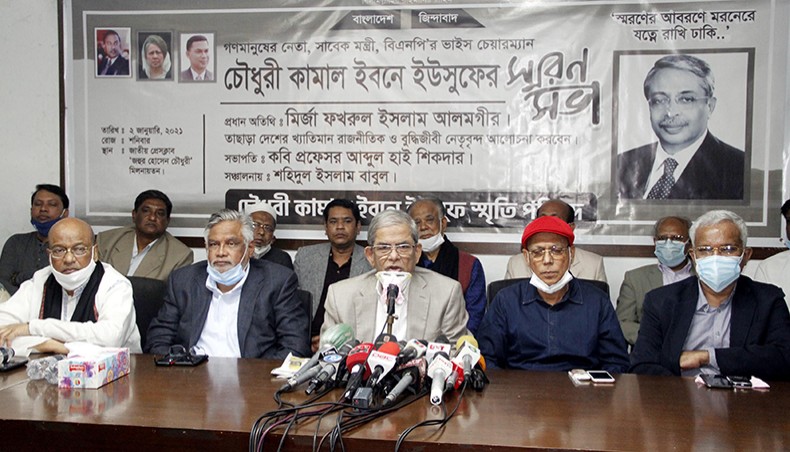 Bangladesh Nationalist Party secretary general Mirza Fakhrul Islam Alamgir on Saturday said that his party expects a beautiful Bangladesh in 2021.
While speaking at a discussion at the National Press Club in Dhaka, Fakhrul Islam said, 'Today is the second day of the year and we have many expectations.'
In 2020, coronavirus brought much suffering for us and we hope that this new year will give us relief, said Fakhrul.
He also expressed his hope for an independent, free and democratic Bangladesh.
Fakhrul said that former president Ziaur Rahman wanted to make Bangladesh a sovereign state on the basis of nationalism with a multiparty system.
He also expected that the state would ensure freedom of expression and accept differences of opinions.
Chowdhury Kamal Ibne Yusuf Smriti Parishad organised the meeting to commemorate the life and works of BNP vice-chairman and former minister Chowdhury Kamal Ibne Yusuf who died of COVID-19 in Dhaka on December 9 at the age 80.
Commemorating the role of Chowdhury Yusuf in BNP politics, Fakhrul said that they did not believe in having any lord in foreign countries.
'We want to deal with the other countries with holding our head up because BNP maintains it in its politics,' Fakhrul said.
The people must get back their democratic rights through movements and the autocratic government must me defeated, Fakhrul said.
A parliament of the people will be set up and a pro-people will be state would be formed, Fakhrul added.
'Now the country lacks democracy and democratic rule and leading towards one-party rule in the name of democracy,' Fakhrul said.
Chaired by advisory council member of BNP chairperson, Abdul Hye Shikder, BNP organising secretary Shahidul Islam Babul, central leaders AZM Zahid Hossain, Amanullah Aman, Khairul Kabir Khokan, Shahjada Miah, Helen Zerin Khan, daughter of Yusuf Chowdhury Nayab Yousuf and others spoke at the meeting.
Want stories like this in your inbox?
Sign up to exclusive daily email
More Stories from Politics