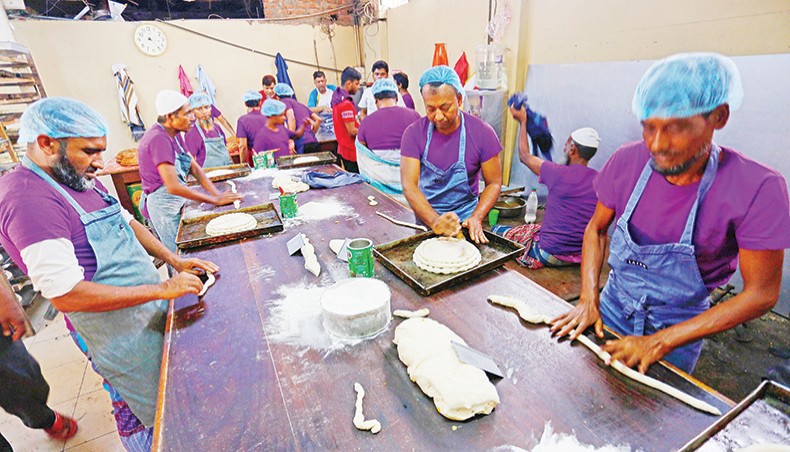 Imported packaged foods such as bakery and confectionery items enjoy continued high demand as many people have little trust in local products over safety concerns.
Packaged foods are regularly imported under 19 major categories with their sale witnessing drastic increases in the past five years.
Of the last five years, Bangladesh spent the highest amount of over Tk 200 crore in 2017–18 in importing 19 processed food items.
The country spent Tk 170 crore in 2018–19, the second largest packaged food import expenditure in the last five years, the years for which import data is available.
Five years ago in 2014–15 the packaged food import expenditure was Tk 77 crore.
'There is no denying that the poor quality of local food may have influenced many to choose foreign food,' said Bangladesh Food Safety Authority member Abdul Alim.
But, Alim said, the rapidly changing economic condition of people could have also played a role in the expansion of the imported food market.
The rapid increase in the demand for costly imported packaged food came as food adulteration and contamination went on unabated in the country with its safe food campaign remaining largely ineffective.
The items that can be regularly found on the list of imported foods are breads, biscuits, chocolate, pasta, pastry, cakes and cereal-based products.
The import data shows that the demand for gingerbread, a term used to describe a wide range of baked foods such as cakes, cookies and biscuits, increased to 3,164 kilograms in 2019 from 324 kilograms in 2015.
The import of crispbread, a dry cracker made of rye flour, rose to more than 112 tonnes in 2019 from 53 tonnes in 2015.
The import of other breads, cakes and pastry was over 213 tonnes in 2019, slightly down from 279 tonnes in 2015.
'This is really surprising that people choose to eat imported bread,' said Alim, explaining that breads get easily rotten and their shelf-life is from two to three days.
The market of packaged bread has rapidly expanded in Bangladesh almost without any regulation for bakeries marketing their products with false expiry and manufacture dates.
Some of the breads eaten by low-income people are sold without expiry dates.
Bakeries and confectionary makers in Bangladesh are known for their little respect for hygiene and safe food manufacturing practices.
They are often found using excessively harmful artificial colours and flavours by mobile courts conducted by different authorities dealing with safe food.
On December 20, Bangladesh Food Safety Authority raided a bakery, Al Nasir Sweets and Bakery, and found that it was using 11 kinds of expired raw materials.
'More than 99 per cent bakeries refused to improve their hygiene practice and products despite repeated warnings,' said BFSA's food safety inspector Md Kamrul Hasan.
He recalled repeatedly fining some Khilgaon-based bakeries in recent past with the bakeries refusing to change their unsafe mode of production.
One of the bakeries, he said, stored pastel colours in 19 pots in order to use them in their products.
Bakeries are also known for using textile colours, burnt oil and unlabelled flavours, he went on.
They also use artificial sweeteners such as saccharin and are housed in damp places, home to flies, cockroaches, rats and many other insects.
Mobile courts regularly find bakery workers dressed only in lungi perspire heavily as they make dough with bare hands. Bakery workers use their whole body weight to make dough by walking on it with bare feet.
'You will not find even two dozen out of the several thousand bakeries in the country following hygiene practices,' said Zaker Ahmed, managing director, SS Food Limited.
He said that the bakery and confectionary industry was now expanding with a target to have mainly village folks as their customers, who are least aware of safe food.
'Our processed food industry is flourishing and it may not initially meet the need of everyone,' said Bangladesh Agricultural University's Food Technology and Rural Industries associate professor Poly Karmoker.
Products such as pasta, she said, are consumed by affluent people and it is only natural that it will be imported.
Pasta produced in Bangladesh is of low quality if compared with imported pasta in terms of its texture and contents, she added.
Locally-produced pasta contains higher starch than it should do, said Poly.
The import of pasta under the category 'other pasta' rose to 1,206 tonnes in 2019 from only 189 tonnes in 2015.
There are three other categories under which the import of pasta has significantly increased.
The import of chocolate rose to 1,214 tonnes in 2019 from 526 tonnes in 2015.
Bangladesh imports processed foods from a good number of countries such as New Zealand, Denmark, Austria, Australia, the UK, the USA, Malaysia and Indonesia.
Bangladesh Bread, Biscuit o Confectionary Prostutkarok Samity president Jalal Uddin said that 80 per cent of their 5,000 bakeries are small entrepreneurs barely surviving against numerous odds like rapidly increasing electricity and gas prices.
'We are trying to improve our quality but we can't do that overnight,' said Jalal.
Bangladesh's processed food export has reached about Tk 400 crore recently with the target consumers being expatriate Bangladeshis.
'What should I feed my child when even cow milk is not safe?' asked Alhaj Uddin, a banker in his middle age.
'I don't trust local products. I feed my child imported cereal,' he said.
Want stories like this in your inbox?
Sign up to exclusive daily email
More Stories from Country