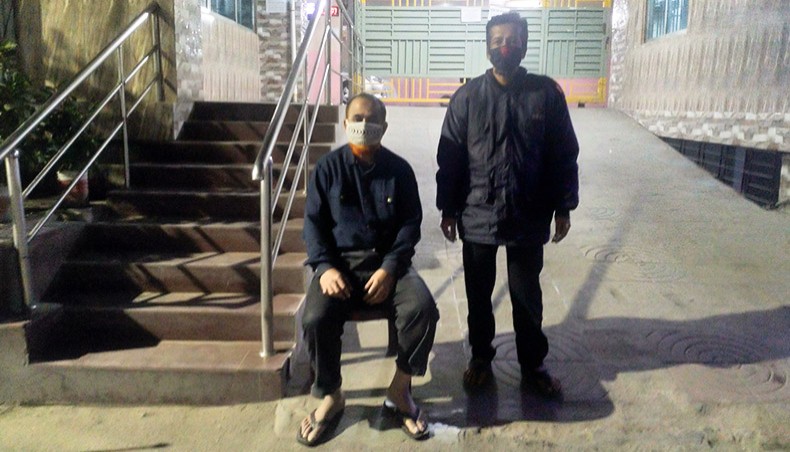 Security guards working in the night shifts provide overnight security to a particular place or building. People should treat them with kindness and compassion and should not behave in an ill-mannered way rather we must give them proper honour and respect they deserve, writes Md Shamshul Arafin
HAVE you ever wondered who whistles through the streets of Dhaka city at midnights? Yes, you have guessed right. They are the night guards or watchman of Dhaka city. Their presence at night makes us feel safe and secured. Nightguards not only use the whistle but also shout in intonation to announce their presence at night in the streets and also in different corners of the city.
A night guard of Mohammadpur residential area Mr Ahmed narrates, 'When the city dwellers are asleep, I keep my eyes open to protect them. When they wake up, I go to bed. That is my duty.' People like Ahmed live within our society and remain invisible in our eyes.
Nightguards have a particular dress code that they maintain regularly during their duty-time. The colour of their dress, time table of duty, number of guards and salary varies from place to place. They are mostly seen in a khaki dress, pair of black shoes with a sweater (in winter) and a cap on. For their work, they get a wooden stick, a torchlight and monthly mobile recharge. These essentials are provided by those particular area residents.
They do not have any modern equipment like a walkie-talkie, night vision camera or even an android mobile phone through which they can take pictures or do a video of the things which will later help the authorities to get a clue of a crime if it occurs. An in-charge or a commander is assigned to guide them and to keep communication with the team.
Nightguards not only guard the residential areas, but also ATM booths, banks, power grids, government, and private offices and many more. Their duty usually starts from 9:00 pm and ends at 7:00 am.
Defying the mysteries of the night, fog, rain, and cold breeze, and known-unknown aspects they continue their duty to protect the city dwellers and their property while the rest of the Dhaka city residents are asleep. Most of the night guards' salary ranges from eight thousand to fifteen thousand takas per month. With their little income, it is very hard to survive in Dhaka city as most of their income spends on house rent and foods and other necessary items. They typically live in slum areas with one or two rooms only which cannot give proper living facilities to their family.
Most of us, the dwellers of Dhaka city, are not aware of the ways of their life — how and where they are sustaining their lives? Where do they live? What are the problems they face daily? What are the sacrifices they are doing to keep us in the safe zone?
Moreover, they are being deprived of basic facilities like food, medicine, clothes, and financial aids for their children's proper education. They only get the festival bonus without any increment or provident fund. Government, private organisations, NGOs or any humanitarian group often ignore and turn a blind eye to these real-life heroes who sacrifice their lives to protect us every day.
When the festive seasons come, half of the city dwellers leave Dhaka and go to their villages. At that time, night guards need to be even more proactive and cautious. To them, they have no festive or occasion. Their responsibility and duty do not allow them to celebrate those occasions. While the city dwellers spend the night time together, the night guards have to leave their homes to stay awake all night to keep that particular community safe. They pass night after night on the streets, walking from place to place and their family have to accept the reality as their main breadwinner will remain outside the home.
When the night guards return home after completing their duties, they become mentally and physically exhausted and tired. As a result, they are sleep deprived all the time which they try to cover by sleeping all day long and pass the daytime by sleeping and resting, eating and doing normal household chores if the time allows.
They cannot perform any productive work due to waking up all night. The sleepless nights that the night guards pass have numerous effects on their health, both physical and mental, that are not easy to bear. Nightguards suffer from cold, flu, fever and other respiratory diseases due to their night-time work which weakens their bodily system and disease resistance capacity.
In case of an emergency, their whistle, torch and bamboo stick are their main lifelines. Sometimes, they help the law enforcing agency to arrest the criminals and to sustain peace and security of the area. Nightguards need to remain cautious and active throughout the night. If any occurrence transpires like stealing, robbery or hijacking, they will be the first one to be interrogated by the police officers. And sometimes they lose their lives in the process when they confront some brutal dacoits or criminals.
There are some cases like a night guard has lost his life of which the investigation is going on without any final assurance of the criminal is being punished because he was just a nightguard not any rich or popular person. Also, we do not see many cases because their family does not file them as it will also take the money and other forms of harassment which they do not want to get involved in so they accept the loss silently.
Out of desperation and helplessness, these poor people choose this work, if they do not then who will? It is because they need money to survive. They live on the monthly wages provided by the owners of the community or the institution. The government should understand that as a citizen they have the right to security, education, and food as well just like all other citizens of Bangladesh.
The contribution of night guards in Dhaka city is immense. It is high time that the city dwellers make necessary and significant changes in the salary structure and other facilities for the night guards as a reward to them. At the same time, we should treat them with kindness and compassion and should not behave in an ill-mannered way rather we must give them proper honour and respect they deserve.
Md Shamshul Arafin graduated from University of Liberal Arts Bangladesh.
Want stories like this in your inbox?
Sign up to exclusive daily email
More Stories from Mindspeak