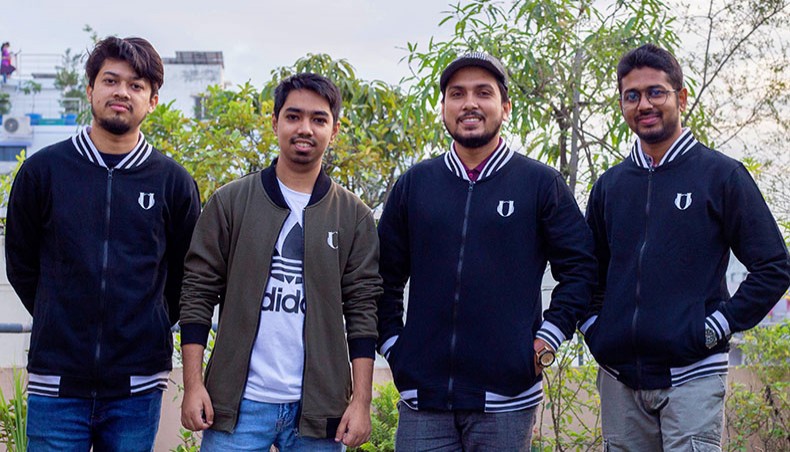 During their under-graduation years, four friends were planning to start a business. While doing market research, they found out that for a customised t-shirt, a buyer has to order in bulk and to address the gap they started selling such products in small quantities. They are doing pretty doing now as the business has finished its second year, writes Alvi Haque
DREAMS can be bigger than the characters who are dreaming. Four young entrepreneurs — Alvi Haque, Partha Protim Mondal, Sahidun Nobi Pappu and Md Monir Hasan — started to think to do something unique and exceptional while continuing their studies. There was no capital and no experience at all. We simply knew we had to do something to earn money.
With dozens of online businesses blooming up in Bangladesh, there was one common problem that we have noticed was people couldn't buy or make a single piece of a t-shirt by their own choice. People had to order a bulk number of t-shirts if they wanted one with a specific design.
We tried to figure out the problem and make a solution for it. And finally, 'Unique Outfits' came up with a unique solution of giving customised t-shirts to all at a completely affordable rate.
So, what is Unique Outfits? How do we do it?
Unique Outfits is an online e-commerce-platform primarily based on clothing in which we offer customised t-shirts, hoodies, polo t-shirts for both male and female. We especially run this business via Facebook and sometimes via the website. Besides, we have collaboration with a large number of e-commerce websites in Bangladesh.
Unique Outfits started its journey formally on December 22, 2018, even though the actual journey started four years ago. The initial idea came up during an adda of three friends on a rooftop which later involved two of our elder friends. On that adda, we elaborately discussed our ideas and decided to do something for ourselves.
So, how does Unique Outfits come to this position from zero? It was a long journey with lots of effort into it. It was almost a zero-investment planning business. I am one of the four young entrepreneurs who are behind this venture. We all were students at that time. We had a very limited amount of money and time. We started saving from our pocket money and saved enough for small business. The capital was about Tk 20,000.
With that money, we bought a printer, a heat press machine and some t-shirts. There were no likes on the page and the second day, the head of the printer broke down. The reason was, to print on the t-shirt we needed the pigment ink but that specific model of the printer did not support the ink thus it broke down.
So, we convinced our parents and somehow, we bought another printer after 4-5 days and finally we started the printing.
At first, we needed to face a lot of troubles. One of the major issues was time, as we were students at that time. Our studies were our priorities. Then we decided to divide our work into small phases.
I look after the marketing and sales department, Partha looks after design and e-commerce platforms, Mahin looks after the delivery and CRM section and Pappu looks after the production section and legal issues.
After segmenting our workload and identifying the right person for the right job, our work seems easy and efficient. Even though, if there's any choice to take, we had to speak to every member of our group for a better solution.
After hard work and determination, we have a good Facebook page value. The likes of the page are over 50,000 now. Not only that we are also trying to grab customers from Instagram and websites. Even though the website is not fully active yet but within the next year, we will be fully active on the Unique Outfits website.
Moreover, we have good communication with customers. The team deal with the customers if they face any kind of difficulties. They can directly call us and get support from us easily. We also have different delivery partners. We give full home delivery covering the whole of Bangladesh.
As the market is very competitive, we have a uniqueness in our business. That is customisation on any clothing items. People can buy a single piece of clothing with preferred customisation from our page. The price is also lower than the market. Recently we have launched a jacket for the very first time. Besides the jacket, we do have almost 300 plus designs which can be printed in ten-colours of t-shirts and five colours of hoodies.
The COVID-19 became a curse to everyone's business so do us. Our business was shut down for almost five months during the lockdown. There was no supply of the raw materials that we use to print on our shirt. Import and export of different goods were stopped. But after the lockdown, we started the business with a bang.
We hired four staffs and we all gave our 200 per cent efforts to the business both online and offline. As we are in this field for a long time, we could easily overcome the situation and can give full time and dedication towards the business.
Thus, we can say Unique Outfits is a brand and still we have a lot more to do.
Alvi Haque is a co-founder of Unique Outfits.
Want stories like this in your inbox?
Sign up to exclusive daily email
More Stories from Initiative