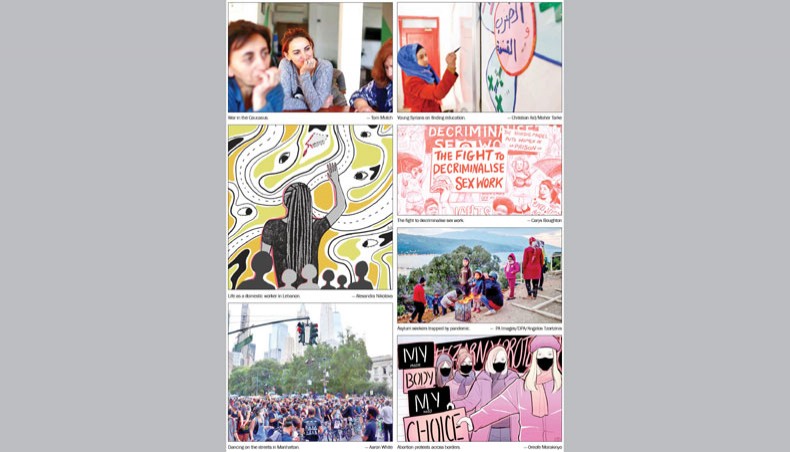 In 2020, openDemocracy's reporters captured how the pandemic transformed the lives of asylum seekers and the struggle for abortion rights in Europe
THIS year proved challenging for reporters with coronavirus restrictions making it more difficult for journalists to reach people around the world. That's why, in part, many of the images you see below are not just photography but also infographics and illustrations, which offer a different — but no less evocative — visual perspective on people's stories.
Photography remains more important than ever in a year where a focus on statistics risks overlooking the human impact not just of the pandemic — but of wars and demonstrations. The images below don't tell the full story of 2020, but they offer a glimpse into a year of crisis that changed our lives.
War in the Caucasus
IN THE middle of the pandemic, war broke out in Central Asia. Armenia and Azerbaijan fought for six brutal weeks over the disputed region of Nagorno-Karabakh, which is internationally recognised as Azerbaijani territory but traditionally populated by a majority of ethnic Armenians. The war ended on November 10, after Russia brokered a ceasefire, but clashes have been reported since.
Five Armenian refugees from the conflict told their story in their own words.
'We never lived in fear before this war. In April 2016, the short war lasted only four days and we thought that this time it will last a few days and we will get back to our normal lives. Nobody could have imagined that the war would move from the frontline and reach the capital of Stepanakert. The war has always been around us,' Mary Javadyan (pictured) told openDemocracy.
Young Syrians on finding education
BEFORE the war, almost all of Syria's children were enrolled in primary school, but today the country's school enrolment rates are among the lowest in the world. NAWA spoke to Syrian schoolchildren about their struggles to attain an education.
Dalal (pictured) said, 'Whatever the many circumstances, the difficulties, the displacement and the wars, my dream to become a doctor has not changed. I will fight these circumstances and resist them, and I will achieve my dream'.
Life as a domestic worker in Lebanon
THE Kenyan journalist Winnie Linet wrote about what it was like to be a worker in Lebanon's exploitative kafala system, here illustrated by Alexandra Nikolova. Under this scheme, foreign workers are entirely dependent on their employer's approval to remain in the country.
'All over Kenya, there are young people like me willing to give up everything for a better life. When you are hungry and have no food on the table, you do not care what life abroad may be like, only knowing that you must accept any offer that could change your situation,' she writes.
The fight to decriminalise sex work
MUCH has been written about the decriminalisation of sex work. A series, published by Beyond Trafficking and Slavery and produced together with sex workers, explores how sex workers' interests and rights can be advanced beyond decriminalisation. 'Our goal was to find what works, what doesn't, and how it can be done better,' write its authors.
Dancing on the streets in Manhattan
AFTER the police killing of George Floyd in May, millions protested across the United States. OurEconomy's Aaron White was in New York where young people, angry by their government's failure to take action on racial injustice, occupied parts of the metropolis.
'The occupiers painted their dreams on large sheets of canvas; hosted radical reading groups; watched civil rights documentaries from the 1960s; and fed the hungry and the homeless,' reported Aaron.
'A healthcare station was established: no deductibles, no co-payments. People cared for one another unconditionally.'
Large-scale demonstrations also took place on the West Coast. Harley Geffner reported from Los Angeles where activists set out a radical new political programme far beyond reforms of the police and criminal justice system.
Asylum seekers trapped by pandemic
THE pandemic has left already vulnerable asylum seekers on the Greek island of Samos — who are living in makeshift shelters with little running water — in a dire situation. Victoria Noble visited the camp and spoke to its residents about the appalling conditions they face.
For asylum seekers, 'self-isolation means being locked in a shipping container with dozens of people — including some who are likely to be infectious. Being told to wash your hands is meaningless when there are no toilets or running water,' Noble wrote.
In the United Kingdom, the pandemic has also made life more difficult for asylum seekers. Amandas Ong heard firsthand from one woman how accommodation, which is outsourced to private contractors, is overcrowded and dirty. 'I had to share a bunk bed and there were bugs everywhere. I was bitten all over my skin,' Sarah told openDemocracy.
Despite living in such poor conditions, Sarah now volunteers every weekend with the Food Alliance, an emergency response service set up by food redistribution charities in London. Asked how she finds the energy to volunteer, Sarah told us, 'If I can put a smile on somebody's face, I am happy.'
Abortion protests across borders
IN RESPONSE to Poland's dracronian anti-abortion laws, a group of women from across Europe launched a bold new initiative to help women seeking an abortion. Claudia Torrisi spoke to members of Abortion Without Borders about how they have helped thousands of Polish women have safe abortions.
OpenDemocracy.net, December 23.
Want stories like this in your inbox?
Sign up to exclusive daily email
More Stories from Opinion