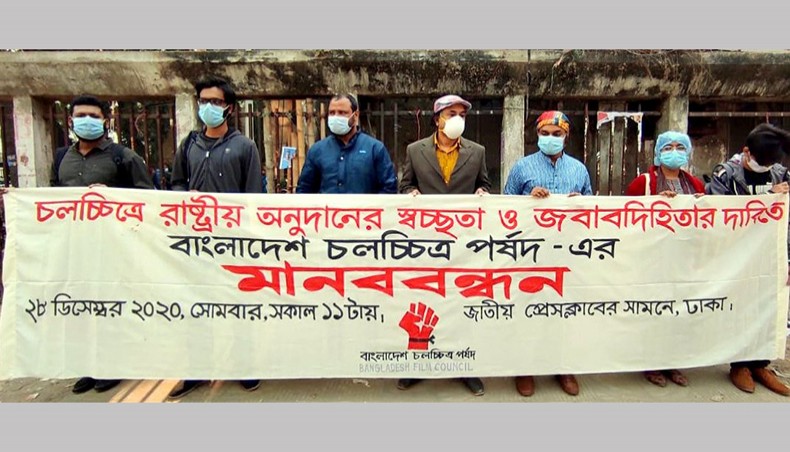 Bangladesh Chalachitra Parshad formed a human chain on Monday in front of the National Press Club in Dhaka demanding transparency and accountability in the government grant winning films.
Bangladesh Chalachitra Parshad convener Belayet Hossain Mamun led the human chain.
Bangladesh Chalachitra Parshad's Dhaka division convenor Nirtesh C Dutta, its Dhaka division's assistant secretary Rumti Rusha, Dhaka committee member secretary Tanvir Ahmed and others were present at the human chain.
They demanded the selection process of the government grant-winning film should be free from political and bureaucratic consideration so that young filmmakers can make quality films in the coming days.
The government started giving grants for films from the fiscal year 1976-1977. The grant was launched when Bangladesh Film Society activists demanded that industry standard films as well as aesthetically enriched experimental films should receive government assistance. Initially, films like Sujra Dighal Bari, Emilir Goyenda Bahini were made on the government grant, according to a press release.
The government grants in films have become controversial in the past few years and the process of awarding the grant did not remain transparent. Questions have been raised after poor quality films received grants. The issue has been discussed in the country's film arena and many seminars and discussion sessions have been arranged calling for a review of the procedure through which the selection is made, the release added.
'Film critics and writers penned many articles in the national dailies regarding on the issue, but things did not change,' said the statement.
Want stories like this in your inbox?
Sign up to exclusive daily email