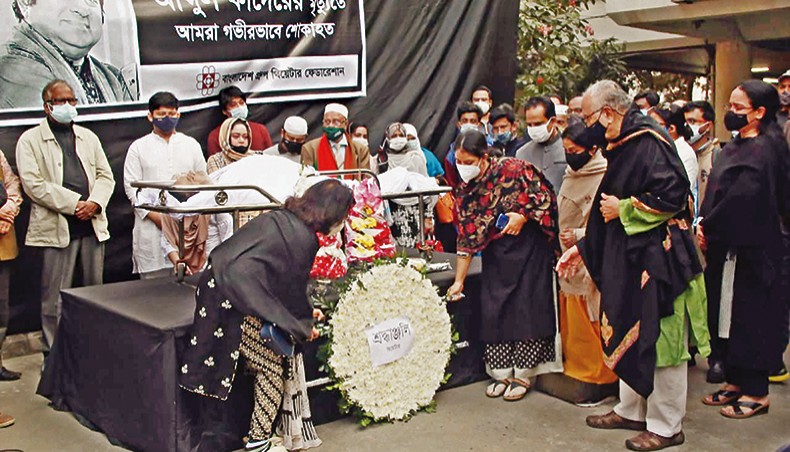 Friends, admirers and well-wishers paid their last respects to renowned actor Abdul Kader at Bangladesh Shilpakala Academy on Saturday afternoon.
Abdul Kader passed away while undergoing treatment at Evercare Hospital in Dhaka on Saturday morning. He was 69.
Bangladesh Shilpakala Academy, Sammilita Sangskritik Jote, Bangladesh Group Theatre Federation, Bangladesh Path Natak Parishad, Directors' Guild, theatre troupe Theatre, Aryanak Natyadal, Dhaka Theatre and Baytikrom Natyaghosthi paid tribute to Kader at Bangladesh Shilpakala Academy.
Freedom fighter and cultural activist Nasiruddin Yousuff, Bangladesh Shilpakala Academy director general Liaquat Ali Lucky, actor Ramendu Majumdar, actress Ferdousi Majumder, Bangladesh Group Theatre Federation assistant secretary general Chandan Reza, Directors' Guild general secretary SA Haque Olike and others spoke at the public mourning, which was organised by Bangladesh Group Theatre Federation in association with Bangladesh Shilpakala Academy.
'Abdul Kader and I started our theatrical journey in 1972 when we were university students. He was the theatre secretary at Haji Muhammad Mohsin Hall of Dhaka University. He was a warm and kind hearted man who never misbehaved with anyone. Dhaka Theatre was founded in 1973 on North South road at Segunbagicha. Selim Al Deen, M Hamid, Abdul Kader, Raisul Islam Asad, Pijush Bandyopadhyay and others were present at the general assembly of the troupe. When M Hamid proposed the name of Dhaka Theatre, Kader gave him a TK 5 and said "Take this reward. I support your proposal",' said Nasiruddin Yousuff.
'He acted in both stage and television productions and received huge response from viewers,' Nasiruddin Yousuff added.
Liaquat Ali Lucky said, 'Abdul Kader was an outstanding actor and organiser. He gave assistance to many theatre troupes with the support of Bata. He was a powerful actor who could leave a strong impression on the audience. May his soul rest in peace.'
'I was very fond of him. He was a talented actor who could memorise the entire script of a production in a short time. He was a favourite artiste of Abdullah Al Mamun. He played leading roles in the plays Meraz Fakirer Ma, Ekhano Kritadas and Senapati,' said Ferdousi Majumder.
'He was a jolly person who was fond of eating. He often came to my house and ate together with us,' Ferdousi added.
Chandan Reza said, 'We are going through a tough time. We lost four cultural personalities this week. He was a star who had illuminated our acting arena. I pray to the almighty god that may his soul rest in peace.'
Abdul Kader's first namaz-e-janaza was held at Mirpur DOHS after Zuhr prayer. He was buried at Banani graveyard following a namaz-e-janaza after Magrib prayer.
He is survived by his widow, son and a daughter.
Want stories like this in your inbox?
Sign up to exclusive daily email
More Stories from Theatre