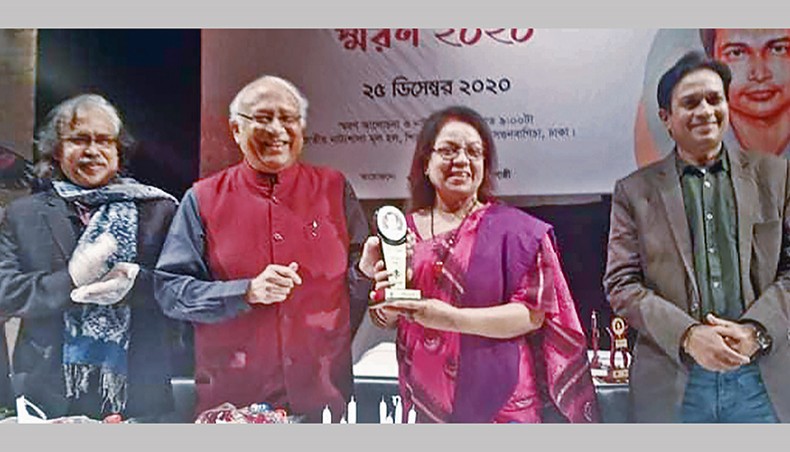 Theatre troupe Byatikrom Natyagoshthi paid tribute to the late eminent playwright, actor and director Syed Mohidul Islam organising a programme at the National Theatre Hall of Bangladesh Shilpakala Academy on Friday.
The event, titled Syed Mohidul Islam Smaran Utsab-2020, featured discussion, dance recitals, theatre show and awards ceremony.
State minister for disaster management and relief Md Enamur Rahman was present as chief guest and thespians Ataur Rahman, Lucky Enam and theatre researcher Babul Bishwas, among others, were present as special guests at the programme.
'Syed Mohidul Islam was a close friend of mine. He was junior to me by five years. He founded Byatikrom Natyagoshthi in 1976. We worked together in several TV and stage productions. He will live on through his works,' said Ataur Rahman, who handed over Syed Mohidul Islam Padak, comprising a crest and prize money, to Lucky Enam at the programme.
'I had worked with Mohidul bhai in TV dramas which were aired in 1980s. It is an honour for me to receive an award named after him,' said Lucky Enam.
Theatre researcher Babul Bishwas, mime artiste Nadezda Farzana and actor-director Syed Shuvro received Syed Mohidul Islam Mancha Bandhu Award at the event.
The troupe also presented Jugalbandhi Padak to three couples namely Sazu Khadem and Proitee Huq, Kazi Shila and Kazi Chapal, Ranu Ara and Shahin Ahmed.
Besides, Byatikrom Natyagoshthi members staged a play named Sahabas at the event. The play has been written by Ramprosad Banik and directed by Nawshin Islam Disha.
Nawshin Islam Disha, Saiful Islam Sohag, Sajjad, Kanak, Khairun Nishat, Jarif, Moni and others acted in the play, which revolves around different social issues.
Besides, child artistes Afsheen Safi Islam and Khairun Nishat presented solo dance recitals synchronised with the songs namely Jakhan parbe na mor payer chinho and Eso shyamal sundar.
'We arrange the festival every year in memory of Syed Mohidul Islam. We organised this year's event on a small scale due to the amid COVID-19 crisis. We will organise large-scale event in future,' Saiful Islam Sohag, director of Byatikrom Natyagoshthi, told New Age.
Want stories like this in your inbox?
Sign up to exclusive daily email
More Stories from Theatre