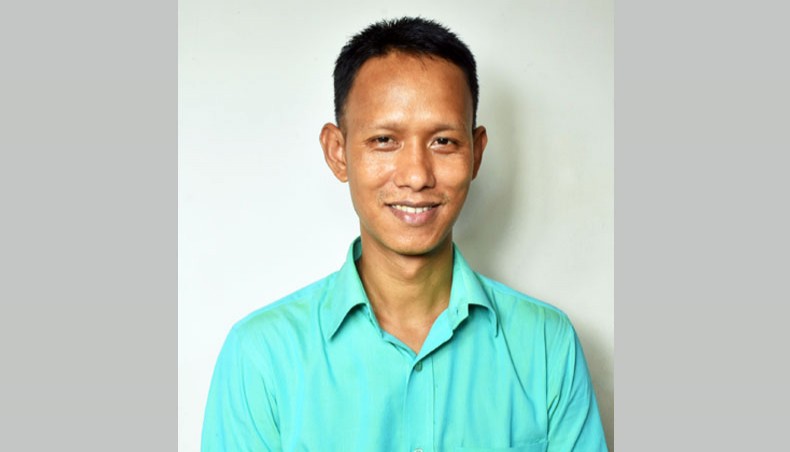 Sumon Sangma is a young entrepreneur promoting Garo cuisine through his restaurant Jaba. Besides, he starts another venture Ranchi that offers organic groceries. During a conversation with Md Mashiur Rahman for the New Age Youth, Sumon shares his journey of becoming an entrepreneur
INAUGURATED on January 10, 2019, Jaba, a Garo traditional restaurant and food delivery service had to close its dine-in service in March 2020 due to the COVID-19 outbreak. But motivated to promote Garo food and culture in the country, Sumon Sangma, did not lose his hopes. Confidently he says, 'No one can predict what will be the scenario of the next six months, but losing hope is not an option for me'.
To pursue a career as a full-time entrepreneur, Sumon Sangma, therefore, left his job in July 2020. In the meantime, he started providing home delivery of the foods and initiated another venture titled 'Ranchi' which is an online marketplace of traditional and organic groceries.
But how did all these start? When asked, Sumon Sangma reminisces, 'It all started with a dream to promote the traditional cuisine of the indigenous Garo culture. I observed that there are people who are working with our traditional costumes, showpieces et cetera, but they have little interest in promoting our cuisine. But I always felt that our cuisine is rich in variety and taste, and I felt the urgency to promote them. First I thought of doing this as a voluntary enterprise but soon realised that it would be better if I do it as a business. I felt that if I think of it commercially it will help me to continue with my interest and at the same time it would help others by providing employment opportunities.'
A business graduate who majored in Management from Ananda Mohon College Mymensingh, Sumon Sangma then adds that the first challenge he faced was to attract customers who already have the options to go to other good restaurants in Dhaka which promote Bengali, Indian, Thai, Chinese, Italian and various other cuisines.
People from his community, Bengali Christians, and other indigenous communities responded first, but gradually other Bengali culinary enthusiasts who are interested in the indigenous food and culture also started to visit the restaurant when they come across Jaba on Facebook.
The initiative also struggled to offer enough variety in its menu at the beginning. Sumon says, 'Those who know various recipes of the traditional Garo cuisine do not usually get interested in doing it professionally. To come up with enough variety, we, therefore, needed to do a little research. We searched on the internet and as well as we asked the elders of our community and gradually we became able to overcome this obstacle.'
After the closure of dine-in service on March 23, 2020, the restaurant continued its home delivery service. When the customers were repeatedly requesting to open the dine-in service again, the restaurant resumed its regular functions from June 2020. Sumon says, 'Though we opened the dine-in for the customers in June, we always encouraged them to take our home delivery service and if they insisted to visit the restaurant physically we insist them to follow all the health-directives.'
In October 2020, authorities informed Sumon Sangma that the place they were located in was acquired by the government for the construction of Dhaka Elevated Expressway, and they requested him to shift the restaurant elsewhere. Though Sumon had booked a better place for the restaurant in a nearby under-construction market, the authority of the market was not ready to accommodate the restaurant immediately. But they informed Sumon that he will be able to open his restaurant by January 2020.
On December 01, 2020, Sumon got devastated by the demise of his little daughter who earlier in November got admitted to a hospital in Mymensingh. The plan to start the function of the restaurant in the new place in January 2021 therefore postponed to March 2021. Though the home delivery service is still available, he needs some time to start over the restaurant physically again.
Sumon's other venture 'Ranchi' is an online marketplace from where customers can collect organic food ingredients and tools. The signature product of this venture is the bamboo steamer. According to Sumon no one in Bangladesh marketed this product before. Through Ranchi, customers can also get chemical-free and organic food ingredients like fish, dry fish, duck, vegetables, honey, fruits and many more.
Bamboo steamer by Ranchi.
'The name Ranchi means turmeric. Washing the bride and groom with turmeric before marriage is a ritual here and it has a certain meaning. It cleanses and purifies the bride and groom before their ultimate union. Through Ranchi we are promoting that purity,' explains Sumon.
In the future, Sumon wants to establish a training centre for the people who want to be entrepreneurs from his community. He plans to train the farmers and people in food-trade so that they can better understand the market and come up with original business ideas that can promote the tradition and culture of the community. He also has a plan to expand Jaba outside Dhaka. Sumon is looking forward to opening outlets in Mymensingh and Chattogram.
'People from different places of the country contacted us. They told us that they would very much like our outlets in their cities. It all happened because of the positive reviews our customers posted on social media. And the good thing is we never received any negative reviews yet. Those who availed our service showed a high level of satisfaction every time' Sumon elaborates on the huge response of the customers.
Entrepreneurship is something through which someone finds the outlet of her/his passion. In Bangladesh, which is a country of enormous cultural diversity, and where people are always welcoming to new cultural elements, promoting cultural niceties promises a good future to the entrepreneurs. When Sumon's venture Jaba had to be closed after the COVID-19 outbreak, he realised that if he wants to continue with the business he needs to leave his job. And he took the challenge.
Though 2020 has not been a good year for him, he hopes for the rays of light in the future, as he believes what he does is not merely a business, but a movement; a movement to promote freshness, diversity and purity.
Md Mashiur Rahaman is a student of English at the University of Liberal Arts Bangladesh.
Want stories like this in your inbox?
Sign up to exclusive daily email
More Stories from Initiative