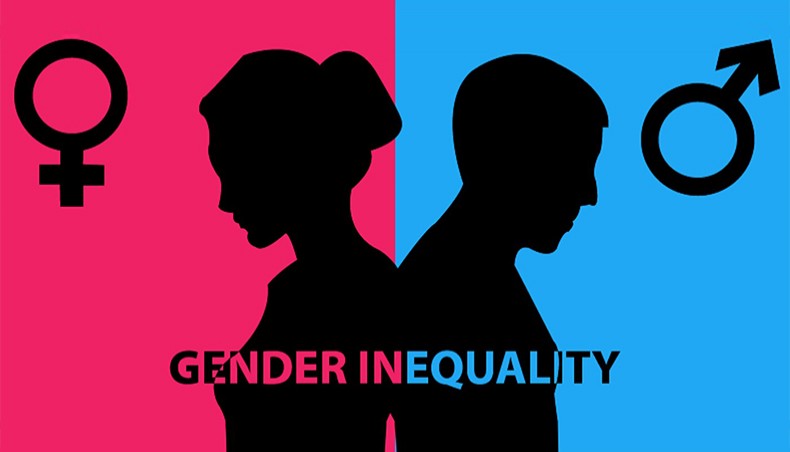 To reduce gender discrimination and to ensure a developed and prosperous society, we should change our point of views towards the women in our society, writes Jannat Shancharika Shuchi
Gender discrimination is like a contaminated disease in human life which at the same time is a threat to the progress of our society. Different genders of our society who should have been treated equally, but unfortunately, we fail to do so. And it is gender discrimination which is responsible for that. Gender discrimination not only affects the treatments towards the women but also it is one of the prominent reasons for the injustice and violence happen in our society.
Gender discrimination is the darkest shadow that affects women's lives in every phase and even before taking birth. With the blessings of modern diagnostic tools, parents are now able to determine a child's sex in the earliest phase. The economic and cultural preferences for sons make the parents desired for a male child which increases the incidents of female feticides. Foeticide is the process of killing a foetus under a gender-selective abortion where a foetus is illegally terminated while it is a female child, and that is why the heinous process is also known as 'Female Foeticide'. Although female foeticide is a worldwide incident, it has been increasingly reported in recent years in many of the Asian countries such as India, Pakistan, China, South Korea, Taiwan and Nepal.
According to the United Nations unofficial calculations, '200 million females are missing in the world; women who should have been born and grown up were killed by infanticide or selective abortion.' The number of missing females has reached around 126 million in 2010 which would arise up to 150 million by 2035. It is also estimated that more than 3 million females throughout the world will be missing every year until 2050. Female foeticide in India alone outnumbers any genocide in the world. Again the cases of infanticide are also notable. Although there is no conclusive evidence, birth histories and census data reveal an unusually high proportion of male births in Asia, notably in India and China which suggests selective foeticides and infanticides.
At the middle years of childhood and adolescence, the female children face discriminative treatments in our society. In this phase, they face difficulties in access to and completion of quality primary and secondary education. Over the past few decades, nearly one of every five girls who are enrolled in a primary school in developing countries does not complete the primary education which deprives them of the opportunities to develop their full potential. A recent study of UNICEF estimates that only 43 per cent of girls of appropriate age in the developing countries attend secondary schools.
People are not aware of the importance of female education. Most people think that women need not acquire higher education as they do not have to be financially independent as they will be getting married and they will go to their in-laws place leaving their own families. That is why, they are not considered to be highly educated, and even if in many cases there are no available institutions even for female education.
Such point of views lead the society to the curse of childhood marriage as parents think that spending money to their girl children will be in no use, and so they arrange marriages for the girl children in a premature stage. Even before they could realise the meaning of getting married, and they are aware of the responsibilities that are related to conjugal life. At that age, marriage seems to be a plaything to them. Again, we can see girls be married to the persons who are much older than them, and such disproportionate marriages do not work in the long run. Another curse of the society related to the marriage is dowry where parents think giving dowry will make their daughters' position safe and secured. In reality, it is as a misconception since dowry is taken by the greedy people whose greed is endless, and their demands never end. When they do not get their demands fulfilled then they start torturing the brides mentally and physically even, and sometimes it ends up with death. Besides, the prematurely aged brides are not mentally and physically mature enough for having sexual relationships, and in such situation, it is seen that the brides have to face forceful sexual relationship by the husbands which is very threatening to the brides mental and physical state. Yet the brides conceive at the premature age, it becomes a threat both for the mothers and the babies. Sometimes they even die.
If we now discuss the selection of career for women, we always observe that women are told to choose simple and safe professions rather than challenging one, since it is considered that women are mentally and physically weaker than men, and they are not able to take challenges. Even if, sometimes it is also being thought that women are not able to think critically. The examples of dissimilar amounts of wages are also found in workplaces. Moreover, it is noticed that in many cases women are not being supported by their families for their works, rather sometimes it is noticed that if the woman of a family gets high payment for her job than her husband then it becomes a quarrelling issue. Besides, women are not allowed to take important decisions in their family issues. Sometimes they also do not get equal rights in family wealth and properties.
Such status of women in society can only be changed if we change our point of views towards women. If we change our point of views towards them, we will be able to facilitate them with the same facilities and rights that we provide the men in our society. Such practices will support the females of our society to be equally confident as well as motivated. As a result, they will be able to prove that they are equally eligible as the men, and they can do everything that men can do. Such supports and motivations will lead the women to be more confident which will help them to speak out for their rights, which will turn them into self-dependent, and by this, they will serve the society with their best which finally will bring prosperity and development in our society. Lastly, for reducing gender discrimination and for ensuring a developed and prosperous society, we should change our point of views towards the women in our society.
Jannat Shancharika Shuchi is a student of the University of Liberal Arts Bangladesh.
Want stories like this in your inbox?
Sign up to exclusive daily email
More Stories from Mindspeak