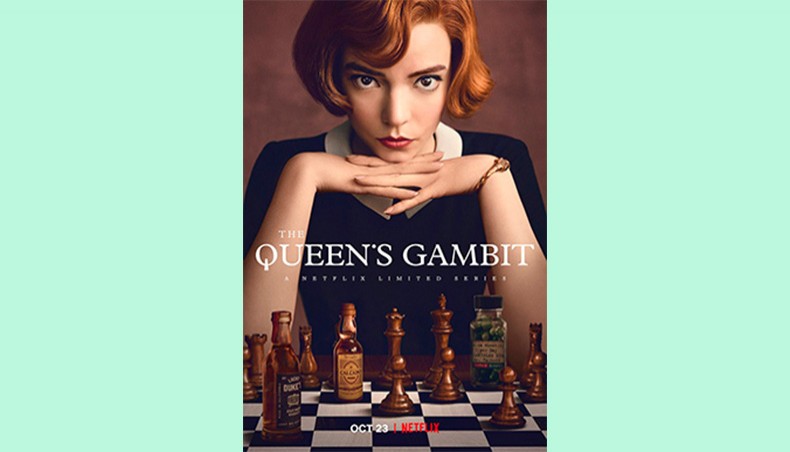 The Queen's Gambit is an American drama miniseries released in 2020 on Netflix based on Walter Tevis's novel of the same name. Md Talebur Islam Rupom reviews the mini-series
It is much easier to play chess without the burden of Adam's apple.
—Beth Harmon
The Queen's Gambit is a seven-part miniseries based on the novel of the same name by Walter Tevis. It represents the societal scenarios of the 50s to 70s and the second wave of feminism through a chess prodigy Beth Harmon (Anya Taylor-Joy and Isla Johnston as young Beth). In the televised version, it revolves around Beth Harmon, a shy little girl, who grows up at a Christian orphanage, takes to chess like a duck to water. She is taught the rules of the game by the orphanage's janitor Shaibel (Bill Camp) and proves to possess an uncanny knack for the game.
After the release of the series, it becomes successful from the perspective of chess, economic, and individualistic approach. The show's themes of fighting against all odds, empowerment and gender reversal powered triumph, have resonated globally, aided in no small measure by a deeply affecting leading act from Anya Taylor-Joy who makes Beth Harmon one of the most intriguing characters we have seen on screen this year, a woman constantly breaking the glass ceiling, but one who veers between a contrasting addiction to winning and a compulsive urge for self-sabotage.
After being adopted by a childless couple at her teenage, Beth begins taking part in mostly male-dominated chess tournaments and soon becomes the talk of the town, and later, the country and across the world. In these tournaments, she easily defeats her unsuspecting opponents, who often underestimate her due to her gender. Bypassing the time, she lets herself being lonely like the way she does since her childhood.
On the other hand, she does not stop challenging the stereotypes where she opts not to do the usual things that are told to do like girls. For example, she is told to join girls' clubs and girly socialising events to exhibit herself to secure her life with the help of patriarchy but she always refuses herself to do that and always establish her strong position. When she becomes good in the game in early childhood, a chess organiser comes to meet her with a doll as a gift. But little Beth is not happy and she immediately throws away the gift to the dustbin. The whole seven-episode series marks the individuality and identity of a female as a self-esteem human being, rather not a mainstream woman. It can be apparent during having a strong and straightforward public conversation of Beth when she says, 'It is much easier to play chess without the burden of Adam's apple.'
However, Beth initially comes off as a bit dispassionate and chilly, no doubt due to her upbringing, but Anya Taylor-Joy delivers a warm and humane performance. Dialogues are extremely strong and realistic that is relatable then and also in this century in our everyday lives. The writers help the viewer get into her headspace as Beth moves chess pieces on the ceiling and always sticks onto it, first when as a kid she does not have a chessboard, and later as a professional chess player while cooking up strategies about the game on her lonely imagination all the times.
Notwithstanding, but Beth's excessive drinking and addiction may be a tougher rival for her than Borgov. Her addiction has seeds in tranquillising pills she and other children were forced to consume at the orphanage, and it is only made worse by the fact that Beth has been a loner for most of her life. She is eventually defeated by the Russian Grandmaster Vasily Borgov (Marcin Dorocinki), a much older fellow who has been in the field for a long time and was similarly a child prodigy. By the time, she sees the world, she discovers herself and gets to know the answers within herself that bother her always and impacts on her game and entire life badly. She then beats all the greatest players of the game of her time. Beth is also a reflection of the modern and post-modern era where loneliness is a very common element with materialistic, sceptic and perhaps howling of being alone. It is appropriate to say from Beth, 'Someday, you're gonna be all alone. So, you need to figure out how to take care of yourself.'
Besides, the series is also an effective portrayal of life during the 50s and 60s. It even televises the cold war between Russian and the USA through multiple little events. The filmmaker does not hesitate to show Christian missionary patronises players and celebrities to manipulate the people. Besides, Beth Harmon is an elite chess player but she always tends to lead a lucrative and fashionable life. Hence, she loves fashion and the good life for the whole time with her well-earned money. It perhaps gives us the visualisation of the woman fashion after the 50s. On top of that, The Queen's Gambit is an enthralling capture of the lifestyle of the time.
The Queen's Gambit has been received well universally by both critics and audiences, and it is easy to see why. The series is extremely well-written, acted and mounted. Despite some speeding issues in a couple of episodes, a single minute is not apparent to be wasted.
Factually, The Queen's Gambit is shining in the economic and influential aspects and popularising the game. According to Netflix, The Queen's Gambit is currently its number-one-ranked programme in as many as 63 countries, with a whopping 62 million households choosing to watch the series in its first 28 days. Netflix reveals that The Queen's Gambit has made it to the top 10 in 92 countries, while it has a rare 100 per cent critic's score on review website Rottentomatoes.com. On movie database site IMDb, The Queen's Gambit has registered a remarkable 8.7/10 score. The phenomenal success of the show has even seen Walter Tevis's novel of the same name, on which it is based, enters in The New York Times' bestseller list, 37 years after its release.
Meanwhile, millions are turning to the internet to play on sites like Chess.com, Chess24, lichess and Internet Chess Club. The numbers prove it. Chess.com has revealed that the interest in the game spurred by the show has seen its daily registrations go up by as much as 400 per cent. The website has revealed that since its release, it has seen roughly 2.5 million new members join in, while Google has reported that worldwide, the searches for 'chess' are at their highest level in 14 years.
The online retailer eBay said US sales of chess sets have soared by 60 per cent since last year as more people spend time at home. And since the release of The Queen's Gambit, sales of chess set and accessories shot up by nearly 215 per cent. Wooden chess sets are the most popular and vintage sets are also in demand. Sales of chess clocks and timers have risen 45 per cent since last month and score pads by 300 per cent.
Apparently, from the beginning till the end, The Queen's Gambit brings the second-wave feminism in lights which is considered more authentic and idealistic feminism period in terms of practising unlike the present controversial feminism around the world. Despite full of obstacles, Beth Harmon can establish her magnificently without going through radicalism, rather with very rationalities. Hence, the series does apply to both male and female in real life. Notably, it is making the difference in spreading chess, its expansion and economy related to this. The burning question remains — will cultural, intellectual and entertaining contents continue to become a very significant part of any sports or a country to go uplift its economic and expanded strategies in this century?
Md Talebur Islam Rupom is a contributor to the New Age Youth.
Want stories like this in your inbox?
Sign up to exclusive daily email
More Stories from Art Culture