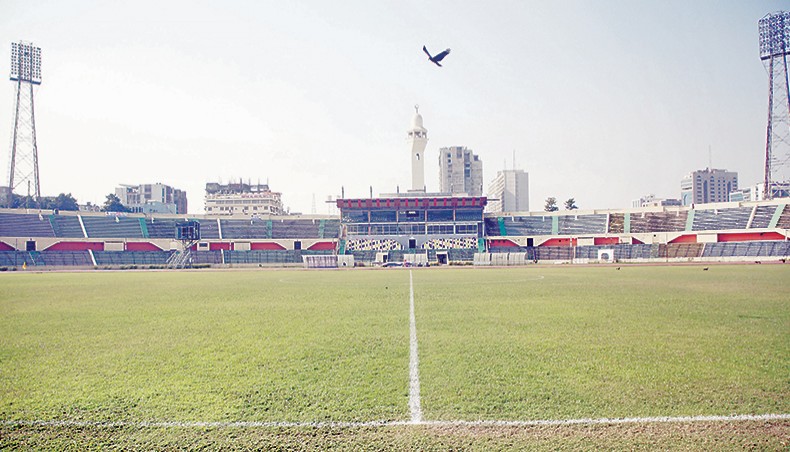 At this period of last year Bangladeshi sports fans were licking their lips at the prospect of an action-packed year of sports in front of them, but the advent of the novel coronavirus changed everything as 2020 ended up being the most barren year for sports since the second World War.
The year 2020 was supposed to be an eventful year in sports in Bangladesh as almost all the sporting bodies had planned to stage tournaments to commemorate the birth centenary of the country's founding president Sheikh Mujibur Rahman but the virus outbreak forced almost everything to a halt.
Ministry of youth and sports instructed all sporting bodies to stop their activities in mid-March after COVID-19 detection in the country and the shutdown lasted for over five months before the ministry allowed small scale competitions and practice activity in August.
Bangladesh Cricket Board had plans to stage two matches between an Asia XI and the Rest of The World XI in March, where the board had promised to bring the biggest players in the world but had to indefinitely postpone it due to the worsening pandemic situation.
Bangladesh Golf Federation also had to postpone Bangabandhu Cup Golf Open in March and other disciplines, such as football, archery, hockey, kabaddi, tennis, badminton, karate etc all had plans to stage domestic and international meets but had to backtrack due to the pandemic.
Bangladesh Football Federation managed to host the underwhelming Bangabandhu Gold Cup in January with the participation of low ranked teams and BCB also held a special edition of its franchise Twenty20 league titled Bangabandhu Bangladesh Premier League from December 11, 2019 to January 17 2020.
Some of the other disciplines also managed to stage small scale local tournaments in honour of Mujib in the latter part of the year, but not with the grandeur with which they were planning to host them.
The Tigers were set for their busiest ever year in recent memory with 11 Tests, the most in a single year for Bangladesh, with two home series against Australia and New Zealand, two tours to Sri Lanka and Ireland, Asia Cup Twenty20 in September and a trip down under for the ICC Twenty20 World Cup in October.
But one after one all of those engagements got called off due to the global COVID-19 pandemic and Bangladesh's Twenty20 match against Zimbabwe in Dhaka on March 11 remained their last international outing in 2020.
Bangladesh did play two T20s and a Test in Pakistan in January-February, where they lost all the matches to the hosts but couldn't play the remaining Test and the lone one-day international due to travel restrictions.
After the Sri Lanka series got deferred due to disagreements between the boards, BCB staged two new domestic tournaments, BCB President's Cup and Bangabandhu Twenty20 Cup, but the country's premier list-A competition Dhaka Premier League remained unfinished after it got stopped in March following the first round matches.
In football, the national team was scheduled to play all four of their second leg matches of the FIFA World Cup and AFC Asian Cup qualifier but got to play only one match against Qatar earlier this month, which they lost by an embarrassing 0-5 margin.
Bangladesh also played a two-match friendly series against Nepal in November, which they won 1-0.
Bashundhara Kings only got to play one of their AFC Cup group-stage matches in March, which they won 5-1, as Asian Football Confederation postponed the tournament to next year due to the pandemic.
The domestic football season also couldn't finish, as BFF decided to cancel the 2019-20 season in May. The 2020-21 season kicked-off on December 22 with the Federation Cup.
Ace archer Roman Shana, the first Bangladeshi archer to secure direct qualification in the Olympics, was supposed to compete in the Tokyo 2020 Games, but he has to wait for one more year to fulfill his dream as the Games got rescheduled to July-August, 2021.
Bangladesh's highest point in sports this year came in February, when the Under-19 cricket team led by Akbar Ali gave Bangladesh its first World title at any level by winning the ICC U-19 World Cup in South Africa by beating India in the final.
The junior Tigers were promised a grand reception and special camps to prepare them for the next level but the promises remain unfulfilled.
In the latter half of the year, sporting bodies began organising local tournaments with archery, hockey volleyball etc staging small scale domestic competitions.
Shooting, chess held online meets and their players also took part in international competitions virtually.
The sports fraternity also stood up to help the people who were financially struck during the pandemic, with a number of athletes distributing aid to the needy and helping out struggling athletes and minimum wage workers associated with sports.
A number of current and former star players put up their memorabilia for auction to raise money for charity.
BFF also completed its election after much hue and cry and Kazi Salahuddin got re-elected for the fourth consecutive term despite growing criticism of the poor state of football in Bangladesh.
The world is still far from regaining normalcy, but with vaccines already on the way, the sports fanatics around the world and in Bangladesh are crossing their fingers in hope of a better year for sports in 2021.
Want stories like this in your inbox?
Sign up to exclusive daily email
More Stories from Miscellany