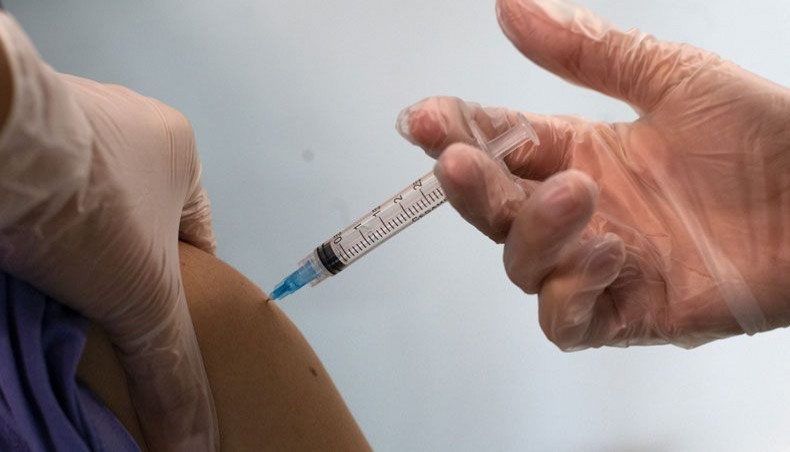 Three Latin American countries launched mass immunisation programs on Thursday as fears grew in Europe over a variant coronavirus strain that is believed to be far more contagious than the original version.
Frontline medical staff in Mexico and Chile were among the first to receive their vaccines while Costa Rica began its own immunisation programme, with president Carlos Alvarado hailing what 'may be the beginning of the end of this pandemic.'
But global optimism was tempered as China and Brazil joined more than 50 governments restricting flights from Britain or air traffic in both directions, after the highly infectious new coronavirus strain first appeared there.
Thousands of trucks remained stranded at a major British port as France sent 10,000 kits to test drivers before allowing them to cross the Channel.
Despite the new strain that British prime minister Boris Johnson said was 'up to 70 per cent more transmissible' than the original coronavirus, Britain said rail and sea links with France would remain open over Christmas.
Mexico televised the start of its mass immunisation programme after it received its first 3,000 doses of the Pfizer/BioNTech vaccine from Belgium.
'It's the best gift I could receive in 2020,' 59-year-old Mexican nurse Maria Irene Ramirez said as she received the injection at a hospital in the capital.
Mexico has registered more than 120,000 COVID-19 deaths — the world's fourth highest toll after the United States, Brazil and India.
In Chile, 46-year-old nursing assistant Zulema Riquelme was the first person shown receiving the jab in the presence of president Sebastian Pinera.
'I'm very excited and nervous,' she said, hours after the first 10,000 doses of the Pfizer-BioNTech vaccine arrived by plane.
Argentina, meanwhile, received the first 300,000 doses of Russia's controversial Sputnik V vaccine on Thursday on a special flight from Moscow.
The country is the first in Latin America to approve the Russian vaccine.
US authorities announced Thursday that passengers arriving on flights from the United Kingdom will need to test negative for coronavirus before departure, the latest restriction imposed due to a new COVID-19 variant.
News of the strain, believed to be more transmissible, led to nations around the world closing their borders to travelers from the UK.
The new rule takes effect Monday and requires a negative test within 72 hours of departure, the Centers for Disease Control and Prevention said in a statement.
Germany on Thursday recorded its first case of the mutant coronavirus variant sweeping Britain, after a woman who flew in from London tested positive for the strain.
'It is the first known case in Germany,' the health ministry of Baden-Wuerttemberg state said in a statement.
The woman had arrived in Frankfurt airport on December 20 from London Heathrow.
South Africa's health minister has rejected his British counterpart's claim that a new coronavirus variant in the country is more contagious or dangerous than a similar one in spreading the UK.
'At present, there is no evidence that the 501.V2 (variant) is more transmissible than the United Kingdom variant — as suggested by the British health secretary,' Zwelini Mkhize said in a statement published late Thursday.
South Korea reported its highest daily number of coronavirus cases on Friday, as the country's Christmas celebrations were marred by a harsh third wave of COVID-19.
The nation has been held up as a model of how to combat the virus, with the public largely following official guidelines, but Friday saw a record 1,241 new infections.
Morocco said Thursday it had ordered 65 million doses of novel coronavirus vaccine, as the North African kingdom prepared to launch a vaccination campaign targeting 25 million people.
Turkey will receive its first shipment of China's Sinovac coronavirus vaccine within days as preliminary domestic tests showed it was 91 per cent effective, health minister Fahrettin Koca said on Thursday.
Ankara in the next few days will also sign a deal with Pfizer/BioNTech for 4.5 million doses, with the option to buy 30 million more from the US pharmaceutical giant and its German partner, Koca said
The novel coronavirus has killed at least 17,43,187 people since the outbreak emerged in China last December, according to a tally from official sources compiled by AFP at 11:00 GMT on Friday.
At least 7,93,13,380 cases of coronavirus have been registered. Of these, at least 5,01,54,100 are now considered recovered.
The tallies, using data collected by AFP from national authorities and information from the World Health Organisation, probably reflect only a fraction of the actual number of infections. Many countries are testing only symptomatic or the most serious cases.
On Thursday, 12,667 new deaths and 6,92,731 new cases were recorded worldwide. Based on latest reports, the countries with the most new deaths were the United States with 3,299 new deaths, followed by Mexico with 861 and Brazil with 762.
The United States is the worst-affected country with 3,29,106 deaths from 1,86,55,012 cases. At least 62,98,082 people have been declared recovered.
After the US, the hardest-hit countries are Brazil with 1,89,982 deaths from 74,23,945 cases, India with 1,47,092 deaths from 1,01,46,845 cases, Mexico with 1,21,172 deaths from 13,62,564 cases, and Italy with 70,900 deaths from 20,09,317 cases.
Want stories like this in your inbox?
Sign up to exclusive daily email
More Stories from Latin America