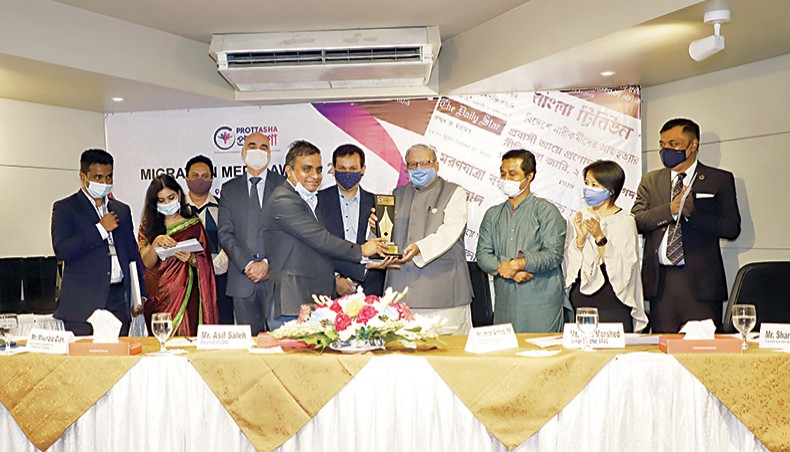 Journalist M Owasim Uddin Bhuyan has received the first prize of the Migration Media Award consecutively for the last two years under the national newspaper category in Bangladesh.
Now a freelance journalist, Owasim covered the labour migration issues as a senior staff correspondent at New Age till June, 2020.
He received the prize for his reports titled 'Labour migration equals trafficking in Bangladesh' and 'Sending Workers Abroad: Bangladesh counts only number, not quality' published in New Age respectively in 2019 and 2018.
The award was presented under the European Union-funded project titled Bangladesh: Sustainable Reintegration and Improved Migration Governance, also known as Prottasha.
International Organisation for Migration in partnership with BRAC implemented the project, led by the government.
In 2015, BRAC under their Migration Programme initiated the presentation of the award to journalists for their outstanding and impactful reporting.
The event has been annually held under the Prottasha project since 2017.
On Thursday, 13 journalists and a media organisation won the Migration Media Award for their outstanding contribution in 2019 to the migration sector through reporting and publishing news items, articles and other initiatives, according to a press release.
Attending as the chief guest, expatriate welfare and overseas employment minister Imran Ahmad handed over the awards to the winners at the award ceremony held at BRAC Center Inn.
Each award recipient was presented a plaque, certificate of recognition, and prize money.
Under the national newspaper category, Owasim was awarded the first prize and M Mohiuddin of the Daily Prothom Alo and Arafat Ara from the Financial Express were awarded the second and the third places respectively.
Under the local newspaper category, Abu Taher M Turab of the Daily Jalalabad, Faruk Munir Nur Islam of the Daily Chattogram Pratidin and M Emdad Ullah of the Daily Fenir Somoy won the first, the second and the third prizes respectively.
Mansura Hossain of Prothom Alo online, M Kamruzzaman of Anadolu Agency and Saddif Shorab of Bangla Tribune are the are the first, the second and the third winners under the online news portal category.
Probash Kotha, an online news media organisation, received an award as the first ever media organisation for its outstanding contribution to the migration sector in 2019.
The European Union's delegation to Bangladesh head of cooperation Maurizio Cian, IOM Bangladesh chief of mission Giorgi Gigauri, and BRAC's executive director Asif Saleh, senior director KAM Morshed and head of migration programme Shariful Hasan were present on the occassion.
Want stories like this in your inbox?
Sign up to exclusive daily email
More Stories from Country