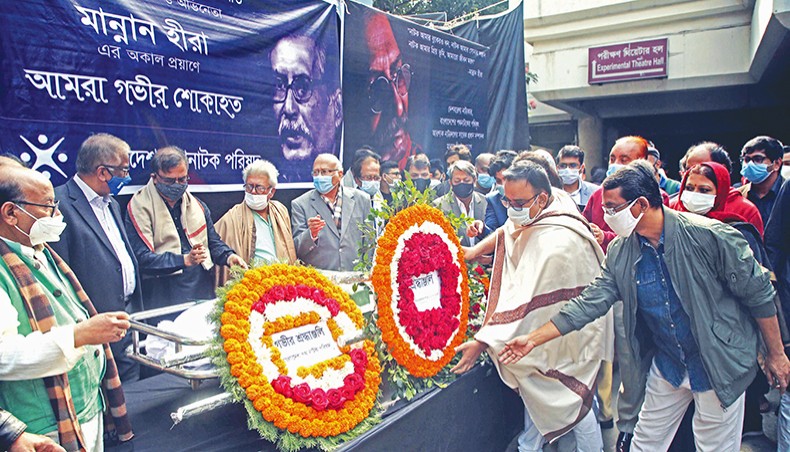 People from all walks of life paid their last respects to the theatre activist, writer and filmmaker Mannan Hira, who passed away on Wednesday night at a hospital in the capital after suffering a cardiac arrest. He was 64.
'He felt unwell at about 6:00pm on Wednesday at our residence in Malibagh. He was taken to Islami Bank Central Hospital at Kakrail immediately where the duty doctor declared him dead at around 7:30pm,' Mannan Hira's wife Syeda Nadira Mannan told New Age.
Different socio-cultural organisations, including Bangladesh Shilpakala Academy, Bangla Academy, Sammilita Sangskritik Jote, Bangladesh Group Theatre Federation, Bangladesh Path Natak Parishad, Directors' Guild, theatre troupe Theatre, Aryanak Natyadal, Padatik Natya Sangsad, Swapnadal, Desh Natak, Utsa Natyadal, Bangladesh Police Natyadal, recitation organisation Kanthashilan placed floral wreaths on his coffin in front of the National Theatre Hall of Bangladesh Shilpakala Academy on Thursday morning.
State minister for cultural affairs KM Khalid, actor-director Mamunur Rashid, freedom fighter and cultural activist Nasiruddin Yousuff, Bangladesh Shilpakala Academy director general Liaquat Ali Lucky, actor Ramendu Majumdar, actor Ataur Rahman, Bangladesh Path Natak Parishad general secretary Ahmed Gias and others spoke at the public mourning.
'A shining star of the country's cultural arena has left us all of a sudden. I am hard put to find words to mourn his death, still I am giving condolence messages. So far, we have sent out 86 condolence messages, including the one on Mannan Hira bhai in the last seven or eight months. The impact was emotionally devastating,' said KM Khalid.
Mamnur Rashid said, 'Mannan Hira was like my son, though he was also my friend and colleague. He was a talented man and Aryanak Natyadal staged many plays portraying class struggles with his support. I could not accept the fact that Mannan Hira left us all of a sudden without any notice. It is a matter of great pride that a lot of well-wishers came here to see Mannan Hira for the final goodbye.'
'Mannan Hira gave us successful works for both stage and street. He will live on through his works,' Nasiruddin Yousuff pointed out and added, 'Mannan Hira used to call me every day. He penned plays portraying the plights of the marginalised and to establish their rights in society. I would like to consider myself fortunate that I worked with Manan Hira in his street play titled Shikari, which he wrote based on the rape and murder of Sohagi Jahan Tonu. We used to rehearse the play every day from 6:30am to 11:00am. As he was the playwright, he was present there during rehearsal. We staged the play and for his creation he can be dubbed as a catalyser of the surge in protests against rape and violence against women.'
Liaquat Ali Lucky said, 'I pay my deep respect to Mannan Hira and pray for his departed soul. We should write about Mannan Hira and his contribution to theatre. We had our last conversation few days ago, when I asked him about what he had been planning or doing. He replied that he had been planning to write a play which would portray the Bangamata. I wanted to know whether he would give it to Shilpakala Academy. Then I tested positive for COVID-19. I had a lot of wonderful memories with him. We both used to call one another Mia Bhai'.
Ramendu Majumdar said, 'Mannan Hira followed the footsteps of the playwrights who paved the way for the rest. He comes after the pioneers such as Syed Shamsul Haq, Abdullah Al Mamun, Mamunur Rashid and Selim Al Deen. He was the leading theatre activist of our country. He had portrayed inequality and kept alive the voice of dissent in society through his street plays.'
'We, the theatre activists, know about the significance of street plays in the country's political context. He worked for Aryanak Natyadal and Bangladesh Path Natak Parishad. He came up with the street plays at a critical time. He had never shown any signs of foot-dragging regarding his ideology. He served as the president of Bangladesh Path Natak Parishad for the last six years. I have been working with him since 1994. We had plans to work in a play marking the birth centenary of Bangabandhu. He was to be the playwright of the play,' said Ahmed Gias.
Mannan Hira's body was kept at the academy from 11:00am to 12:30pm. His first namaz-e-janaza was held in front of Segunbagicha Jam-e-Masjid. His body was taken to his paternal home in Sirajganj Sadar.
His body was taken to the Shaheed Minar in the town where people from all walks of life paid tributes to the playwright. He was buried following a second namaz-e-janaza after Asr prayer.
Mannan Hira was born on July 7, 1956 in Sirajganj. He completed his master's degree from the soil science department at Dhaka University.
Mannan Hira was a member of Aranyak Natyadal and was involved in the street theatre movement. He was the former president of Bangladesh Path Natok Parishad.
Mannan Hira penned around 15 plays, including Laal Jamin, Bhager Manush, Mayur Singhasan and Sada-Kalo. Murkha Loker Murkha Kotha is one of his street plays.
Mannan Hira, who is survived by his widow and a son, suffered a heart attack earlier in 2018.
Want stories like this in your inbox?
Sign up to exclusive daily email
More Stories from Theatre