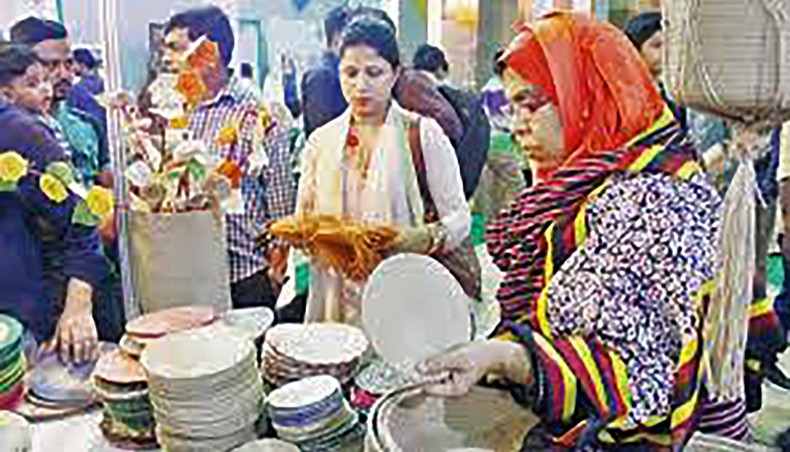 Commerce minister Tipu Munshi on Tuesday said that the imposition of anti-dumping duty on jute goods had adversely affected Bangladesh's exports to India as the country's export items were very limited.
The minister urged the Indian government to look into the technical and legal aspects of such duty imposition on jute goods and other initiatives to impose anti-dumping duty on fishing nets and hydrogen peroxide while addressing the inaugural session of 'India Bangladesh Digital Conference on Agriculture Sector'.
Tipu said that there was a historical background of cooperation in trade between the countries but there were also some challenges like no-tariff barriers, Para-tariff barriers and inadequate infrastructure.
'We need to take appropriate measures to address those challenges,' the commerce minister said.
In the event arranged by the Federation of Bangladesh Chambers of Commerce and Industry and the Confederation of Indian Industry, Tipu said that India had initiated antidumping investigations on import of Bangladeshi fishing nets and hydrogen peroxide and also imposed anti-circumvention duty on Bangladeshi jute cloths.
Such measures would dampen confidence of businesspersons and adversely affect trade, he said.
'Under the circumstances, we stand ready to consider bilateral consultation between the governments to look into certain technical and legal aspects of such imposition,' the commerce minister said.
He also said that Bangladesh was dependent on supply of some essential commodities from India and the Indian government should not impose sudden bans on exports of such commodities without prior notice.
Tipu said that India had restricted the import of edible oil from Bangladesh and imposed a ban on import of air-conditioners.
'This imposition had dealt a sudden blow to Bangladesh's promising new air-conditioner sector and I would like to draw the Indian government's attention to resolve this issue,' the commerce minister said.
Agriculture minister Muhammad Abdur Razzaque urged the Indian government to remove the barriers on the export of seeds saying that India had much expertise in quality seed production, processing, preservation and distribution.
'Bangladesh will appreciate it if India removes barriers on seed export, especially for summer onion seeds and jute seeds,' the agriculture minister said.
He also invited Indian businesses to set up agro-food processing industries in Bangladesh's economic zones.
Indian commerce and industries minister Piyush Goyal said that the two countries could work together to expand their presence on the global market.
'I do believe agriculture can have game-changing potential for both our countries,' he said.
Regarding the sudden export ban on onion, the Indian minister said that they were working to address the problem through creating adequate buffer stocks and increasing the areas of cultivation.
FBCCI president Sheikh Fazle Fahim, CCI president designate TV Narendran, Indian high commissioner to Bangladesh Vikram Doraiswami, Mahindra and Mahindra Ltd managing director Pawan Goenka, among others, spoke at the virtual event.
'No two nations are like ours in this world built on human ties that are bonded in our heritage, culture, anthropology which are to be cherished and honoured for generations to come,' FBCCI president Sheikh Fazle Fahim said.
Bangladesh wants to jointly work towards building a sustainable trade balance through joint ventures, industry and market diversification, he said.
'We are confident we can achieve any goals through stronger public private engagement beyond our borders,' the FBCCI president said.
Want stories like this in your inbox?
Sign up to exclusive daily email