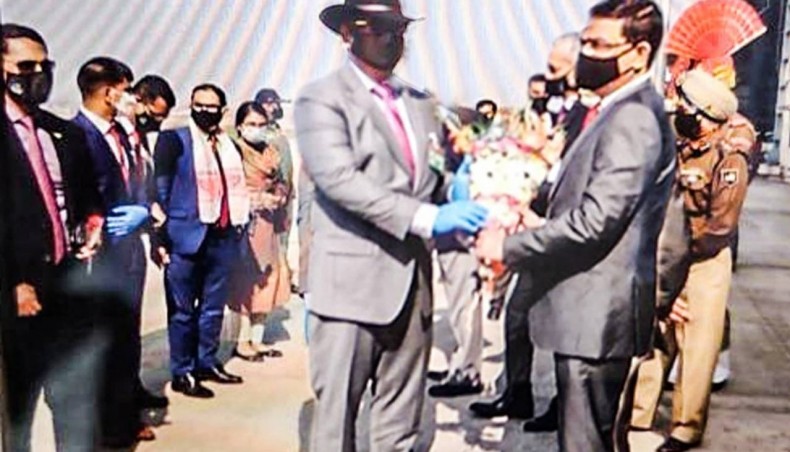 The Border Guard Bangladesh on Tuesday expressed concerns over the increased number of deaths at the border and urged their Indian counterpart Border Security Force to bring the number down to zero.
BGB officials vented their discontentment at the director general-level talks between the BGB and the BSF of India which began on Tuesday in Guwahati of Assam State in India.
The 51st edition of the biannual talks will continue till Saturday, December 26, 2020.
The conference began with the speech by BGB additional director general (operations and training) Brigadier General AMM Khairul Kabir detailing the statistics on the killings of Bangladeshi people along the international border.
He pointed out that the number of deaths was 35 in 2019 while 45 Bangladeshis got killed by the BSF between January and December of the current year.
The number of Bangladeshis killed till December 16 stood at 45 as at least nine of them were killed after newly appointed BSF director general Rakesh Asthana on September 19 made a fresh promise to bring down to zero.
Brigadier General Khairul said there had been a decrease in the number of deaths from 2016 to 2018.
In 2018, he said, there were only three killings at the border, according to the BGB headquarters release.
The BGB delegation also said that 62 injuries were reported between January and December 22, highest in the last four years.
Bangladesh border officials said that killings or causing injury to people not only represented mere numbers.
These incidents crippled the families and the dependents of the deceased or the injured as they were the lone bread earners of their family, they added.
Bangladesh urged India to put an all-out effort to apprehend the crime suspects and try them according to the laws of the land.
BSF head Rakesh Asthana is leading the 12-member Indian delegation while Major General M Shafeenul Islam is leading the 11-member Bangladesh delegation.
Besides border killing, the discussants will touch on issues such as drug peddling, human trafficking and smuggling.
The BGB team left Bangladesh through Tamabil international border. The Meghalaya frontier inspector general, Hardeep Singh, welcomed the Bangladesh team at the border.
Later, the Bangladesh delegation was flown to Guwahati where the BSF head, Rakesh Asthana, welcomed them, said a BGB press release.
The BGB in a press release said that it would follow-up on the progress of initiatives in curbing drugs, and smuggling of illegal weapons, border trespassing by BSF and Indian nationals, the obstruction of development works within 150 yards, and allowing Bangladeshi to use Char Majardia and Char Khanpur.
The two sides exchanged information on the possible whereabouts of armed terrorists and regional separatists inside India.
A joint record of the discussions will be signed on December 25.
Bangladesh shares a 4,156-kilometre-long border with five Indian states.
Want stories like this in your inbox?
Sign up to exclusive daily email
More Stories from Foreign affairs