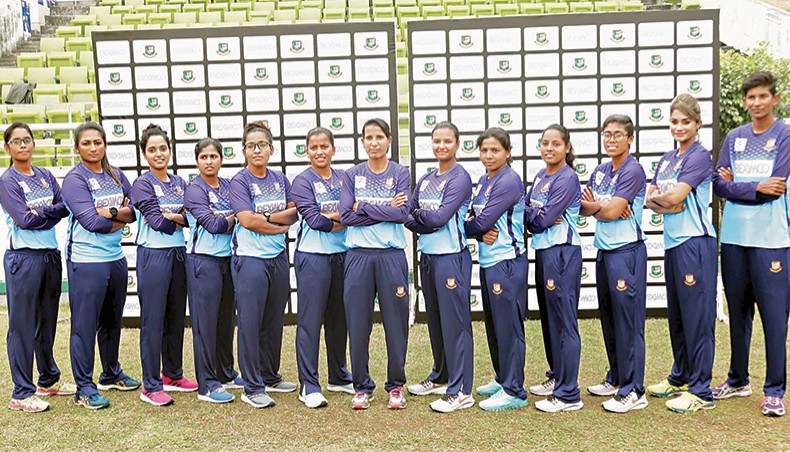 Bangladesh women cricketers are eagerly waiting to resume cricketing activities in the coming year after remaining out of action for most of 2019 due to the COVID-19 pandemic.
Women's cricket in Bangladesh had an extremely quite year with the national team last taking the field on March 2, when their underwhelming showing in the ICC Women's Twenty20 World Cup in Australia came to an end.
Bangladesh lost all four of their group-stage matches in the tournament, which became the last major ICC event before COVID brought the game to a halt.
2021 is promising to be a busier year for the Bangladesh women's cricketers as they are slated to take part in the 2021 ICC Women's World Cup qualifiers in Sri Lanka from June 26 to July 10.
The qualifiers were originally scheduled to take place last year and the World Cup was supposed to happen this year but both events got postponed due to the pandemic situation.
To prepare players for the qualifiers and other bi-lateral series', Bangladesh Cricket Board is planning to hold a training camp in January, a prospect that excites Bangladesh women's team all-rounder Rumana Ahmed.
'I heard that a camp will begin for the women's cricketers in January. We were out of action for a long time. Though not sure, I heard that next year we will play some series both at home and abroad,' Rumana told New Age.
The national team is without a head coach since Anju Jain left the post in June to join a local Indian team instead.
BCB women's wing manager Towhid Mahmood told New Age that they are expecting to appoint a new coach soon and are also working to setup a few tours for the women's team before the qualifier's tournament.
'We have sent some names to BCB ceo, he will finalise the process. But we want to keep the names confidential. Hopefully we will get the coach during the preparation camp,' Towhid told New Age.
'There is an important tournament coming up next year, ahead of that women's team will surely play some international series,' he added.
Bangladesh was supposed to host the maiden ICC Women's Under-19 World Cup this year and BCB had taken steps to form the country's first Women'sU-19 team for it but ultimately that also got pushed back.
The cricketers shortlisted for the U-19 team could also get called up to the camp, a possibility that excites Sanjida Akhter Meghla, a member of the U-19 cricketers' camp at Cox's Bazar.
'I attended a zoom meeting recently where the possibility of starting a new training camp was discussed. I was earlier part of the national team squad as well. So maybe I will get a call up,' Sanjida told New Age.
But some of the selected players might not be eligible to feature in the age-level team, felt BCB women's wing coach Ruhul Amin.
'Earlier we gathered some girls for the U-19 World Cup. But as the tournament has been pushed back we have to re-check their age and availability to see how many of them are eligible.'
Want stories like this in your inbox?
Sign up to exclusive daily email
More Stories from Cricket