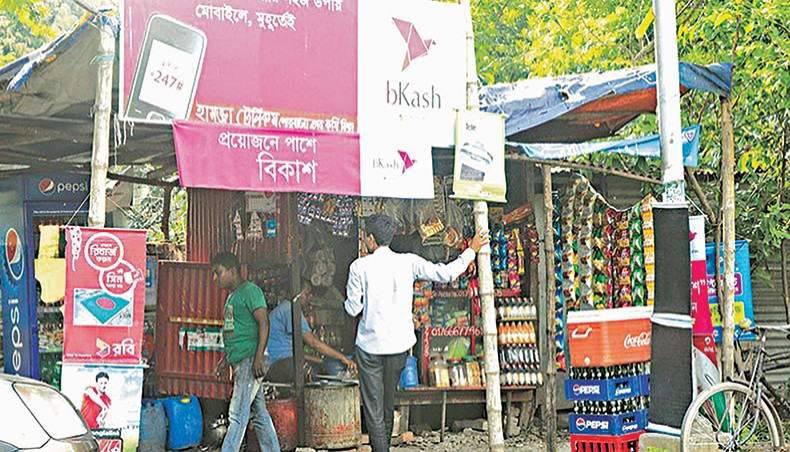 Owners of the country's apparel factories are gradually returning to cash-based salary disbursement after using digital payment modes in this regard during the implementation of stimulus package announced by the government amid the COVID-19 outbreak.
A survey report titled 'Factory Wage Digitisation Trends' conducted by the Microfinance Opportunities in Bangladesh in collaboration with the South Asian Network of Economic Modeling revealed the reversion, according to a SANEM press release issued on Sunday.
The readymade garment factories distributed four months' salary of their workers under the government's stimulus package in April-July, 2020.
The country was in shutdown from March 29 to May 30 to contain the coronavirus outbreak.
After the period, people's physical movement was gradually restored.
The survey findings showed that the government stimulus package announced to support temporarily laid-off workers through digital payments in response to the COVID-19 shutdown had initially stirred digital payments by the factories.
Despite the high benefits such as decreased payroll processing costs and lost worker production time and enhanced security associated with digital payments, factories are reverting back to cash payments, it said.
The study said that the reversion was taking place as the benefits of the digitisation were not readily apparent to the factories, particularly because they had not completely replaced cash payments with digital payments.
For instance, some workers reported to have received their regular salaries digitally, but Eid bonus payments in cash, the report said.
MOB and SANEM prepared the report based on phone interviews of 1,377 workers, over three quarters of whom were women, from factories in the five main industrial areas of Bangladesh — Chattogram, Dhaka city, Gazipur, Narayanganj and Savar.
The study divided the factories into two categories — brand-facing factoring, listed on any brand's supplier list, and not brand-facing.
In April, 20 per cent of 'not brand-facing' factories and 37 per cent of 'brand-facing' factories paid workers digitally while in May, the percentages increased sharply to 57 per cent and 85 per cent in 'not brand-facing' and 'brand-facing' factories respectively.
For 'not brand-facing' factories, the proportion of factories paying digitally reached its peak of 60 per cent in June and started declining thereafter.
The proportion declined from 60 per cent in June to 54 per cent in July and went further down to 45 per cent in August.
For 'brand-facing' factories, the highest proportion of factories paying digitally was recorded at 87 per cent in July, which declined to 76 per cent in August.
By September, salary payments to the workers dropped to 40 per cent in 'not brand-facing' factories and 73 per cent in 'brand-facing' factories.
The survey report said that the workers in the country's RMG factories were unwilling to receive payments through digital modes including mobile financial services as they found cash-out charge high and the operation of digital payment modes including MFS and banking difficult for them.
Since women are more likely to use their husband's bank accounts, receiving payments digitally reduces their decision-making power in household expenditure, the report said.
Want stories like this in your inbox?
Sign up to exclusive daily email
More Stories from Banking