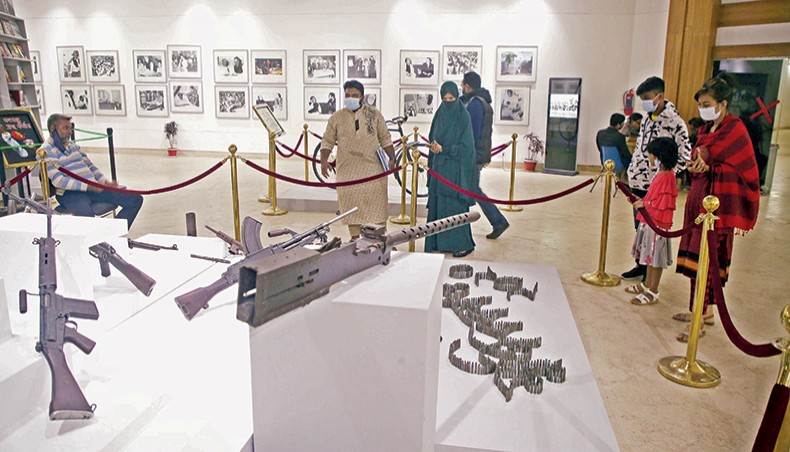 An exhibition displaying firearms, memorabilia from 1971 along with photographs portraying the life and works of the country's founding president, Sheikh Mujibur Rahman, is under way at Nalinikanta Bhattasali Gallery of the Bangladesh National Museum.
The month-long exhibition titled 'Bangabandhu, Muktijuddha O Bangladesh' has been organised by the Bangladesh National Museum marking Victory Day and the birth centenary of the country's founding president Sheikh Mujibur Rahman.
It is an extensive display of the collection the museum amassed over the years to memorialise Sheikh Mujibur Rahman and the War of Independence. A total of 24 firearms used by allied forces in the war, 35 firearms used by the freedom fighters, 100 photos surveying the life and works of Sheikh Mujibur Rahman, 100 books on Mujib and 100 books on the war, the table used during the surrender ceremony, bicycle used by Sheikh Mujib, copies of newspapers published in 1971 and more are there.
The firearms were handed over by the government of India to Bangladesh in 2017. The rest of the displayed items had already been in the museum's collection.
State minister for cultural affairs KM Khalid was present as chief guest at the launch event of the exhibition on December 15, while Indian high commissioner to Bangladesh Vikram Kumar Doraiswami and cultural affairs secretary M Badrul Arefin were present as special guests.
Among a series of historical photographs, one shows Sheikh Mujib presenting a flower garland to the national poet Kazi Nazrul Islam on May 24, 1972.
Another photograph shows Sheikh Mujib shaking hands with Indian prime minister Indira Gandhi after signing the Bangladesh-India friendship agreement.
A photograph taken on September 25, 1974, shows Sheikh Mujib delivering a speech in the United Nations General Assembly. The leader of the new nation made history on that day by delivering his speech in Bangla.
Photographs showing freedom fighters participating in guerrilla operations, crossing rivers holding firearms, receiving training and others occupy major portion of the photography section at the exhibition. Unfortunately, the captions describe the events but do not mention the names of the photographers who risked their lives during the war to take pictures.
Besides, copies of different newspapers published during the war including Amrita Bazar Patrika, Muktijuddha, The Nation, The People and Rastradoot are put on display at the exhibition.
'The exhibition features rare photographs of Bangabandhu, firearms that were used during the war by the allied forces and freedom fighters, books on war and Bangabandhu, among others. The younger generation will get a glimpse of the tumultuous days of the war and the history of our nation,' Noor-e-Nasreen, keeper history and classical art at Bangladesh National Museum, told New Age.
The exhibition will remain open till January 14, 2021.
Want stories like this in your inbox?
Sign up to exclusive daily email
More Stories from Exhibition