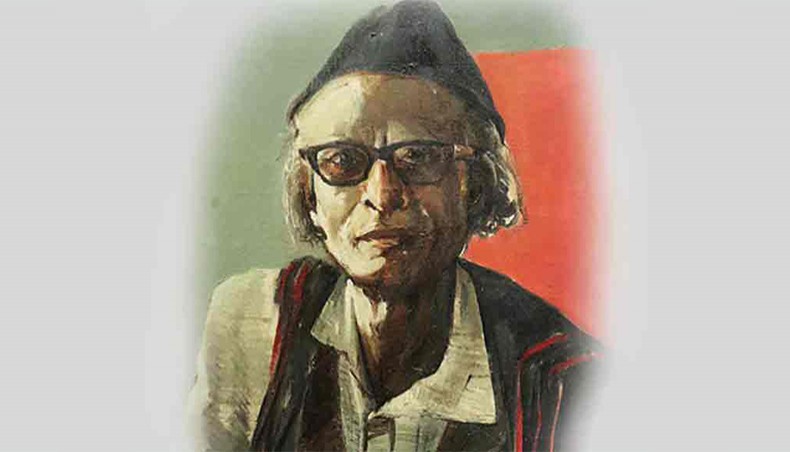 Humayun Azam Rewaz writes about the legacy of Hemanga Biswas, a lyricist, musician and political activist
The literature which does not arouse in us a critical spirit, or satisfy our spiritual needs, which is not 'force-giving' and dynamic, which does not awaken our sense of beauty, which does not make us face the grim realities of life in a spirit of determination, has no use for us today. It cannot even be termed as literature. — Munshi Prem Chand
Hemanga Biswas, the legendary cultural personality's musical journey can be reread to trace the legacy of a particular literary tradition and its social treatment in the colonial period and subsequent political times. Popular resistance songs such as 'We shall overcome', 'John Henry' or the world famous anthem of the socialist movement 'The Internationale' was translated, composed and popularised with ultimate craftsmanship by Hemanga Biswas. He was a man of international spirit but always closely connected to his land and soul of his own people. He was philosophically inspired by the Joseph Stalin's words, 'International in content but local in the form'. He is celebrated for his literature, passion for people's music, especially the Bhatiali. Most of his folk songs are inspired by the spirit of mass song. Hemanga Biswas defined mass song with its utmost political prudence, as he said that 'In fact, mass songs are originated in the estuary, where a stream of patriotism flows into the ocean of universality of the proletariat' (my translation). He made a significant contribution as a political thinker and musicologist which is a quite rare combination among popular artists. Rongili Biswas, daughter of Hemanga Biswas and editor of Hemango Biswas Rachanasangraha told that 'He firmly believed that folk singing is non-codified. Its sensibility is defined by the specificities of physical ambience, language, tune, the rhythm of labour, styles of articulation as well as geographical, historical and cultural contexts of a particular region'. She added, 'if it has something that is construed and shaped by the parameters, I just mentioned that would better be termed as bahirana, a mode of learning that draws upon the traditions of a particular region, and is firmly rooted in the cultural specificities of the same'. His theoretical essays are compiled in the book titled Ganer Bahirana, a major contribution to ethnomusicology.
Hemanga Biswas was born to a landlord family on December 14, 1912, in Mirashi of Habiganj and died on November 22, 1987. Hemanga became involved in the Swadeshi movement at a very young age. He was imprisoned for his involvement. Later, he joined the communist movement and the Indian People's Theatrical Association. He played an active role to form trade unions in the tea gardens of Assam. His genius in assimilating the art forms of folk culture and his passion for the workers and peasants made him a prominent personality of the IPTA movement. He once said, 'I came here for revolution, not just to perform'. He was not just a mere lyricist, singer or performer but a political activist with a progressive vision. That's why he never stepped back to criticise party's wrong decisions. In his essay 'Gononattyo Andolone Amar Gaan', he criticised the typical practice of 'link-up' and 'way out' while composing a new song for the campaign. The strategy of 'link up and way out' was to link every text (song) with 'Japanese Fascism', 'famine' and increasing 'production' which lacks aesthetic perfections. He criticised this weak propagandist mode and asserted himself as an avid communicator.
He was so passionate about the 'source materials', the original expression of music that he prioritised the genuine bonding of the body and soul of the singer. He was bitterly critical regarding the trend for cheap urbanisation of famous folk songs distorting the very original compositions. He preferred the minimalist presentation of a folk song by everyday local singers. Proper musical accompaniment can bloom the real essence of folk music. His autobiographical writing Ujan Gang Baiya tells the untold history of the singers, activists from the working class in India.
During IPTA movement, many of his songs gained ultimate popularity among political activists and mass people. Those songs mostly uphold the fighting spirit of peasants, mock the power structure. The Mountbatten Mangalkavya (1948) was most famous among the latter category. It was a satirical tale against the Congress government, which was composed in a mixed tune of Kirtan and other folk tunes. He was arrested for this song and the song was banned.
In the 1940s, he led to the formation of IPTA wing in Assam. IPTA artists used indigenous institutions and folk texts to communicate with the mass to 'propagate anti-fascist ideology and espouse the cause of world democracy'. During this time in Assam, he became close to celebrated composer, singer and poet Bhupen Hazarika. During 1960, riots broke out in Assam. Hemanga Biswas along with Bhupen Hazarika, led an anti-riot cultural campaign in Assam by forming a cultural troupe including artist and activists of various ethnic origins. They jointly composed and performed a song called Haradhan Rongmon Katha. It tells a story of two distressed Bengali and Asamees peasants who lost everything in the riot. The song was composed by blending the bhatiali and bihu folk tunes. Their collaborative peace initiative made a significant contribution to ending the riot. At this juncture, Hemanga Biswas deviating from his party line and lend his support to the Congress government to stop the riot. Rongili Biswas began a research project on that historic event and released a documentary in 2018.
In 1957, he went to China and lived there for two and a half years. The movement for the transformation of social and economic relations in China impressed him. He visited China again and written two books on his experience there. In the Bombay Conference of IPTA in 1953, Hemango Biswas and Salil Choudhury engaged in a debate. Hemango Biswas was in favour of relying only on folk tunes for mass songs with an eye to take it to the peasant masses. Salil Choudhury, on the contrary, was of the view of blending folk tunes with the harmony of western music.
As part of the IPTA movement, Hemanga Biswas composed music for a number of theatre productions. That includes the historic play Kallol (Wave) by Utpal Datta. Kallol was a milestone in the cultural history of Kolkata. He also composed music for the plays including Tir (Arrow), Rifle written and staged by Utpal Datta. Hemango Biswas was the playback singer in Meghe Dhaka Tara (1960), Lalon Fakir and Komal Gandhar (1961). The very first LP record of Hemanga Biswas came to the market in 1978, when he was at the age of 66. His list of the recorded song is not long, but the ones that are recorded are powerful enough to echo the inner self of the artist form the valley of Surma. Habiganjer Jalali Koitor is a sort of his autobiography. He named himself the thirsty Seagull from the valley of Surma, also talked about his musical bond with Bhatiali and its amazing tune. Shongkhachil was another milestone which was a response to Hiroshima massacre during the World War II. Ajadee Hoyni Tor was written and sung by Hemango Biswas. It is one of many songs in the legacy of the movement of the progressive left of India. Dhakar Dak was written and composed in response to language movement in 1952. Negro bhai amar was composed and written by Kamal Sarcar based on Subhas Mukhopadhyaya's translation of Najim Hikmet's poem. 'Mass Singers' the troupe of Hemango Biswas presented this song and it was a grand success. Some of his popular songs includes Roosh desher comrade lenin, Amra to bhuli nai shahid, Nam tar chhilo Jon Henry, Banchbo re banchbo amra, Ful guli kothai gelo, kollolito nobo Kolkata, Sona bandhu re, Deho tori dilam chhariyo, etc. Ful guli kothai gelo was the translated version of legendary American folk singer Pete Seegar's famous song 'Where have all the flowers gone (1962)'. Hemanga Biswas translated good number of protest songs from different countries including China, Central Asia, and Russia.
'Hemanga Biswas archive', initiated by Rongila Biswas, contains several notebooks with lyrics of songs collected by Biswas from various Indian provinces. They include bhatiali, bhaoaia, kamrupi, bongeet, sari, jari, jhaore, ghumor, murshidi, jhumur, gambhira, bhadu, tusu, kajri, choiti, dhamail, lullaby, hori, bihu, etc. Rongili Biswas said, 'within this repertoire, only chosen few have been recorded in Biswas' own voice (in the album Surma Nadir Gangchil), which gives a fundamental idea about the extremely nuanced and ornate style of bhatiali. That also tells us about his greater role to preserve the folk music and its tradition. It's unfortunate that the legacy of Hemanga Biswas can hardly be traced in Bangladesh now. The partition and post liberation war political context created a grey area where legendary cultural icons lost their lively connection to this land and people of Bangladesh. Hemanga Biswas made immense contribution to IPTA movement, peasant movement and inspired many unsung heroes of this land who celebrated the social power of music with ultimate excellence, artist like Nibaran Pandit, Nirmalendu Chowdhuri, Gobinda Das, Moghai Ojha and Gurudas Paul. The urban intellectual community has already minimised them by single tagline, 'folk music'. Hemanga Biswas challenged this dominating tendency. He dreamed of the triumph of cultural diversity. This essay intends to cast a spotlight on the social power of music, organic celebration of folk culture and tradition which once united the nation to fight against colonial power and tyrant rulers. This is high time to retrieve the legacy of Hemanga Biswas, an activist who fought to have it all throughout his life, whose language is very close to our heart. It's more important now as the space for cultural freedom, progressive movement, freedom of speech is steadily shrinking and the extremist are making new ways to distort the harmony, but —
Oh, deep in my heart
I do believe
We shall overcome, someday.
Humayun Azam Rewaz is a young cultural activist.
Want stories like this in your inbox?
Sign up to exclusive daily email
More Stories from Mindspeak