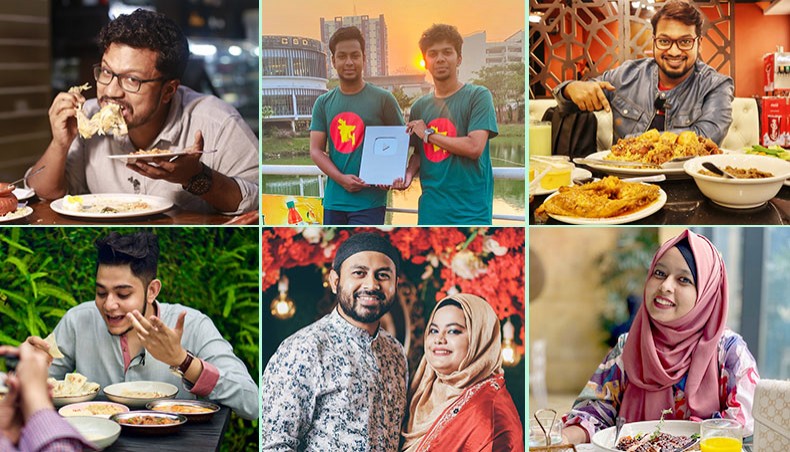 Food vlogging has become a popular genre on social media platform, YouTube. A number of young minds in Bangladesh started sharing food videos, particularly food reviews and vlogging, on this platform since 2016. Talking with the food-vloggers, Nasir Uz Zaman writes about their channels and works
In the past decade, the urban areas in Bangladesh have witnessed a transformation in restaurant scene with the establishment of cafes and restaurateurs experimenting with foreign cuisines. A large majority of the client of these restaurants and cafes are today's youth. They spend a lot of time before visiting a particular restaurant to know about the menu, cost and the overall environment of the restaurants. YouTube food vloggers play role in this process. Since 2016, a number of young minds in Bangladesh started joining YouTube, one of the top video sharing platforms, to share their opinions about the foods and environment of the restaurants. Some food vloggers are also working to document the local foods of a particular area.
New Age Youth has talked with these popular food vloggers. Though the contents and presentations of contents are different, all of the vloggers agreed on one point that the vlogs or the reviews should be unbiased fair opinions.
Khai-dai.com


Khai-dai.com is the first Bangladeshi food review channel on YouTube which started their journey in May 2016. It was a video of a particular restaurant. At the time, the the host and researcher Syed Khaled Saifullah said, some recipe contents were available online, but there was no review or commentary available from the perspective of a food critique or even a customer. So, he decided to work and fill in this void with director, Faruque-E-Azam. Khai-dai.com focuses on different kinds of food around Bangladesh. The channel became popular within a short span of time. Since 2016, Khai-dai.com has gained 1,52,000 subscribers. The channel's 202 videos have 1,87,97,000 views. Video contents on street food to review of restaurants offering foreign cuisines to local delicacies are reviewed in this channel. The channel tries to upload new videos every week. Some popular video series of Khai-dai.com are 'Bangladeshi Food', 'Food Gossip', 'Fast Food', 'Seafood', 'Food and Travel' and 'Buffet'.
MetroMan


MetroMan is another popular YouTube channel from early days of food vlogging in Bangladesh. Since November 2017, content creator Shahriar Rabbir and Kazi Tahsin Tonmoy are uploading videos about different topics of food vlogging. Initially, humour and fun-filled videos contents were dominating the video sharing social media platforms. Though the team of MetroMan initially thought to start a fun-filled channel, but they took a different direction later and it became what is now MetroMan. The popular and informative food vlogging channel has 1,85,000 subscribers and 164 videos in total. People interested in restaurant menus from different areas, can visit MetroMan's restaurant review series of Dhanmondi, Mirpur, Savar and Chittagong. This channel has already gained more than 1,70,47,000 views. Recently, the MetroMan has started reviewing food menu of resorts and provide commentary on the overall environment of the resort.
Bangladeshi Food Reviewer


Bangladeshi Food Reviewer is one of the most popular food review channels in Bangladesh and started its journey in February 2018. The food reviewer Mahathir Muhammad Fahim was a government employee and he did not have much time for travel and exploration. Eventually, he left his job to explore a more experimental line of career. Responses of the first food vlog about one taka singara and the story of a singara lover made him take food review seriously. With 502 videos, the channel has reached about 5,64,000 subscribers and 8,93,24,000 views. For the Biriyani lovers, there is a popular segment titled 'Biriyani Review'. In addition, the food menu review of restaurants, there are vlog on restaurants in Gazipur, Sylhet, Cox's Bazar, Barishal, Saidpur, Bogura, Noakhali and many more. Bangladeshi Food Reviewer has a plan to travel all the districts of Bangladesh and to cover the local and traditional foods of the particular place.
Rafsan TheChotobhai


Iftekhar Rafsan did not have a plan to become a food vlogger. Influenced by his friends, Ekramul and Nabil, he randomly filmed the first YouTube video in June 2018. Rafsan is a professional E-Sports athlete and his gaming community fellows appreciated and supported the video which was an initial boost for continuing such work. He loves to term himself as an entertainer than a food vlogger. At times, he is criticised for the way of he presents his contents, but Rafsan wants to continue with his style. In the food vlog or review, he wants to cover both the pros and cons of a restaurant and its food. Among the 73 videos, the most viewed food vlog of the channel is titled 'Exposing Fake Restaurants at Banijya Mela' which has gained more than 14,63,000 views. Today, the channel Rafsan TheChotobhai has more than 4,65,000 subscribers and 2,90,49,000 views.
Petuk Couple


Petuk Couple has around 4,36,000 subscribers and 4,23,18,000 views. The foodie couple, Rasif Shafique and Ridima Khan Ipsha, also loves to travel and share their stories. The couple started to document their travel experience and food was a major part of it and began sharing those on the YouTube channel since October 2018. A large share of the 125 videos is restaurant reviews. Besides, exploring the local foods the channel has also presented some vlogging contents about their overseas experience. The Petuk Couple has a series vlog titled 'Petuk Couple in Bali' consisting of 25 video contents. Rasif and Ridima have a plan to travel different countries once the pandemic COVID-19 is tackled and hopes to share more vlogs with their viewers. Moreover, the cooking enthusiast couple has also created a new channel titled 'Petuk Couple's Kitchen' which covers video demonstration of different recipes.
Khudalagse


In the list, the last channel is the Khudalagse. It is one of the most rapidly growing YouTube food vlogging channels in Bangladesh. Inspired by Salman Sadi, who is constantly working behind the camera, Fahrin Zannat Faiza started this channel in July 2019. The foodie content creator used to share food images through Facebook and Instagram, but her partner advised and helped her to start the vlogging channel. With only 86 videos, Khudalagse has gained more than 3,07,000 subscribers and 1,95,78,000 views. 'Worth it?' is among the most popular series of this food review channel where Fahrin shares her opinion whether a particular food is worth to consume or not. Among the other popular series, there are 'Street Food', 'Food Delivery', and 'Restaurants in Gulshan and Restaurants in Dhanmondi'. Recently the channel has started vlogging and reviewing resorts.
Nasir Uz Zaman is a member of the New Age Youth team.
Want stories like this in your inbox?
Sign up to exclusive daily email