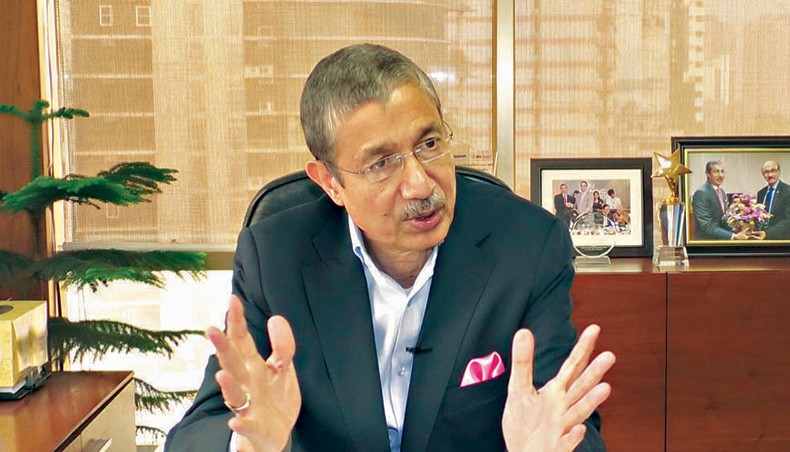 Dhaka Bank's ambition is to become one of the top five banks in the country by ensuring soundness in all financial parameters, corporate governance and technological advancement.
Dhaka Bank managing director and chief executive officer Emranul Huq said this in an interview with New Age, held at the bank's headquarters in the capital's Purana Paltan on December 13.
Dhaka Bank has grown consistently in the last 25 years since its inception and has never shied away from any overambitious target, the banker said, adding, 'It's a progressive bank and is growing with quality.'
In terms of the financial parameters, including capital base, non-performing loans, business portfolio, human resource, affiliation with overseas banks and multinational lenders, Dhaka Bank has been doing consistently well, he said.
'In brief, you could say we are doing well but there is still room for doing better,' said Emranul, also a certified corporate banker.
However, the coronavirus outbreak has made the situation difficult for not only Dhaka Bank but also for the entire banking industry, he said.
'As mentioned by experts repeatedly, 2020 is the year of survival and all banks in the industry are focused on this,' he said.
'We have had to take hits in terms of business growth as well as growth in earnings during the COVID period, but we are also looking forward to good times ahead,' said Emranul, who has more than three decades of professional banking experience both at home and abroad to his credit, including 23 years in Dhaka Bank.
Emranul assumed the role of Dhaka Bank's leadership on February 22, 2020 after serving the bank for 23 years in different capacities.
Prior to taking charge as the managing director and CEO, he served the bank as an additional managing director and the chief business officer.
Before joining Dhaka Bank in 1998, he had worked at Eastern Bank and Credit Africa Bank in Zambia in various capacities.
Emranul began his career with the Bank of Credit and Commerce International in Dhaka as a management trainee officer in 1986.
Speaking about the existing problems for Dhaka Bank and for the other banks in the country, Emranul said that currently the entire banking sector was struggling with unutilised liquidity while it was quite the other way around during the COVID period when there was immense pressure of bulk withdrawal by depositors coupled with slowdown in repayments.
Given its diverse business exposure to different business segments, Dhaka Bank is focusing on the least affected sectors as well as those sectors which performed well during the COVID outbreak, Emranul said.
Mentioning that technological advancement was vital to gain advantage, he said that Dhaka Bank had installed UBS which was one of the most advanced technologies for its core banking solutions.
The bank has a range of online-based services starting from one of the most vibrant and user-friendly mobile apps, Dhaka Bank Ltd Go, to WhatsAppBanking and online account opening which are adding great value to the new generation of banking transactions, he said.
In addition to these, the bank has enabled its customers with the opening letters of credit and bill discounting facility online through its i-cloud, he said.
He said, 'Dhaka Bank has been categorised as a corporate focused bank since its inception and for this reason, our stake is less than 5 per cent of the entire portfolio in retail banking services.'
'But, being a high yielding segment, retail business has now been a very highly focused segment for all the banks. We have a target to enhance the retail segment to 30 per cent by the year 2022,' he said, adding that they were also concentrating on that segment and developing their products and services according to the consumers' requirements.
'We have a dedicated team working on developing the retail business portfolio and we are optimistic that we will be able to bring in some excellent products for the consumers shortly,' said Emranul, adding, 'It is worth mentioning here that our credit cards have already been rebranded with market competitive features and other amenities.'
Commenting on the bank's strength, the bank's managing director said that 4.5 per cent of the country's foreign trade was handled by Dhaka Bank and that they had corresponding relations with around 450 foreign banks along with the International Finance Corporation and the Asian Development Bank.
Emranul said, 'We want to be a bank of the modern era which the customers will think of first in case of any banking need.'
Asked about how the bank has managed to keep its non-performing loans below the industry average, the seasoned banker said, 'We focus on strong credit assessment, continuous monitoring and robust recovery efforts to deal with NPLs.'
'The bank does not compromise with ethics and integrity and follows the Bangladesh Bank guidelines to the optimum level in order to maintain the health of our portfolio and the result is there for everyone to see,' he said.
Asked whether he thought the country's banking sector was overcrowded, Emranul said, 'Considering the size of the economy of Bangladesh as well as the trend of business growth, I believe a lesser number of banks would have been sufficient to cater to all the business requirements.'
However, the number of banks may not be high considering the size of the population, he said, adding that the country might see mergers and acquisitions in coming days as was seen in neighbouring India.
Speaking about the recently introduced BB policy under which banks require to keep additional 1 per cent provision, Emranul said, 'I would like to say that the policy is a prudent one as the banks would be exposed to higher risks of non-performing loans in the year 2021 and the additional provisioning would work as a safeguard.'
'The coronavirus situation has been so far well managed by the central bank by taking timely initiatives,' he said.
In reply to a question on whether the moratorium facility on loans should be extended further, the banker said that the facility should not be extended on a wholesale basis but could rather be extended only for sectors which were still going through setbacks and had been hit hard by the coronavirus outbreak.
Asked about the drastic fall in the deposit rate, he said that the setting of the lending rate at a single digit would eventually have an impact on the deposit rates as well.
'This will in turn have an impact on depositors, especially on those who are dependent mostly on the interest income generated from their deposits,' he said.
'Some longer term schemes might be designed with better returns that could ultimately benefit both the depositors and the banks in building a sustainable lowcost deposit base,' he said.
Want stories like this in your inbox?
Sign up to exclusive daily email
More Stories from Interview