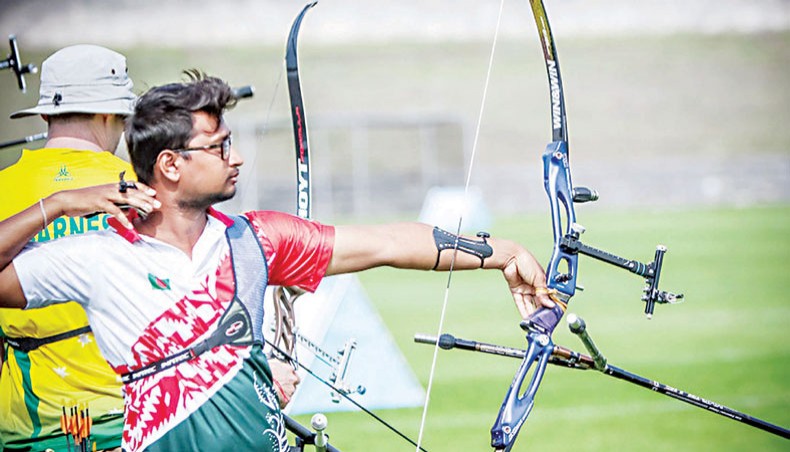 Ruman Shana completed a medal-less campaign for the first time in his 11-year career when the premier Bangladeshi archer failed to win any medal in the Victory Day Archery that ended at the Shaheed Ahsan Ullah Master Stadium in Tongi on Wednesday.
Shana, who qualified for next year's Olympics as the first Bangladeshi archer and is currently ranked 15th in World Archery, failed to earn any medal from men's recurve singles and recurve mixed team events of the tournament.
Shana lost to Tamimul Islam by 6-0 set points in the bronze-battle of the recurve men's singles event on December 16, a day after losing in the recurve mixed team event.
Pradipta Chakma and Dia Siddiqi pair beat Shana and Mehenaz Akter Monira pair by a 5-4 set points in the third-place deciding game of recurve mixed team event.
Ending a tournament without any medal is a new experience for Shana, something that the archer is still coming to terms with.
'In my 11-year career it has never happened…I think, it happened due to being out of competitive games for a long period and also for the extra pressure of expectation from the fans,' Shana told New Age on Thursday.
'If I could play freely, it might not have happened. Now I am feeling bad, hope to make a comeback soon,' he added.
Shana topped in the ranking round of recurve men's singles event but faced some technical issues which hampered his natural game.
'I faced some technical problems and could not shoot in my style during the competition. Hope, I will recover from those problems soon.'
Shana said that Bangladesh archery team coach Martin Frederick told him to not worry too much about the bad showing.
'Coach advised me not to worry about the loss and to focus on my practice. He said that it is a temporary problem.'
The 25-year old archer has so far won 11 gold, seven silver and three bronze medals at international stage and eight gold, one silver and five bronze medals in local competitions.
Shana qualified for the Tokyo Olympics after beating beat Sjef Van Den Berg of the Netherlands by 6-2 set points in the quarter-finals of the World Archery Championship in s-Hertogenbosch, Netherlands in June, 2019.
Want stories like this in your inbox?
Sign up to exclusive daily email
More Stories from Miscellany